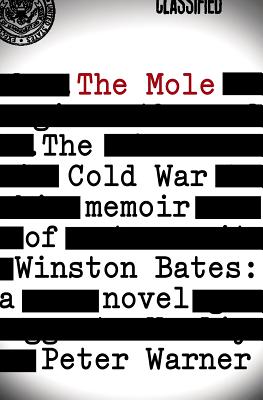 The Mole: The Cold War Memoir of Winston Bates (Hardcover)
The Cold War Memoir of Winston Bates
Thomas Dunne Books, 9781250034793, 368pp.
Publication Date: October 22, 2013
* Individual store prices may vary.
or
Not Currently Available for Direct Purchase
Description
The fictitious memoir of an unlikely foreign spy planted in Washington, D.C., in the years after World War II
Recruited by a foreign power in postwar Paris and sent to Washington, Winston Bates is without training or talent. He might be a walking definition of the anti-spy. Yet he makes his way onto the staff of the powerful Senator Richard Russell, head of the Armed Services Committee. From that perch, Bates has extensive and revealing contacts with the Dulles brothers, Richard Bissell, Richard Helms, Lyndon Johnson, Joe Alsop, Walter Lippman, Roy Cohn, and even Ollie North to name but a few of the historical players in the American experience Winston befriends and haplessly betrays for a quarter century.
A comedy of manners set within the circles of power and information, Peter Warner's "The Mole" is a witty social history of Washington in the latter half of the twentieth century that presents the question: How much damage can be done by the wrong person in the right place at the right time?
Written as Winston's memoir, "The Mole" details the American Century from an angle definitely off center. From Suez, the U-2 Crash, the Bay of Pigs, Vietnam, and Watergate, the novel is richly and factually detailed, marvelously convincing, and offers the reader a slightly subversive character searching for identity and meaning (as well as his elusive handler) in a heady time during one of history's most defining eras.
About the Author
PETER WARNER grew up in New York and graduated from NYU. For many years he worked as a publisher and editor at a book publishing company in New York and London. He is married with three children and has lived in Hoboken, New Jersey since 1987. A previous novel, Lifestyle, was published in 1985.
Praise For The Mole: The Cold War Memoir of Winston Bates…
"An accomplished spy novel that's wise to Washington's ways."
—Washingtonian

"[A] clever second novel…Warner's prose is first-rate, and his research is prodigious"
—Publishers Weekly

"Along with actions that have unforeseen but lasting impacts on American foreign policy, Winston engages in a lively social life where he uses his gift of information retention to participate in Beltway gossip. While continually concerned with when his 'handlers' will call on him, Winston's first-person account of the people he meets and the secrets he hears make for interesting reading…An intelligent fictional memoir."
—Kirkus Reviews

"Who better to trust for a through-the-looking-glass tour of Cold War Washington than a short, self-doubting Canadian spy with a photographic memory?  A rich, buoyant ruse of a novel."
—Stacy Schiff, Pulitzer Prize winning author of Cleopatra: A Life

"Peter Warner has found an intriguing, original way back into the drama and dark absurdities of the Cold War era. The Mole is at once sly and exciting—and a great read."
—Evan Thomas, New York Times bestselling author of The Very Best Men and Ike's Bluff
Advertisement