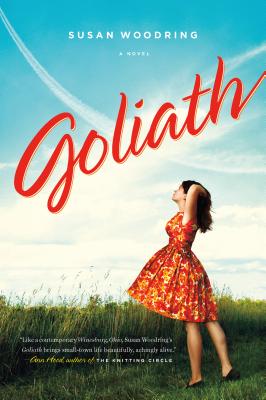 Goliath (Paperback)
Griffin, 9781250034830, 360pp.
Publication Date: August 6, 2013
* Individual store prices may vary.
or
Not Currently Available for Direct Purchase
Description
Open this book and enter Goliath a town as fascinating and alive as Elizabeth Strout's Crosby, Maine, or Richard Russo's Empire Falls. When Percy Harding, Goliath's most important citizen, is discovered dead by the railroad tracks one perfect autumn afternoon, no one can quite believe it's really happened. Percy, the president of the town's world-renowned furniture company, had seemed invincible. Only Rosamond Rogers, Percy's secretary, may have the answer to the question everyone is asking: why?
Rosamond has been abandoned by her husband, and fears being left behind by her daughter. She's accustomed to being lonely and shunned. But in the face of Percy's death and all that it means for the town, the people of Goliath, one by one, come to confess and confide in her. Rosamond's years of loneliness have given her an empathy that she taps into to reunite the grief-shaken community. "Goliath," a story of loss and love, of forgiveness and letting go, is a lyrical swoon of a novel by exceptionally talented newcomer Susan Woodring.
About the Author
SUSAN WOODRING grew up in Greensboro, North Carolina. Her previous publications are a first novel, The Traveling Disease, and Springtime On Mars: Stories. She has been published in Passages North and a variety of other literary publications. She won the 2006 Isotope Editor's Prize, has been nominated twice for the Pushcart Prize, and was a notable mention in Best American Short Stories 2010.
Praise For Goliath…
"Like a contemporary Winesburg, Ohio, Susan Woodring's Goliath brings small town life beautifully, achingly alive. Sprinkled with marching bands, baseball, and parades, and a cast of southern characters who will charm the pants off you, Goliath is a memorable novel, written in a new memorable voice."—Ann Hood, author of The Knitting Circle
"Goliath is a careful, contemplative study of the rhythms of collective grief.  Woodring's sense of the constraints and hard-earned pleasures of home rings as true and pure as a train whistle in the night."—Michael Parker, author of The Watery Part of the World
"Woodring's writing is so clear and moving that the reader often feels, as she says of about one of her characters, as if 'the world had been sucked clear of true sound.'  This beautiful portrait of a place and its people, rendered so quietly and intimately, shuts out the world outside its pages as you read.  Only the best novels can make you forget yourself as reader.  Goliath is the kind of book you don't want to put down or to end."--Brad Watson, author of The Heaven of Mercury
"Goliath is a beautiful and quietly moving story of love, grief, forgiveness and redemption — heady themes handled here with a big heart and a deft hand. In prose exquisitely clear and with details that will make your heart ache, Susan Woodring has written a meaningful portrait of small town life, and what it means to move through grief toward love."--Bret Lott, author of Ancient Highway
"Goliath is wonderful!  The minute I finished reading it, I went out and bought three more copies to give to friends.Woodring's empathy and understanding of all these characters seems boundless---in my mind's eye, I can still see Rosamond right now, walking the streets in her vintage clothes, that orange jacket----what a book!"--Lee Smith, author of Mrs. Darcy and the Blue-Eyed Stranger
Advertisement