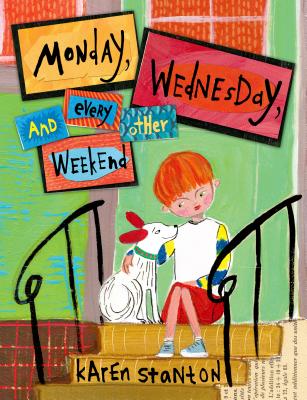 Monday, Wednesday, and Every Other Weekend (Hardcover)
Feiwel & Friends, 9781250034892, 40pp.
Publication Date: February 4, 2014
* Individual store prices may vary.
Description
Henry Cooper and his dog Pomegranate have two houses. On Mondays, Wednesdays, and every other weekend, they live with Mama in her new apartment, but on Tuesdays, Thursdays, and every other weekend, they live with Papa in his new house.
Henry and Pomegranate are happy as they dance with Mama and sing with Papa, but Henry knows that sometimes Pomegranate gets confused and just wants to go . . . home.
This gentle and accessible story about dealing with the many changes that come with divorce is beautifully brought to life by author Karen Stanton's vivid and memorable illustrations.
About the Author
Karen Stanton's first career was as an architect. She is also the author of Papi's Gift, illustrated by Rene King Moreno, and the author/illustrator of Mr. K and Yudi (Golden Books). She lives in Oakland, California, with her husband and their four children.
Praise For Monday, Wednesday, and Every Other Weekend…
Starred review from Publishers Weekly: "Stanton (Papi's Gift) shows remarkable empathy and restraint in the story of a boy named Henry Cooper, who explains how he divides his days between his mother's apartment and his father's house, "two and a half blocks away on West Woolsey Avenue." Henry—whose red hair matches the crimson ears of his dog, Pomegranate—finds much to appreciate wherever he's spending the night: the hallways of his mother's building "smell like chapati, tortillas, and miso soup," and she makes "perfect golden flapjacks." Time with his father means piano playing and "perfect pepperoni pizza in his tomato-red kitchen." In fact, it's Pomegranate who always wants to go "home," and after he runs away, readers discover what that means: "our old house," says Henry. "The place where we all used to live together." That revelation packs an enormous emotional wallop, but Henry's calm understanding of his family's situation, combined with his parents' mutual amicability, provides a powerful example for real-life families. Meanwhile, Stanton's artwork—a vibrant collage of acrylic and scraps of varied papers from around the globe—creates a deeply reassuring atmosphere of love and warmth. "