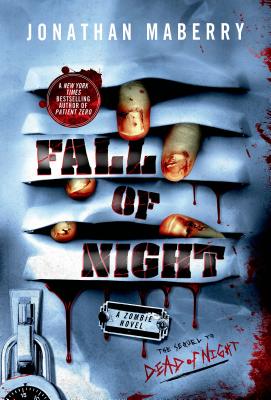 Fall of Night (Paperback)
A Zombie Novel (Dead of Night Series #2)
St. Martin's Griffin, 9781250034946, 416pp.
Publication Date: September 2, 2014
* Individual store prices may vary.
Description
Stebbins Little School is full of bodies. It's unthinkable to Desdemona Fox. Children are sobbing as panicked teachers and neighbors beat down their family members outside of the school...or the things that used to be their family members. Parents don't eat their children do they?
Officers Fox and Hammond, along with journalist Billy Trout, are calling it the beginning of the end. This is the zombie apocalypse. An insane escaped serial killer is infecting Stebbins County with a deadly virus, and now the whole world is watching while Fox, Trout, and the remaining inhabitants of Stebbins fight for their life against...what? The undead? The President and the National Guard are ready to nuke Stebbins, PA off the map and cut their losses. But the infection is spreading and fast. Worse, the scientist who created the virus is missing. It's a numbers game as the body count rises; Fox has to contain the infected and evacuate the living before it's too late, and the clock is ticking...
Fall of Night, Maberry's nail-biting sequel to Dead of Night, picks up where the first novel left off—on a wild goose chase for a madman and the missing scientist who gave him new "un"-life. Chilling, gory, and hair-raisingly scary, Maberry fans won't be able to read this fast-paced thriller with the lights off.
About the Author
Jonathan Maberry is a New York Times bestselling author and 5-time Bram Stoker Award-winner. He writes in multiple genres including suspense, thriller, horror, science fiction, fantasy, action, and steampunk, for adults, teens and middle grade. His works include the Joe Ledger thrillers, Rot & Ruin, Mars One, and Captain America, which is in development for a feature film. He writes comics for Marvel, Dark Horse and IDW and is the editor of such high-profile anthologies as The X-Files, V-Wars, Out of Tune, Baker Street Irregular, Nights of the Living Dead, and Scary Out There. He lives in Del Mar, California.
Praise For Fall of Night: A Zombie Novel (Dead of Night Series #2)…
"Sleek, spare, visceral, and as unsettling as dead fingernails on a chalkboard, Jonathan Maberry's FALL OF NIGHT is state of the art horror. If Raymond Carver wrote zombie stories, you might approach something with the economy and brilliance of Maberry's conceit. This feels real, and terrifying, and also, somehow, poignant. Highly recommended." —Jay Bonansinga, New York Times bestselling co-author of THE WALKING DEAD: THE FALL OF THE GOVERNOR, PART 2