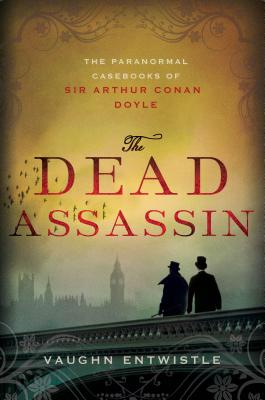 The Dead Assassin (Hardcover)
The Paranormal Casebooks of Sir Arthur Conan Doyle
Minotaur Books, 9781250035066, 352pp.
Publication Date: June 9, 2015
* Individual store prices may vary.
Description
1895. Victorian England trembles on the verge of hysteria in Vaughn Entwistle's The Dead Assassin. Terrorist bombs are detonating around the Capitol and every foreigner is suspected of being an Anarchist lurking beneath a cape.
Dr. Arthur Conan Doyle is summoned to the scene of a gruesome crime that has baffled and outraged Scotland Yard's best. A senior member of Her Majesty's government has been brutally murdered, and the body of his attacker lies close by—riddled with bullets. More perplexing, one of the attending detectives recognizes the dead assassin as Charlie Higginbotham, a local Cockney pickpocket and petty thief. Higginbotham is not just an improbable suspect, but an impossible suspect, for the young detective watched him take the drop two weeks previously, hanged at Newgate Prison.
Conan Doyle calls in his friend Oscar Wilde for assistance and soon the two authors find themselves swept up in an investigation so bizarre it defies conventional wisdom and puts the lives of their loved ones, the Nation, and even the Monarch herself in dire peril. The murders continue, committed by a shadowy cadre of seemingly unstoppable assassins. As the sinister plot unravels, an implausible theory becomes the only possible solution: someone is reanimating the corpses of executed criminals and sending them shambling through the London fog… and programmed for murder.
About the Author
VAUGHN ENTWISTLE grew up in Northern England. He is the author of The Paranormal Casebooks of Sir Arthur Conan Doyle series. In the early nineties he moved to Seattle to work as a writer, and in his spare time he ran a successful gargoyle-sculpting company for ten years.He often writes with one cat on his lap, a Brittany lying across his feet, and one or more cats sauntering across the keyboard. He recently moved back to England.
Praise For The Dead Assassin: The Paranormal Casebooks of Sir Arthur Conan Doyle…
"A witty atmospheric tale featuring the unique detecting duo of Dr. Watson and Oscar Wilde." —Cara Black, author of Murder in Pigalle, on The Revenant of Thraxton Hall
"A delight. It's a treat to meet the Great Detective's creator (Arthur Conan Doyle) as a sleuth in his own right. And partnered with Oscar Wilde--what a bold and wonderful conceit!" —John Lescroart, author of The Keeper, on The Revenant of Thraxton Hall
"Absorbing… Entwistle assembles an intriguing cast, including a levitator whose acts go awry, an enigmatic foreign count, and a Russian mystic who warns of dangerous revenants (returning spirits), for his whimsical plot." —Publishers Weekly on The Revenant of Thraxton Hall
"Thrilling, suspenseful and utterly captivating, The Revenant of Thraxton Hall ingeniously combines historical fact with creative imagination. Conan Doyle and Wilde are a unique and lively recombination of Holmes and Watson, and once again, the game is most assuredly afoot. Don't miss it!" —Kelli Stanley, author of City of Dragons, on The Revenant of Thraxton Hall
"Entwistle is a talented writer who has written an imaginative story with vivid period details and a compelling plot. I was hooked from the very first page and can't wait to read the next book." —Emily Brightwell, author of the Mrs. Jeffries Victorian mystery series, on The Revenant of Thraxton Hall
"Entwistle gives the man who created Sherlock Holmes his own mystery to solve in this amazing novel. Arthur Conan Doyle proves himself worthy of Holmes's mantle as he and his clever friend Oscar Wilde untangle a decades-old mystery to save a beautiful young woman's life." —Victoria Thompson, author of Murder in Chelsea, on The Revenant of Thraxton Hall
or
Not Currently Available for Direct Purchase