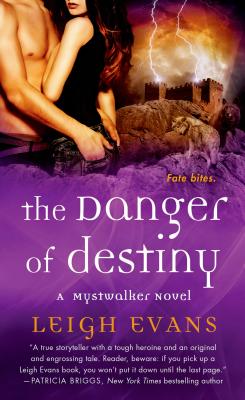 The Danger of Destiny
A Mystwalker Novel
Mass Market

* Individual store prices may vary.
Description
WHY WHISTLE IN THE DARK...
There are very few days off when you're on an epic quest. Believe me, I know. I'm Hedi Peacock-one half Fae, the other were-and if being a half-breed with one foot in each world isn't tough enough to manage, there are the four chambers of my heart to consider. The one who holds the strings? Robson Trowbridge, the Alpha of Creemore. If I had my way, he and I would be locked in a bedroom, for eternity, but a pressing family matter needs my attention. It's true what they say: A woman's work is never done.
WHEN YOU CAN HOWL AT THE MOON?
My twin brother is being held captive by the Old Mage in another realm. Lo and behold, as soon as Trowbridge and I arrive in Merenwyn, we're separated in spectacular, dramatic fashion-and I'm left to figure out how to maintain the fragile balance between my Fae magic and my wolf's blood in a realm that cries to both. Not easy, particularly when I'm keeping an iron-grip on my temper so as not to dispatch with extreme prejudice the odd wizard or smart-mouthed mutt servant who crosses my path. My mama never told me there'd be days like these, but I'm not going down without a fight...or my mate.
Praise For The Danger of Destiny: A Mystwalker Novel…
"[A] brilliant debut…has a likeable, light-fingered heroine with smarts, a tough sexy hero with troubles, and a glimpse into a fascinating fae world that will have you howling for the next book. I loved it!" —Suzanne McLeod, author of The Shifting Price of Prey on THE TROUBLE WITH FATE
"What a delicious read! Chock full of fun twists and sexy diversions, one of them named Robson. Leigh Evans is definitely one to watch. Get this book! You will not be disappointed!" —Darynda Jones, New York Times bestselling author of the Charley Davidson series on THE TROUBLE WITH FATE
"It's rare to find a debut novel with a well-crafted world, a great story and dynamic characters, but this book has them all. I was grabbed early and hooked to the very end. I eagerly await the sequel!" —Karen Chance, New York Times bestselling author of the Cassandra Palmer and Dorina Basarab series on THE TROUBLE WITH FATE
"Her first time at bat, Leigh Evans has hit one out of the park. The Trouble with Fate is the perfect mix of romance and action, with characters you can't help but root for and a twist that had me squealing with surprise. Evans offers a brilliant new take on fairies, werewolves, and magic--and this book is urban fantasy and paranormal romance at its best. I am officially addicted." —Chloe Neill, New York Times bestselling author of the Chicagoland Vampires and Dark Elite series on THE TROUBLE WITH FATE
"A true storyteller with a tough heroine and an original and engrossing tale. Reader beware, if you pick up a Leigh Evans book, you won't put it down until the last page." —Patricia Briggs, New York Times bestselling author on THE TROUBLE WITH FATE
St. Martin's Paperbacks, 9781250035110, 432pp.
Publication Date: March 3, 2015
About the Author
Leigh Evans was born in Montreal, Quebec but now lives in Southern Ontario. She's raised two kids, mothered four dogs, and herded a few cats. Other than that, her life was fairly routine until the day she decided to write a book about a half-Fae, half-Were girl who's a magnet for trouble. The first Mystwalker novel was grabbed by St. Martins, and released as THE TROUBLE WITH FATE in 2012. Second and third books quickly followed: THE THING ABOUT WERES and THE PROBLEM WITH PROMISES. At the age most people start thinking about retirement, Leigh is slinging words and pummeling plots. Leigh's destiny has finally been met: she's a writer. A little tardy, but then again, her mum always said she was a late bloomer.
or
Not Currently Available for Direct Purchase