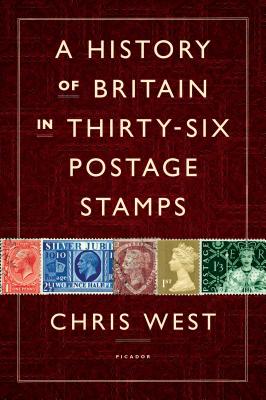 A History of Britain in Thirty-six Postage Stamps
Hardcover

* Individual store prices may vary.
Description
Stamps tell a story—and Chris West's book is the unique, fascinating tale of Great Britain told through its stamps.

Hailed by The Times of London as "a splendid reminder of the philatelic glories of the past," A History of Britain in 36 Postage Stamps tells the rich, layered, and breathtaking history of England through thirty-six of its fascinating, often beautiful, and sometimes eccentric postage stamps. West shows that stamps have always mirrored the events, attitudes, and styles of their time. Through them, one can glimpse the whole epic tale of an empire unfolding. From the famous Penny Black, printed soon after Queen Victoria's coronation, to the Victory! stamp of 1946, anticipating the struggle of postwar reconstruction—A History of Britain in 36 Postage Stamps is a hugely entertaining and idiosyncratic romp, told in Chris West's lively prose.
On their own, stamps can be curiosities, even artistic marvels; in this book, stamps become a window into the larger sweep of history.
Praise For A History of Britain in Thirty-six Postage Stamps…
"Clever, quirky...This is a lovely book. And not just for philatelists." —The Plain Dealer
"There's brilliant social history on every page and a dramatic mini-series in every chapter." —Rebecca Eaton, Executive Producer of Masterpiece and author of Making Masterpiece
"West treats each entry more like a riffing conversation than a lecture...And since each chapter is just a handful of pages long, it's easy to jump around and explore, making for diverting and educating reading." —Milwaukee Journal-Sentinel
"A clever and informative look at the United Kingdom's history." —Richmond Times Dispatch
"Though this delightful read is deliberately designed to capture the fancy of both devoted Anglophiles and stamp enthusiasts, it will also appeal to members of the Downton Abbey set interested in background and context." —Booklist
"Stamp collectors and Anglophile history buffs alike will enjoy this book--and for the reader who's both, it's a sure bet." —Kirkus Reviews
"A History of Britain in Thirty-Six Postage Stamps lives up to its title. Though stamps may be the subject of the book, its content is full of insight into the full history of the British Empire, from Queen Victoria to Kate Middleton. Through West's book, we get fascinating stories and anecdotes about wars, celebrations, the mercurial fortunes of Britain's royalty, the rise and fall of its empire and, of course, design." —Smithsonianmag.com's Design Decoded Blog
"Chris West's book is like a collection of witty, informative letters about British history. It's as clear and readable as a picture postcard: short and sweet and chatty." —Stephen Clarke, author of the international bestseller A Year in the Merde and 1,000 Years of Annoying the French
"Chris West's gripping book reminds us why philatelists are passionate enough to kill. Oh, by the way, it's a fine portrait of the last 175 years of British history, too." —Alan Bradley, New York Times bestselling author of The Sweetness at the Bottom of the Pie
"Each classic, lovingly designed stamp is presented in full color, revealing it to be both a work of art and a tantalizing window into the character and spirit of its era." —The Guardian (London)
"[A History of Britain in Thirty-six Postage Stamps] happily demolishes in a few pages the kinds of questions...that might otherwise consume whole volumes." —The Daily Telegraph (London)
"An unusual and accomplished project." —The Scotsman (Edinburgh)
Picador, 9781250035509, 288pp.
Publication Date: October 22, 2013
About the Author
CHRIS WEST has written widely in a variety of genres. His titles include a bestselling business guide, and a quartet of crime novels. He inherited a love of history from his father and an Edwardian "Lincoln" stamp album from his great-uncle as a child. His love for stamps was revived when he found that same dust-covered album in his attic as an adult. He lives in Cambridgeshire, England.