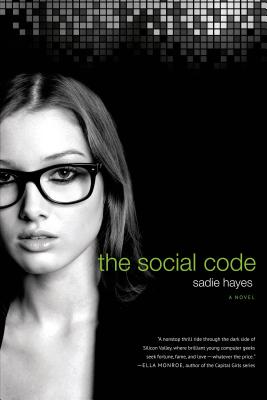 The Social Code
A Novel (Start-Up Series #1)
Paperback

* Individual store prices may vary.
Description
In a world where anyone can rise to the top, the only rule is... watch your back, in Sadie Hayes' The Social Code.

Eighteen-year-old twins Adam and Amelia Dory learned the hard way to rely only on each other, growing up in a small town where they understood the meaning of coming from nothing. But everything changes when both are offered scholarships to Stanford University – and catapulted into the dazzling world of Silicon Valley, where anyone with a good enough idea can skyrocket to fame and fortune in the blink of an eye…
Amelia is almost as pretty as she is smart – almost. A shy girl and genius, she is happiest alone in the computer lab, but her brother has other plans for her talents: A new company that will be the next Silicon Valley hit, and will thrust Amelia into the spotlight whether she likes it or not. Where Amelia's the brains, Adam's the ambition – he sees the privileged lifestyle of the Silicon Valley kids and wants a piece of what they have. He especially wants a piece of Lisa Bristol, the stunning daughter of one of the Valley's biggest tycoons.
As Adam and Amelia begin to hatch their new company, they find themselves going from nothing to the verge of everything seemingly overnight. But no amount of prestige can prepare them for the envy, backstabbing and cool calculation of their new powerful peers.
Welcome to Silicon Valley, where fortune, success – and betrayal – are only a breath away…
Praise For The Social Code: A Novel (Start-Up Series #1)…
"Social Code is a non-stop thrill ride through the dark side of Silicon Valley, where brilliant young computer geeks seek fortune, fame, and love.... [It] will keep you on the edge of your seat all the way to the end––and clamoring for more." —Ella Monroe, author of Capital Girls
"Sadie Hayes has blown me away . . . This is something new in the YA genre." —Courtney's Book Nook
"Sharp, fun and full of angsty dramatic brilliance." —In the Closet with a Bibliophile
"Hayes' writing is spectacular and absolutely breath-taking . . . I am begging for more Sadie Hayes!" —Sit Here and Read
"Deliciously good." —Librarian Reads
St. Martin's Griffin, 9781250035653, 320pp.
Publication Date: September 3, 2013
About the Author
SADIE HAYES is the pseudonym for a highly positioned Silicon Valley executive. She holds several degrees from Stanford University, and has spent years working in the tech industry, both as an entrepreneur and as an investor. She is the author of The Next Big Thing. If you work in Silicon Valley, you might not know Sadie Hayes. But she knows you.