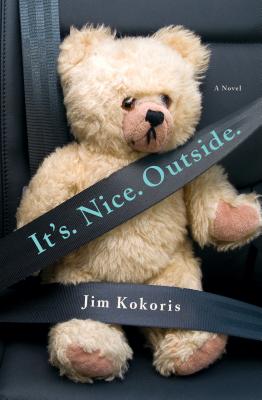 It's. Nice. Outside. (Hardcover)
A Novel
St. Martin's Press, 9781250036056, 320pp.
Publication Date: December 8, 2015
Other Editions of This Title:
Paperback, Large Print (1/17/2018)
* Individual store prices may vary.
Description
Meet John Nichols. He's fifty-something years old, an ex-basketball player, ex-author, ex-philanderer, ex-husband, ex-high school English teacher. And he's the father of three: two overachieving adult daughters and 19-year-old Ethan, who will never be an adult. John's older daughter is getting married, and as the family members travel to the celebration, John is secretly preparing for a life change that will alter his family's hearts forever.
The five Nichols' are held together by love and humor, as well as the spiky parts of sisterly competition and a difficult baby brother. Parents John and Mary have devoted themselves to caregiving, and John especially finds himself caught in the tension between being a parent and being true to himself. So when a new challenge comes their way in the wake of a road trip and wedding plans, the family bonds are stretched and tested. Funny, heartbreaking, and generous, IT'S. NICE. OUTSIDE. asks: What happens when you have to let go of the person who has been holding you up?
About the Author
JIM KOKORIS is the author of the novels The Rich Part of Life, which has been published in fifteen languages and for which he won a Friends of American Writers Award for Best First Novel, Sister North, and The Pursuit of Other Interests. A graduate of the University of Illinois, Jim lives in the Chicago area with his family.
Praise For It's. Nice. Outside.: A Novel…
"Heartwarming and hilarious, It's. Nice. Outside. is a tender and entertaining family story about what threatens to break us and what it takes to endure. Jim Kokoris's new novel is a rollicking read about love and devotion." —Lee Martin, author of the Pulitzer finalist,The Bright Forever
"Jim Kokoris's heart-warming novel of a man coping with his beloved and disabled son moved me from tears to laughter. Kokoris tells the story with humanity, humor, and most of all affection. It's. Nice. Outside. moves beyond stereotypes to show how we are all capable of love, and being loved. I. Love. This Book." —Sandra Dallas, New York Times best-selling author
"Mr. Kokoris's beautifully rendered tale about a family ripping out their historical seams and patching themselves together the best they can in the confines of mini-van during a life-changing road trip had me enthralled from the first page to the last. Heartbreaking? You bet. Hilarious? Absolutely. Loved it!" —Lesley Kagen, New York Times bestselling author of The Resurrection of Tess Blessing
"Jim Kokoris dispels the myth that male writers cannot adequately portray women or tell family stories with sensitivity. Honest, funny, and brilliantly written, It's. Nice. Outside. will break your heart-and mend it. This book will remain one of my all-time favorites." —Sandra Kring, author of Carry Me Home and The Book of Bright Ideas

"It's. Nice. Outside. is a book that you can't stop reading. . . If you've ever spied a harried father shepherding an adult child with exceptional needs, and wondered what that man's life might be like, this book will tell you... riveting... seesaws on an issue all too real for parents like Kokoris." --Chicago Sun-Times
or
Not Currently Available for Direct Purchase