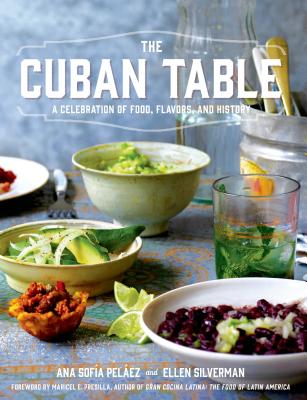 The Cuban Table
A Celebration of Food, Flavors, and History
Hardcover

* Individual store prices may vary.
Description
~Nominated for a James Beard Award in the international cookbook category!~

The Cuban Table is a comprehensive, contemporary overview of Cuban food, recipes and culture as recounted by serious home cooks and professional chefs, restaurateurs and food writers. Cuban-American food writer Ana Sofia Pelaez and award-winning photographer Ellen Silverman traveled through Cuba, Miami and New York to document and learn about traditional Cuban cooking from a wide range of authentic sources.

Cuban home cooks are fiercely protective of their secrets. Content with a private kind of renown, they demonstrate an elusive turn of hand that transforms simple recipes into bright and memorable meals that draw family and friends to their tables time and again. More than just a list of ingredients or series of steps, Cuban cooks' tricks and touches hide in plain sight, staying within families or being passed down in well-worn copies of old cookbooks largely unread outside of the Cuban community.

Here you'll find documented recipes for everything from iconic Cuban sandwiches to rich stews with Spanish accents and African ingredients, accompanied by details about historical context and insight into cultural nuances. More than a cookbook, The Cuban Table is a celebration of Cuban cooking, culture and cuisine. With stunning photographs throughout and over 110 deliciously authentic recipes this cookbook invites you into one of the Caribbean's most interesting and vibrant cuisines.
Praise For The Cuban Table: A Celebration of Food, Flavors, and History…
"This book has a place in every kitchen." —The Miami Herald

"… [A] heartfelt tribute to Cuban Cuisine…Cooks will want to add this immersive and inspirational book to their collection." —Publishers Weekly, STARRED review

"A seat at this table will be a welcome one for those who grew up eating and preparing Cuban food as well as those who are curious and ready to learn about it." —Booklist

"Food writer Peláez's (hungrysofia.com) and photographer Silverman's passion for Cuban cooking leaps off the page...bursting with exotic and enticing words and tastes." —Library Journal, STARRED review

"...Ana Sofía Peláez melds food and family, Cuba and Miami, the past and the present...In this gem of a book, all Cubans--from here and there--sit at the same table. And what a table it is!..." —Mirta Ojito, Pulitzer Prize winning journalist and author of Finding Mañana: A Memoir of a Cuban Exodus

"The goddess of fortune was smiling on Cuba when Ellen Silverman and Ana Sofia Pelaez hit its shores. Few capture the essence of a place, a people and their food as have these two. Visually true and beautiful, written with deep understanding and lusty appetite, this is one of those books you read, you cook with and come back to again and again. It's a keeper." —Lynne Rossetto Kasper and Sally Swift, host and producer of American Public Media's The Splendid Table, and authors of The Splendid Table's How to Eat Weekends

"Ana Sofia Pelaez's evocative writing and easy-to-follow recipes coupled with Ellen Silverman's gorgeous photography is a recipe for a timeless book. In The Cuban Table, they bring us wonderful Cuban recipes and the stories behind them. I can't wait to get into the kitchen with The Cuban Table!" —Julia Turshen, food writer and coauthor of It's All Good

"With its superb photographs and enticing recipes, this is sure to become THE book on Cuban cooking and an entree IN to an extraordinary culture." —Sally Schneider, award-winning author of A New Way to Cook and The Improvisational Cook, and founder of improvisedlife.com

"The glow of family memories radiates from the recipes, stories, and food photographs of The Cuban Table as they show us Cuban and Cuban-Americans' strong connections to tradition. And I love Ellen Silverman's photographs of present-day Cuba, so full of life and confidence." —Naomi Duguid, writer and photographer, and author of Burma: Rivers of Flavor

"My copy of The Cuban Table is sure to be covered in the loving spills of so many meals: mornings spent savoring a classic cafe con leche, leisurely lunches that begin with the crunch of hot-fried mariquitas, and easy dinners with friends who can't get enough of the classic pork and beans (feel free to sub your favorite dinner recipe from the book here!). The original family recipes and accompanying gorgeous images will tempt you to try every dish--and you should!" —Daphne Oz, author of Relish and cohost of The Chew
St. Martin's Press, 9781250036087, 336pp.
Publication Date: October 28, 2014
About the Author
ANA SOFIA PELAEZ grew up in a famous Cuban family as the great-niece of the revered avant-garde painter Amelia Peláez del Casal. Raised in Miami and transplanted to New York, Ana Sofia launched her food blog, Hungry Sofia, in 2008 in an effort to discover the rich smells, heady flavors, and baroque rituals of Latin food. Since then, she has been featured by The New York Times, InStyle magazine, The Huffington Post, Food 52, Apartment Therapy's the Kitchn, iVillage, and NBC Latino. She's appeared on the Cooking Channel's "Stay Hungry" campaign and Aarón Loves NY with Chef Aarón Sanchez. Most recently, Hungry Sofia was nominated by Saveur magazine as one of the Best Regional Cuisine blogs of 2012.