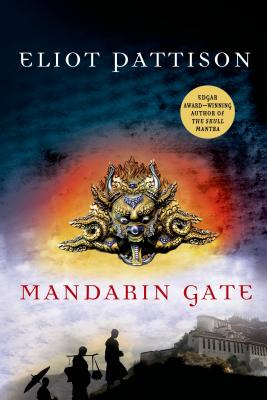 Mandarin Gate (Inspector Shan Tao Yun #7)
Paperback

* Individual store prices may vary.
Description
In Mandarin Gate, Edgar Award winner Eliot Pattison brings Shan back in a thriller that navigates the explosive political and religious landscape of Tibet.
In an earlier time, Shan Tao Yun was an Inspector stationed in Beijing. But he lost his position, his family and his freedom when he ran afoul of a powerful figure high in the Chinese government. Released unofficially from the work camp to which he'd been sentenced, Shan has been living in remote mountains of Tibet with a group of outlawed Buddhist monks. Without status, official identity, or the freedom to return to his former home in Beijing, Shan has just begun to settle into his menial job as an inspector of irrigation and sewer ditches in a remote Tibetan township when he encounters a wrenching crime scene. Strewn across the grounds of an old Buddhist temple undergoing restoration are the bodies of two unidentified men and a Tibetan nun. Shan quickly realizes that the murders pose a riddle the Chinese police might in fact be trying to cover up. When he discovers that a nearby village has been converted into a new internment camp for Tibetan dissidents arrested in Beijing's latest pacification campaign, Shan recognizes the dangerous landscape he has entered. To find justice for the victims and to protect an American woman who witnessed the murders, Shan must navigate through the treacherous worlds of the internment camp, the local criminal gang, and the government's rabid pacification teams, while coping with his growing doubts about his own identity and role in Tibet.
Praise For Mandarin Gate (Inspector Shan Tao Yun #7)…
"Pattison dramatically portrays the bitter oppression suffered by the Tibetan people under Communist China in his excellent seventh novel featuring Chinese investigator Shan Tao Yun. Pattison movingly delineates the difficulties of seeking justice under a police state in this brilliantly constructed and passionate whodunit." —Publishers Weekly (starred review)
"Pattison portrays the oppression of the Tibetan people with dramatic delicacy and rich insight. While Mandarin Gate is set in a locale farther away than most readers will ever dare venture, this mystery brings the plight of Tibet into sharp focus, weaving the region's cultural, social and political conflict into a compelling narrative." —CNN.com
Minotaur Books, 9781250036506, 320pp.
Publication Date: December 24, 2013
About the Author
Eliot Pattison is the author of The Skull Mantra, which won the Edgar Award and was a finalist for the Gold Dagger, as well Water Touching Stone and Bone Mountain. Pattison is a world traveler and frequent visitor to China, and his numerous books and articles on international policy issues have been published around the world.
or
Not Currently Available for Direct Purchase