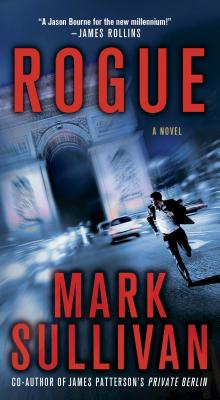 Rogue (Mass Market Paperbound)
Minotaur Books, 9781250036940, 528pp.
Publication Date: August 27, 2013
* Individual store prices may vary.
or
Not Currently Available for Direct Purchase
Description
ROGUE
Mark Sullivan
Mark Sullivan has created a propulsive, compelling new thriller. "Rogue, " is one part "Bourne Identity" and one part "Mission: Impossible, " but readers will also love the nod to Hitchcock's "It Takes a Thief."
Two years ago, Robin Monarch was a top level CIA operative perhaps the best they had when it came to black bag operations. Then one day, in the middle of an operation, with his team around him in the field, Monarch walked away, leaving his old life and friends behind without a word of explanation.
Now this ex-soldier, ex-operative, and orphan with a murky past is a thief, stealing from the super-rich and has surfaced in St. Tropez. But when a complicated, high profile jewel heist goes wrong, Monarch is led into a carefully woven trap designed to force him to complete the very same mission he walked away from years ago.
It will take all of his skills (as well as those of the team he burned) and all of his cunning, if Monarch is to thwart the violent and deadly goals of the very powerful cabal who will do whatever it takes to bring the very dangerous "Green Fields" technology under their control.
About the Author
Author of the bestselling novel Beneath a Scarlet Sky, MARK SULLIVAN is also the author of the Robin Monarch thrillers (Rogue, Outlaw, and Thief) as well as the coauthor with James Patterson of the several bestsellers in the "Private" series. He lives in Bozeman, Montanta.
Praise For Rogue…
"Fast moving and well-written! Rogue reminded me of the Bourne books and movies, only it's much, much better." —James Patterson "A true juggernaut of a thriller, pure adrenaline in print.  With the creation of Robin Monarch, Sullivan has crafted a Jason Bourne for the new millennium." —James Rollins "Diabolical! Filled with twists, turns, crosses, and double-crosses, Sullivan delivers a harrowing international thriller, while introducing one of the most compelling heroes since Jason Bourne." —Lisa Gardner "A compelling, page-turning blend of spy and caper fiction: it's Robin Hood for the twenty-first century. Loaded with intrigue, laced with detail, and full of bone-shaking action, Rogue is the fantastic start to an exciting new series." —Jeff Abbott
Advertisement