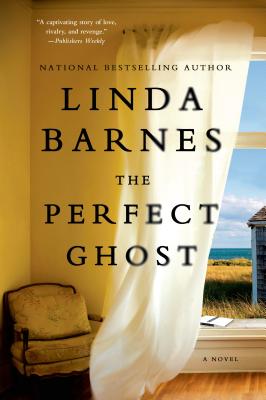 The Perfect Ghost (Paperback)
A Novel
Minotaur Books, 9781250036988, 320pp.
Publication Date: April 15, 2014
* Individual store prices may vary.
Description
Mousy and shy to the point of agoraphobic, Em Moore is the writing half of a celebrity biography team. Her charismatic partner, Teddy, does the interviewing and the public schmoozing. But Em's dependence on Teddy runs deeper than just the job—Teddy is her bridge to the world and the main source of love in her life. So when Teddy dies in a car accident, Em is devastated, alone in a world she doesn't understand. The only way she can honor his memory and cope with his loss is to finish the interviews for their current book—an "autobiography" of renowned and reclusive film director Garrett Malcolm.
Ensconced in a small cottage near Malcolm's Cape Cod home, Em slowly builds the courage to interview Malcolm the way Teddy would have. She finds Malcolm at once friendlier, more intimidating, and much sexier than she had imagined. But Em soon starts hearing whispers of skeletons in the Malcolm family closet. And then the police begin looking into the accident that killed Teddy, and Em's control on her life—tenuous at best—is threatened.
In The Perfect Ghost, a stunning breakout novel from the beloved author of the Carlotta Carlyle mystery series, Linda Barnes slowly winds the strings tighter and tighter, leading the reader ever more deeply into the lives of her characters with pitch-perfect pacing and mesmerizing prose.
About the Author
Linda Barnes is winner of the Anthony and American Mystery Awards, an Edgar Award finalist, and the author of the Carlotta Carlyle mysteries, including Heart of the World and Lie Down with the Devil. She lives in the Boston area with her husband and son.
Praise For The Perfect Ghost: A Novel…
"Linda Barnes reaches new heights with her novel The Perfect Ghost, a tale of celebrity and the dangers the desire for it can bring. Em, the flawed and fascinating protagonist of this literary mystery, is wily and driven, perhaps too driven, as she barrels down a twisty road leading to a spectacular and unexpected ending. Bravo." —B.A. Shapiro, New York Times bestselling author of The Art Forger
"Hooked from the first chapter, Linda Barnes' The Perfect Ghost makes me wonder what the hell I've been doing all these years not reading Linda Barnes." —Lisa Lutz, New York Times bestselling author of The Spellman Files
"A delicious twist…Em's dramatic story of rebirth, addressed to Teddy in absentia, unfolds with the fitting precision of a stage play…An outstanding effort from Barnes." —Booklist (starred review)
"Barnes delivers a captivating story of love, rivalry, and revenge." —Publishers Weekly
"An eerie, suspenseful stand-alone." —Kirkus Reviews