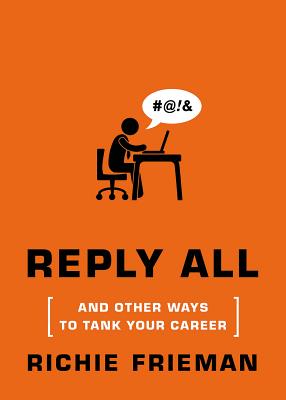 REPLY ALL...and Other Ways to Tank Your Career (Paperback)
A Guide to Workplace Etiquette (Quick & Dirty Tips)
St. Martin's Griffin, 9781250037268, 272pp.
Publication Date: September 17, 2013
Other Editions of This Title:
Digital Audiobook (9/16/2013)
Compact Disc (9/17/2013)
Pre-Recorded Audio Player (1/1/2015)
* Individual store prices may vary.
Description
Millions of people have improved their lives with the help of Richie Frieman, the hilariously insightful writer known as the Modern Manners Guy on the Quick and Dirty Tips network. In Reply All...And Other Ways to Tank Your Career, he interviews dozens of CEOs, entrepreneurs, celebrities, and tastemakers to get the pros' take on workplace challenges of every flavor, including:
- How to make a great first impression and land the job
- How to deal with the Cubicle Invader
- How to navigate the office party
- What to do if you encounter your boss at the gym, naked
- Relationships on the job-fact or fiction?
With his signature wit and unique insight, Richie reveals the best ways to handle every sticky office situation with aplomb and class. Case studies, chapter quizzes, and even cartoons help to deliver actionable, easy-to-use etiquette tips to teach young professionals to navigate the minefield of their jobs and come out on top.
Reply All...And Other Ways to Tank Your Career features interviews with celebrities like Steve Guttenberg and Lisa Loeb, with business titans like Barbara Corcoran, Ken Austin, and Michael Weinstein, and with CEOs of forward-thinking companies like Neil Blumenthal of Warby Parker and Sam Tarantino of Grooveshark.
Spike Mendelsohn, restaurateur and Top Chef, raves: "Reply All...And Other Ways to Tank Your Career provides solutions for all of your career problems, especially the ones that you were afraid to acknowledge. Richie Frieman's unique voice gives a cheeky approach to the faux pas we inevitably encounter. With tips from the pros and enough humor to match, you're bound to absorb the wisdom mid chuckle."
Rob Samuels, COO of Makers Mark, says: "If only there was a guide like this when I first entered the workplace - filled with real world anecdotes and examples from leading professionals, and broken up with quizzes and visuals - I would've made far fewer missteps along the way. Reply All...And Other Ways to Tank Your Career spells out those unspoken professional standards and expectations in an easy to understand (not to mention hilarious) fashion for anyone starting their career."
About the Author
A modern day Renaissance man, Richie Frieman is the host of the popular Modern Manners Guy podcast on the Quick and Dirty Tips network (with nearly 7 million podcast downloads!). His distinct voice stems from his colorful career history, which includes stints as a professional artist and a professional wrestler. Whether in the boardroom or in the wrestling ring, Richie has seen manners at their finest and their most bizarre. Richie's outlook on modern manners is humorous, honest, and above all else, practical. He is routinely featured on FOX News, Huffington Post, Shape, FHM, Sharp Magazine, Baltimore Sun, and many other media outlets. Richie is founder/CEO of the award-winning music and lifestyle magazine Pens Eye View, for which he was awarded a Laureate medal at the 2008 Computerworld Honors Program (formerly known as the Smithsonian Award). Richie is also the author of several award-winning children's books and the founder of Charm City Babies, a fashion line that creates rock n' roll-inspired onesies and donates one article of clothing to charities worldwide for every one article sold. He lives in Baltimore with his wife and two children.
Praise For REPLY ALL...and Other Ways to Tank Your Career: A Guide to Workplace Etiquette (Quick & Dirty Tips)…
"If only there was a guide like this when I first entered the workplace - filled with real world anecdotes and examples from leading professionals, and broken up with quizzes and visuals - I would've made far fewer missteps along the way. REPLY ALL ... And Other Ways to Tank Your Career spells out those unspoken professional standards and expectations in an easy to understand ... not to mention hilarious .. fashion for anyone starting their career." —Rob Samuels, CEO of Maker's Mark
"REPLY ALL provides solutions for all of your career's problems, especially the ones that you were afraid to acknowledge. Frieman's unique voice gives a cheeky approach to the faux-pas and continual conundrums we inevitably encounter. With tips from the pros and enough humor to match, you're bound to absorb the wisdom mid chuckle." —Spike Mendelsohn, Top Chef and Restaurateur
or
Not Currently Available for Direct Purchase