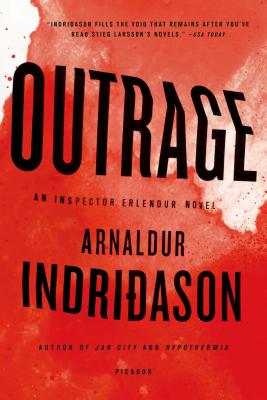 Outrage (Paperback)
Picador USA, 9781250037749, 288pp.
Publication Date: August 27, 2013
Description
Author of Jar City and Hypothermia
An Inspector Erlendur Novel

Arnaldur Indrioason is universally recognized as one of the top Scandinavian crime novelists writing today, and in Outrage he is at the top of his form.
Haunted by personal demons, Detective Erlendur decides to take a short leave of absence, putting his female assistant, Elinborg, in charge while he is gone. When a disturbing case lands on her desk, Elinborg is quickly thrust into a world of violent crime. The murdered man turns out to be a serial rapist, and Elinborg must overcome her feelings of disgust for the victim if she wants to catch his killer before he strikes again.
With exceptional prose, heart-pounding suspense, and a mystery that is not solved until the last page, Indrioason fans everywhere will be thrilled to return to Reykjavik in this outstanding crime novel.
About the Author
Arnaldur Indridason won the CWA Gold Dagger Award for Silence of the Grave and is the only author to win the Glass Key Award for Best Nordic Crime Novel two years in a row, for Jar City and Silence of the Grave. The film of Jar City, now available from Netflix, was Iceland's entry for the Academy Award for Best Foreign Film, and the film of his next book, Silence of the Grave, is currently in production with the same director. The recent film Contraband, starring Mark Wahlberg, is based on an Icelandic film written by Indridason, who lives in Reykjavik, Iceland.
Praise For Outrage…
"Indriðason fills the void that remains after you've read Stieg Larsson's novels."—USA Today


"A superb series...Expertly handled."—Chicago Sun-Times

"Genuinely fascinating...A deeply compelling procedural that should provide Indriðason an even wider audience than he already has found."—Booklist (starred) 
"Another deftly modulated murder puzzle from Indridason with terrific character portraits, many twists and a satisfying "aha!" moment."—Kirkus
"Fans of old-school sleuthing and new-school crime thrillers alike will relish this terrific read with its modern heroine but old-fashioned, meticulous approach."—Library Journal
"Outrage is further evidence that Indridason is one of the most brilliant crime writers of his generation."—The Sunday Times (UK)
Outstanding Praise for Arnaldur Indriðason:

"What's Icelandic for 'We have ourselves a winner'?"—Newsday

"Mesmerizing."—The Wall Street Journal

"Indriðason keeps readers guessing until the very last page."—The Washington Post Book World
"Arnaldur Indriðason is already an international literary phenom. I can't wait for the next."—Harlan Coben
"A commanding new voice...puts Iceland on the map as a major destination for enthusiasts of Nordic crime fiction."—Marilyn Stasio, The New York Times Book Review
"Arnaldur Indriðason and Stieg Larsson produced two of the best crime novels this year."—The London Times
"Henning Mankell and Arnaldur Indriðason are two of the great names in Nordic crime fiction."—The Canberra Times (Australia)
"Every one of these writers is good [Hakan Nesser, Kjell Eriksson, Ake Edwardson, Helene Tursten, Karin Fossum], but in my book, Arnaldur Indriðason is even better."—Joe Queenen, Los Angeles Times
"A haunting and elegant novel...a writer of astonishing gravitas and talent."—John Lescroart
Advertisement