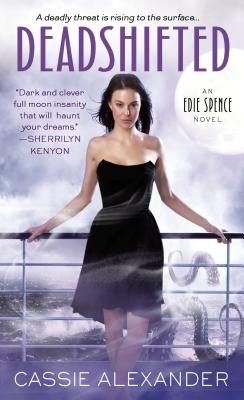 Deadshifted
An Edie Spence Novel
Paperback

* Individual store prices may vary.
Description
As Nurse Edie Spence embarks on her latest supernatural adventure from Cassie Alexander, the perils of the deep threaten to pull her under...
Edie Spence is in desperate need of a vacation-some R&R away from the craziness that shadows her as a nurse dealing with paranormal patients. But as she and her shapeshifter boyfriend, Asher, set sail on a cruise for Hawaii, they'll realize that seasickness isn't the only thing threatening their romantic getaway....
DEADSHIFTED
While on board, Asher comes face-to-face with Nathaniel, an old nemesis from his dark past. Asher is convinced he's up to no good...especially when passengers start to come down with a mysterious illness unlike anything Edie and Asher have ever encountered. Soon Edie finds herself fighting for the life of the one person who means the most to her-Asher. As chaos explodes, will Edie be able to save their future together...or will this close encounter with the paranormal side be her last?
"Edie is stone cold awesome. She's scrappy, fiercely independent, and by the time the conclusion came around I wanted to share a fist bump of solidarity with her." -The Book Smugglers
Praise For Deadshifted: An Edie Spence Novel…
"Edie Spence has a real talent for getting into trouble and somehow getting out of it. But she's loyal and tough and determined, and these are all characteristics you want in an urban fantasy hero. We can all look forward to what happens next." —New York Times bestselling author Charlaine Harris on the Edie Spence series
"I was swept away in the force with which it built and the raging rush to the finish. I'm more attached to Edie than ever. This is urban fantasy of the highest order." —Angieville on the Edie Spence series
"An innovative read that offers a whole new look at paranormal creatures and the humans who happen to live in their world. Readers are sure to enjoy this book, and will be eager to see what awaits Edie next. " —RT Book Reviews on the Edie Spence series
"I enjoyed every bit of this book. Edie Spence series is for sure one of the best UF books around." —Under the Covers on the Edie Spence series
"Immense fun with incredible world building. Alexander adds wonderful new facets to old myths and legends and a completely new spin on everything." —Fangs for the Fantasy on the Edie Spence series
"Steamy and entertaining…Edie's growing personality--and the cliffhanger ending--will keep fans hooked." —Publishers Weekly on the Edie Spence series
"Full of action, fantastic characters and situations that will make you want to kick some bad guys where it counts." —Urban Fantasy Investigations on the Edie Spence series
"The story is richly detailed, the plot is complex and Edie Spence is absolutely delightful. A winning blend that's not to be missed." —Rabid Reads on the Edie Spence series
"Moonshifted is even better than the first. There was more action, more snarkiness, and even more sexiness. I can't wait to read more from Alexander and more about Edie Spence." —Book Sake on the Edie Spence series
"Dark and clever full moon insanity that will get into your blood, crawl under your skin and haunt your dreams." —Sherrilyn Kenyon, #1 New York Times bestselling author of the Dark Hunter series, on the Edie Spence series
"The best debut I've read all year. Nightshifted is simply amazing!" —Kat Richardson, bestselling author of the Greywalker series, on the Edie Spence series
"Edie Spence has a distinctive, appealing and no-nonsense style that you won't quickly forget. Add to that a paranormal population that needs medical care for some very odd reasons, and you have a winner of a debut novel." —Kate Elliott, author of the Cold Magic series, on the Edie Spence series
"Fresh, exciting, dark, and sexy, Nightshifted is excellent urban fantasy that grabs you by the throat and pulls you along for a wild ride. Cassie Alexander is an author to watch!" —Diana Rowland, author of Mark of The Demon, on the Edie Spence series
"A fast, sexy return to the utterly unique world of Edie Spence. Moonshifted takes the world Cassie Alexander presented in Nightshifted and adds a whole new level of danger and intrigue. Absolutely recommended." —Seanan McGuire, award-winning author of Ashes of Honor, on the Edie Spence series
"Alexander's first novel launches a new series that should appeal to fans of medical thrillers as well as urban fantasy." —Library Journal on the Edie Spence series
"Nightshifted is like a dark and twisted version of Grey's Anatomy with vampires, zombies, and werewolves taking up residence in County Hospital's Y4 wing...The story moves at a similar pace to a hospital setting where there are small lulls in action and with sudden, even frantic bursts of action. That sort of pacing made Nightshifted an exciting read as I was constantly on edge, waiting to see what was going to happen next." —All Things Urban Fantasy on the Edie Spence series
"I loved this book. What a breath of fresh air! A very strong start to what promises to be a wonderful new series!" —My Bookish Ways on the Edie Spence series
"Nightshifted brought me back to E.R. with the added fun of paranormal creatures…because it is a fresh voice and premise among the crowded shelves of Urban Fantasy, I eagerly anticipate what's in store next for Edie and her colleagues." —Clear Eyes Full Shelves on the Edie Spence series
"Alexander has created a wonderful world of paranormal that we don't usually get to see. Edie Spence is so wonderfully human in a world of ghost CD players, vampires, zombies, weres, shifters and crappy pay checks. Read this book and you will be swooning (I promise), yelling and laughing all at the same time. A must read indeed!" —Bodice Rippers, Femme Fatales and Fantasy on the Edie Spence series
"Edie is a fun character with heart and charisma, making it easy to fall for her and want to see her succeed in all of her adventures, whether they be dealing with paranormal patients, evil vampires, or potential lovers. If you like your urban fantasy to have a dose of romance, then Nightshifted is for you. Highly recommended." —The Debut Review on the Edie Spence series
St. Martin's Paperbacks, 9781250037947, 304pp.
Publication Date: December 31, 2013
About the Author
In addition to being a writer, Cassie Alexander is an active registered nurse in California.  Nightshifted is her debut novel. 
or
Not Currently Available for Direct Purchase