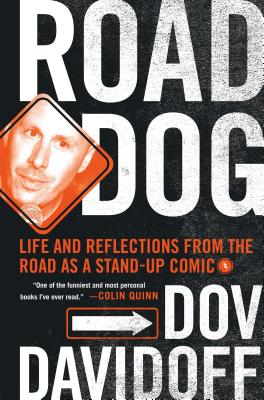 Road Dog
Life and Reflections from the Road as a Stand-up Comic
Hardcover

* Individual store prices may vary.
Other Editions of This Title:
Compact Disc (10/31/2017)
Compact Disc (10/31/2017)
MP3 CD (10/31/2017)
Description
Road Dog is comedian, actor, and writer, Dov Davidoff's unflinching memoir told through reflections of twelve months on the road. Davidoff travels across the country from college campuses to local theaters doing stand-up comedy and telling it like it is. He's been known to wax poetic about everything from encounters with large fake breasts, to people who have too many kids, to magnum condoms the size of CD cases. He is hilarious and relatable and will have you laughing at yourself in no time.
But there's more to the road dog life than TV features and sold out comedy shows, there's a dark underbelly and Dov knows it well. His memoir chronicles the highs and often very low lows of performance life with honesty, clarity, and humility. Dov takes readers from his fractured childhood days spent in a New Jersey junkyard with a gruff Jewish father and commune-loving hippie Protestant mother to the intense hyperactive persona that his fans know and expect discussing the relationships, drugs, and demons that he has fought along the way. With an eye for self-reflection, and a penchant for hilarious irony, Dov pulls back the curtain on a life hard-made on the road.
Praise For Road Dog: Life and Reflections from the Road as a Stand-up Comic…
"Dov is a rarity in the world of comedy. He can go from killing on stage at 1AM to a serious acting role the next day; super talented...the real deal!" —Dave Attell
"I won't say amazing or courageous because Dov hates when those words are used outside of war zones, but I will say it's one of the funniest and most personal books I've ever read. The world according to Garp, junkyard childhood into the bright lights, big city (small cities), comedy days. It's kind of beautiful."—Colin Quinn
"Raymond Carver with a two-drink minimum. Combining a captivating truth-is-stranger-than-fiction origin story with uproarious musings from the dark heart of the entertainment industry, ROAD DOG showcases Davidoff's unique and probing intellect; the fascinating mind behind the man in the spotlight. A memoir that tickles the funny bone but aims straight for, and hits, the human heart." —Anthony Tambakis, Hollywood screenwriter and novelist
"Mr. Davidoff is a peculiar individual. A man of contradiction. Relaxed, yet minimal eye contact. Cool, whilst jumping out of his own skin. Ever since I've known him, I've had the sneaking suspicion that he may be wearing a wire. I love his comedy. I look forward to reading his book. And of all the half-Jews I've met that have grown up in a junkyard, Dov is my favorite." —Bill Burr, Comedian
"With prose that verges into incandescent, Dov Davidoff spins a bittersweet, tragic tale of innocence long gone— but never quite relinquished. Dov holds himself up to be examined by a harsh, raking light; and he turns his formidable gaze on all of us. An elegant, sad, acidly funny memoir, told by a deeply amused clown— caught somewhere between Puck's lament, 'Lord what fools these mortals be' and the vitriolic self-immolation of Bukowski; but always, always with the redemptive power of humor, the proof of sanity and essential decency inside the maelstrom of wickedness and sin. Like Mike Tyson's broken soliloquies about the darkness inside of him, Dov's self-examination proves edifying. It's a tale of innocence long-lost, but somehow, through relentless internal striving and callous disregard for his own ego, regained." —Sam Sheridan, best selling author of A FIGHTER'S HEART, THE FIGHTER'S MIND, and DISASTER DIARIES
"Dov Davidoff is one funny, smart, intense motherfu**er."—Ray Liotta, actor and producer
"I've always wondered what makes someone as hilarious and remarkable as Dov tick. With Road Dog, I finally know, and it's even filthier than I expected."—Pete Holmes, star of HBO's CRASHING
"Top Ten Comics to Watch" —Variety

"Mr. Davidoff's high intensity and wild subject matter have made him an audience favorite." —The New York Times
St. Martin's Press, 9781250038074, 256pp.
Publication Date: October 31, 2017
About the Author
DOV DAVIDOFF is a New Jersey-born stand up comic, writer, and actor who was named one of Variety's Top 10 to Watch. Davidoff is a regular on college campuses and Chelsea Lately, starred in Invincible with Mark Wahlberg, and has appeared on TV shows including: The Tonight Show, Jimmy Kimmel Live, The Late Late Show, Last Call with Carson Daly, Chappelle's Show, Tough Crowd with Colin Quinn, Live from the Red Light District, and Russell Simmons Presents. He is a favorite at the prestigious Montreal Just for Laughs Comedy Festival, as well as HBO's The Comedy Festival in Aspen, Colorado. Road Dog is his first book.
or
Not Currently Available for Direct Purchase