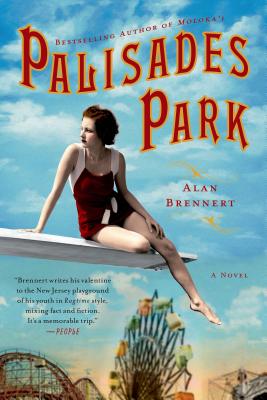 Palisades Park (Paperback)
A Novel
St. Martin's Griffin, 9781250038173, 448pp.
Publication Date: October 29, 2013
Other Editions of This Title:
Digital Audiobook (5/30/2013)
Hardcover (4/9/2013)
Hardcover, Large Print (4/5/2013)
* Individual store prices may vary.
Description
Bestseller Alan Brennert's spellbinding story about a family of dreamers and their lives within the legendary Palisades Amusement Park
Growing up in the 1930s, there is no more magical place than Palisades Amusement Park in New Jersey—especially for seven-year-old Antoinette, who horrifies her mother by insisting on the unladylike nickname Toni, and her brother, Jack. Toni helps her parents, Eddie and Adele Stopka, at the stand where they sell homemade French fries amid the roar of the Cyclone roller coaster. There is also the lure of the world's biggest salt-water pool, complete with divers whose astonishing stunts inspire Toni, despite her mother's insistence that girls can't be high divers.
But a family of dreamers doesn't always share the same dreams, and then the world intrudes: There's the Great Depression, and Pearl Harbor, which hits home in ways that will split the family apart; and perils like fire and race riots in the park. Both Eddie and Jack face the dangers of war, while Adele has ambitions of her own—and Toni is determined to take on a very different kind of danger in impossible feats as a high diver. Yet they are all drawn back to each other—and to Palisades Park—until the park closes forever in 1971.
Evocative and moving, with the trademark brilliance at transforming historical events into irresistible fiction that made Alan Brennert's Moloka'i and Honolulu into reading group favorites, Palisades Park takes us back to a time when life seemed simpler—except, of course, it wasn't.
About the Author
Alan Brennert is a novelist, screenwriter, and playwright. He grew up in New Jersey but moved to California in 1973. His novel Moloka'i was a national bestseller and a One Book, One San Diego selection for 2012. It also received the Bookies Award, sponsored by the Contra Costa Library, for the 2006 Book Club Book of the Year. His next novel, Honolulu, won First Prize in Elle Magazine's Literary Grand Prix for Fiction and was named one of the best books of 2009 by The Washington Post. Of his novel Palisades Park, People Magazine said: "Brennert writes his valentine to the New Jersey playground of his youth in Ragtime-style, mixing fact and fiction. It's a memorable ride."
His work as a writer-producer for the television series L.A. Law earned him an Emmy Award and a People's Choice Award in 1991. He has been nominated for an Emmy on two other occasions, once for a Golden Globe Award, and three times for the Writers Guild Award for Outstanding Teleplay of the Year.
Alan's short story"Ma Qui" was honored with a Nebula Award in 1992. His story "Her Pilgrim Soul" was adapted by Brennert himself for the Alan Menken musical Weird Romance in 1992.
His novel, Daughter of Moloka'i is a follow-up to Moloka'i that tells the story of Rachel Kalama's daughter Ruth, her early life, her internment during World War II, and her eventual meeting with her birth mother, Rachel. The novel explores the women's 22-year relationship, only hinted at it in Moloka'i.
Praise For Palisades Park: A Novel…
"Brennert writes his valentine to the New Jersey playground of his youth in Ragtime style, mixing fact and fiction. It's a memorable trip." —People Magazine
"Palisades Park is a perfect novel. Alan Brennert does a spectacular job of laying out a family saga from 1922 to 1974... he gracefully conjures up a place and time that is no more." —The Star-Ledger (Newark, NJ)
"An epic journey through the life of a treasured amusement park, with a cast of characters who experience great wonders and tragedies." —Lancaster (PA) Sunday News
"Brennert...creates a real emotional pull in his evocative description of the eccentric, hardworking people who made up the Palisades family in good times and in bad." —Publishers Weekly on Palisades Park
"This nostalgic coming-of-age tale of a little girl with big dreams is the perfect read." —Library Journal on Palisades Park
"A literate, thoughtful saga….Brennert's tale is a universal one [and] a pleasure to read." —Kirkus Reviews on Palisades Park
"A sweeping, epic novel . . . beautifully told." —Library Journal (starred) on Honolulu
"A lush tale of ambition, sacrifice, and survival. . . . Immense . . . yet intimate." —Booklist on Honolulu
"A dazzling historical saga." —The Washington Post on Moloka'i
"A poignant story." —Los Angeles Times on Moloka'i
"A superb novel." —Los Angeles Daily News on Moloka'i