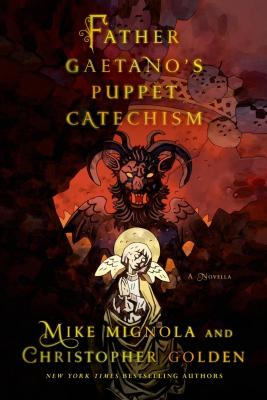 Father Gaetano's Puppet Catechism (Paperback)
Griffin, 9781250039040, 163pp.
Publication Date: September 24, 2013
* Individual store prices may vary.
Description
In the aftermath of a critical World War II battle, Father Gaetano is assigned as the sole priest at the Church of San Domenico in the small, seaside Sicilian village of Tringale. The previous pastor has died, and now the young priest must say all of the masses himself. In addition, he is tasked with shepherding the war's many orphans taken in by the San Domenico rectory. The children are a joy, but his attempts to teach them the catechism are in vain until he finds an ornate box of puppets in the basement. By day the puppets are teaching tools, but after dark they emerge from their box, without their strings. And the children's lives will never be the same again.
About the Author
MIKE MIGNOLA is best known as the award-winning creator/writer/artist of Hellboy. He was also visual consultant to director Guillermo del Toro on both Hellboy and Hellboy 2: The Golden Army films. He also co-authored (with Christopher Golden) 2 novels BALTIMORE, or, The Steadfast Tin Soldier and the Vampire and Joe Golem and the Drowning City. Mignola lives in southern California with his wife, daughter, and cat.
Praise For Father Gaetano's Puppet Catechism…
Praise for Father Gaetano's Puppet Catechism:
"A fun, scary little story about possibly evil puppets in a orphanage after World War II. All right in the author's wheelhouses, and...would make a great gift for Neil Gaiman's All Hallow's Read holiday." ― Comic Book Resources

"Father Gaetano's Puppet Catechism goes beyond fluff to provide entertainment with substance, an all-too rare treat in our disposable times. Kudos to Golden and Mignola." ― Fearnet
Praise for Joe Golem and the Drowning City:

"One of the most powerful 'neverwheres' of the modern fantastic imagination." —
The Wall Street Journal

"A story that grabs from the first page and doesn't let go."—Tad Williams

"A warm, wicked, frantic tale of noble monsters and monstrous men…dreadful and sublime."—Cherie Priest

"Mignola's affectionate, Kirby-esque portraits compliment Golden's imaginative, YA-friendly prose." —Kirkus

"Unique and inventive…. Recommended for fans of Hellboy, dystopian novels, and those who like a little horror with their action stories." —Library Journal
or
Not Currently Available for Direct Purchase