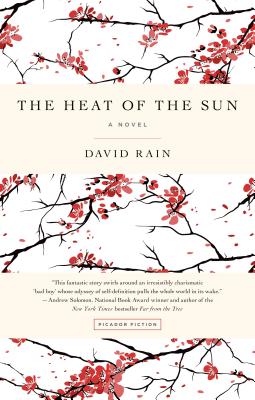 The Heat of the Sun
Paperback

* Individual store prices may vary.
Other Editions of This Title:
Hardcover (11/13/2012)
Description
AN EXUBERANT DEBUT THAT SWEEPS ACROSS THE TWENTIETH CENTURY BEGINNING WHERE ONE WORLD-FAMOUS LOVE STORY LEFT OFF TO INTRODUCE US TO ANOTHER
With Sophie Tucker belting from his hand-crank phonograph and a circle of boarding school admirers laughing uproariously around him, we first meet Ben "Trouble" Pinkerton through the amazed eyes of his orphaned schoolmate, Woodley Sharpless and ever after, though their paths at times diverge, their lives continue to intersect.
Trouble, the son of Lieutenant Benjamin Pinkerton and the geisha Madame Butterfly, is being raised in the United States by (now) Senator Pinkerton and his upper-class wife, Kate. From early on, his privileged upbringing and rebellious charisma combine to involve him in many important events of the twentieth century: from Greenwich Village in the roaring twenties, through WPA work during the Great Depression; from secret government work outside Los Alamos, to a revelation on a Nagasaki hillside by the sea. Sharpless witnesses such events, too along with plenty of Pinkerton family drama.
"The Heat of the Sun," David Rain's first novel, is a high-wire act of sustained invention as playful as it is ambitious, as moving as it is theatrical, and as historically resonant as it is evocative of powerful bonds of friendship and of love.
Praise For The Heat of the Sun…
"A wildly audacious and compellingly written book...Reading The Heat of the Sun is like watching an author keep daring himself to take higher and higher hurdles and clearing them every time; he creates dizzying effects, both in his web of plot twists and in the prism of twentieth-century history through which he tells his story."—Opera News

"David Rain's striking debut novel...is wholly original and a lot of fun. Read it and the twentieth century may never look the same to you again."—John Burnham Schwartz, author of Reservation Road and The Commoner

"There are passages in the novel that have a heartbreaking beauty worthy of Puccini's music."—The Washington Post

"This fantastic story swirls around an irresistibly charismatic 'bad boy' whose odyssey of self-definition pulls the whole world in its wake."—Andrew Solomon, author of Far from the Tree and The Noonday Demon

"An explosive story of friendship...a sensitive, intelligent snapshot of a watershed moment in our country's history...Rain's worthy novel is a touching, often searing tale of friendship, betrayal and love. His flawed characters are staggering beneath the weight of the past, which they carry like burdens even beyond the book's chilling, operatic conclusion."—BookPage

"What happened to the characters in Puccini's opera Madama Butterfly after Cio-Cio-San's suicide? Australian author Rain imagines some answers in...[a first novel that is] dramatic, even operatic, and an engaging read."—Booklist

"Rain, who's 'far too young to be writing this exquisitely' (Bookbag), imagines what happened to the son of Madame Butterfly, Puccini's eponymous heroine."—Library Journal
"[The] characters and a sense of tragedy evoke American authors Fitzgerald and Styron, yet Rain's outsider worldview enriches rather than dulls the narrative, particularly in sequences set in Pacific Rim Asia and others involving the Bomb. The author masterfully weaves Madame Butterfly through the 20th century, assuring that the connections never read as coincidences or plot devices."—Publisher's Weekly
"A remarkable debut that reinvents, elaborates and extends into the late 20th century the story Puccini made famous in Madama Butterfly. The book might be called postmodern, but it never makes references to create ironic distance—on the contrary, every detail is in the service of the elaborate, operatic melodrama, the story within the story. A version of the ancient story of love and honor, and honor betrayed, it culminates at the Trinity A-bomb test, the characters, each in their own way, devastated. Rain is master of this inventive, operatic and at moments harrowing debut."—Kirkus Reviews
"This fantastic story swirls around an irresistibly charismatic 'bad boy' whose odyssey of self-definition pulls the whole world in its wake.  Like the historical epochs and episodes it weaves into a mesmerizing puzzle, The Heat of the Sun is by turns wildly colorful and strait-laced, witty and rueful, reserved and operatic. David Rain's clever mixture of fact and famous fiction puts a new spin on the 'butterfly effect.'"—Andrew Solomon, National Book Award winner and author of New York Times bestseller The Noonday Demon
"The more I read The Heat of the Sun, the more I admired it: for its imaginative reach, its emotional power, and the lit-up beauty and exactitude of its writing. I thought it breathtakingly good."—Sue Gee, author of The Mysteries of Glass "David Rain is far too young to be writing this exquisitely...Pinkerton is glamour encapsulated....The scope of the book is vast...from the early 1920s, through to the bombing of Hiroshima and Nagasaki. ...The whole is a story about the universal search for love and for self, set at a time when there was less freedom to do either of those things...There isn't so much an echo of Scott Fitzgerald in these pages as a gentle background refrain that hauntingly lingers at the edges of every page."—The Bookbag, UK
Henry Holt & Company, 9781250039224, 288pp.
Publication Date: October 29, 2013
About the Author
David Rain is an Australian writer who lives in London. He has taught literature and writing at universities, including Queen's University of Belfast, University of Brighton, and Middlesex University, London.
or
Not Currently Available for Direct Purchase