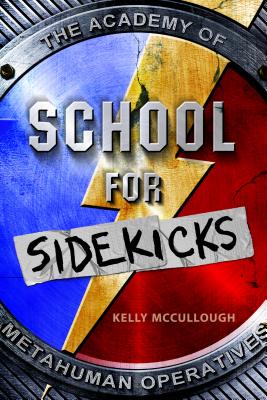 School for Sidekicks (Hardcover)
The Academy of Metahuman Operatives
Feiwel & Friends, 9781250039262, 256pp.
Publication Date: August 4, 2015
Other Editions of This Title:
Paperback (8/2/2016)
Prebound (8/2/2016)
* Individual store prices may vary.
Description
"Evan Quick, Hero's Log, May the 25th… and darn it – I just can't do this. I'm never going to be a Mask. Get over it Evan."
Evan Quick has spent his whole life dreaming of becoming a hero. Every morning he wakes up and runs through a checklist of test to see if he's developed powers over night, and every day it is the same thing – nothing. No flying, no super strength, no heat rays or cold beams. No invulnerability – that always hurt to check – no telepathy, no magic. Not even the ability to light a light bulb without flipping a switch. And now, he's finally ready to give up.
But then, the class field trip to the Mask Museum is interrupted by a super villain attack, and Evan somehow manages to survive a death ray. Even better, Evan's favorite Mask, Captain Commanding, shows up to save them all -- and when things go very wrong, it's Evan who finds the strength to come to Captain Commanding's rescue.
Yet the hero's reception Evan is expecting never happens. Before he even gets the chance to say hello, Evan is bundled away to The Academy, an institution derisively called The School for Sidekicks by its students. Forced to take classes like Banter Basics and Combat with Dinnerware, while being assigned as an 'apprentice' to Foxman – a Mask widely considered a has-been -- Evan starts to worry that he'll never be able to save the day…
About the Author
Kelly McCullough is the author of the adult fantasy series Webmage and Assassin's Blade. School for Sidekicks was his first novel for young readers. He lives in Wisconsin with his physics professor wife and a small herd of cats, all of whom he adores.
Praise For School for Sidekicks: The Academy of Metahuman Operatives…
"Disquieting revelations await a fledgling teenager at superhero school...Readers will savor his triumph as well as the melodramatic plot and the cast's rib-tickling array of 'metahumans'." —Kirkus, starred review
"Evan is a likable protagonist, and the story is infused with equal measures of wit and action. This will appeal to middle grade readers looking for slightly campy superhero stories." —School Library Journal
"Evan's smartass narration, dangerous run-ins with evil Hoods, tough moral quandaries, and a wild range of superpowered heroes and villains make this an excellent choice for any reader awaiting the next Marvel film." —Publishers Weekly, Starred Review
"This thoughtful superhero book will appeal to readers who prefer world- and character-building over action. Evan is a compelling character, whose internal wrestling with his parents' rejection of his ambitions, his loss of faith in the cowardly Captain Commanding, and his determination to do good ring true. His interesting world overflows with unusual, humorous, and creative superpowers that go beyond simple strength." —VOYA
"The author of the Fallen Blade fantasy novels for adults makes a sparkling debut for middle-grade readers in this entertaining, expertly crafted parody of superhero adventures....The superheroes he creates are inspired...Add to that Evan's hilarious narration, a vivid setting of high-tech wonders and page turning suspense, and you have a real summer treat." —Jean Westmoore, The Buffalo News
"McCullough manages an impressive feat in School for Sidekicks; the novel takes pre-teen readers on a nuanced journey into the day-to-day complexities of everyday adolescence, while giving them a breathless glimpse into an amazing new world rendered real by vivid prose." —Ella Cosmo, BNKids Blog