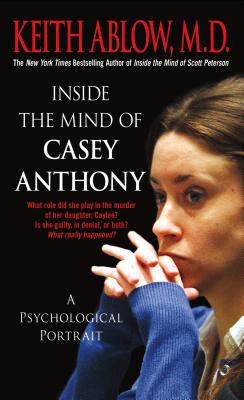 Inside the Mind of Casey Anthony (Mass Market)
A Psychological Portrait
St. Martin's Paperbacks, 9781250039637, 272pp.
Publication Date: July 2, 2013
Other Editions of This Title:
Digital Audiobook (11/21/2011)
Paperback (7/2/2013)
Hardcover (11/22/2011)
* Individual store prices may vary.
Description
INSIDE THE MIND OF CASEY ANTHONY
Keith Ablow
The trial of twenty-five year old Casey Anthony for the death of her daughter Caylee was the most sensational case in America since O.J. Simpson's—with a verdict every bit as stunning. After being acquitted in July 2011, Ms. Anthony instantly became one of the most infamous women in the world.
Dr. Keith Ablow distills tens of thousands of pages of documents he has obtained, his behind-the-camera, one-on one interviews, and his decades of experience in the world of forensic psychiatry to make sense of a woman whose defense attorney described as an innocent victim of childhood sexual abuse, but the state insisted was a cold-blooded murderer.
Inside the Mind of Casey Anthony delivers an incisive, riveting way of understanding this troubled young woman.
About the Author
Keith Russell Ablow received his medical degree from the Johns Hopkins School of Medicine and completed his psychiatric residence at New England Medical Center in Boston. A forensic psychiatrist, he serves as an expert witness in legal cases involving violence and has evaluated and treated murderers, gang members and sexual offenders for the Commonwealth of Massachusetts. His essays on psychiatry and society have appeared in the Baltimore Sun, the Boston Herald, Discover, USA Today, U.S. News & World Report and the Washington Post. He is the author of several works of nonfiction, including Medical School: Getting In, Staying In, Staying Human, and of the novels Denial, Projection and Compulsion, and Psychopath. Ablow lives in the Boston area.
Praise For Inside the Mind of Casey Anthony: A Psychological Portrait…
"I'm writing this as a forensic psychiatrist and journalist. My goal is for people to understand as much as possible about how this little girl disappeared from the face of the earth by using psychological reasoning as a lens to explore the death of Caylee Anthony." —Keith Ablow in Hollywood Reporter Feature on INSIDE THE MIND OF CASEY ANTHONY