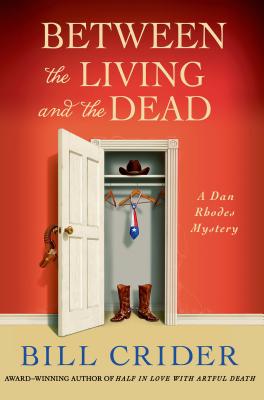 Between the Living and the Dead (Hardcover)
A Dan Rhodes Mystery (Sheriff Dan Rhodes Mysteries #22)
Minotaur Books, 9781250039705, 272pp.
Publication Date: August 11, 2015
Other Editions of This Title:
Hardcover, Large Print (2/3/2016)
* Individual store prices may vary.
Description
Life is never easy for Texas Sheriff Dan Rhodes. When he is called in the middle of the night to investigate gunshots at a haunted house, Rhodes finds the body of meth dealer Neil Foshee. Recently released from jail, Foshee has his fair share of potential murderers, including former girlfriend Vicki, her new boyfriend, the nephew of Clearview's mayor, and Foshee's criminal cousins Earl and Louie.
Complicating matters is Seepy Benton, the community college math professor who has a new summer job. He's founded Clearview Paranormal Investigations and wants to solve the murder by communing with Foshee's ghost. But when Benton connects with something else instead and a second body is found, Rhodes is left with more questions than ever. Who's the dead person? How long has the body been hidden? Is Benton really able to communicate with ghosts? And, most important, what, if anything, does the body have to do with Neil Foshee's death?
Between the Living and the Dead, Bill Crider's latest installment in the critically acclaimed Sheriff Dan Rhodes mystery series, finds Rhodes dealing with ghost hunters, runaway bulls, and assorted low-level crimes, including people's failure to use their turn signals. It's all in a day's work in Clearview, Texas.
About the Author
Bill Crider was the winner of two Anthony Awards and an Edgar Award finalist. An English college professor for many years, he published more than seventy-five mystery, crime, Western, horror, and children's novels, including standalone novels and several series (Sheriff Dan Rhodes, Professor Carl Burns, Professor Sally Good, PI Truman Smith, weatherman Stanley Waters, and teenager Mike Gonzo). In 2010, he was inducted into the Texas Literary Hall of Fame.
Praise For Between the Living and the Dead: A Dan Rhodes Mystery (Sheriff Dan Rhodes Mysteries #22)…
"Anthony Award–winner Crider's 20th mystery featuring sheriff Dan Rhodes...offers the usual enjoyable combination of witty help from dispatcher Hack Jensen, minor crises like a hog loose in Hannah Bigelow's house, the theft of hair extensions from Lonnie Wallace's Beauty Shack, and a major crime or two....Rhodes, often embarrassingly compared to fictional sheriff Sage Barton, successfully emulates that action hero in the clever and satisfying resolution." —Publishers Weekly on Compound Murder
"Kudos to Crider for his 20th entry (after Murder of a Beauty Shop Queen)....As expected, humor and comfort are part of the mix." —Library Journal on Compound Murder
"Since 1986, Crider of Alvin has been turning out novels in his Dan Rhodes series, about a sheriff in fictional Blacklin County who solves folksy mysteries involving barbershop quartets and beauty parlors. This twentieth installment finds Rhodes dealing with the murder of a college instructor, but rest assured, the main character still finds time to ruminate about such Texas glories as his beloved--and now discontinued--Dublin Dr Pepper." —Texas Monthly on Compound Murder
"Enjoyable . . . Rhodes's encounters with the overly enthusiastic amateur sleuth Seepy Benton and his inability to persuade his colleagues and neighbors that he bears no resemblance to fictional crime-busting sheriff Sage Barton are continuing sources of fun." —Publishers Weekly on Murder of a Beauty Shop Queen
"It is easy to see why Crider has had a following through twenty prior Dan Rhodes mysteries. The characters could easily become beloved friends in the vein of Stephanie Plum's sidekicks or Kinsey Millhone's neighborhood buddies, especially to the lover of cozies" —Writers' League of Texas on Half in Love with Artful Death
"While the crimes may be serious, watching how Rhodes deals with them is pretty entertaining.... the quirky residents of Clearview, Texas, keep the sheriff on his toes and the reader flipping pages." —Mystery Scene Magazine on Half in Love with Artful Death
"Like the rest of Crider's long string of Dan Rhodes novels (Half in Love with Artful Death, 2014, etc.), the latest keeps you guessing and chuckling." —Kirkus Reviews on Between the Living and the Dead