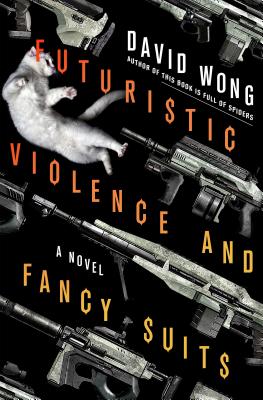 Futuristic Violence and Fancy Suits (Hardcover)
A Novel (Zoey Ashe #1)
Thomas Dunne Books, 9781250040190, 384pp.
Publication Date: October 6, 2015
Other Editions of This Title:
Paperback (10/4/2016)
MP3 CD (10/4/2016)
MP3 CD (1/5/2016)
* Individual store prices may vary.
Description
A Winner of the 2016 Alex Awards
Nightmarish villains with superhuman enhancements.
An all-seeing social network that tracks your every move.
Mysterious, smooth-talking power players who lurk behind the scenes.
A young woman from the trailer park.
And her very smelly cat.
Together, they will decide the future of mankind.
Get ready for a world in which anyone can have the powers of a god or the fame of a pop star, in which human achievement soars to new heights while its depravity plunges to the blackest depths. A world in which at least one cat smells like a seafood shop's dumpster on a hot summer day.
This is the world in which Zoey Ashe finds herself, navigating a futuristic city in which one can find elements of the fantastic, nightmarish and ridiculous on any street corner. Her only trusted advisor is the aforementioned cat, but even in the future, cats cannot give advice. At least not any that you'd want to follow.
Will Zoey figure it all out in time? Or maybe the better question is, will you? After all, the future is coming sooner than you think.
About the Author
DAVID WONG is the pseudonym of Jason Pargin, New York Times bestselling author and executive editor at the hugely popular comedy site Cracked.com. His first book, John Dies at the End, lives forever as a cult-classic movie directed by Don Coscarelli, and his second, This Book is Full of Spiders, scares people on a daily basis. He is also the author of the award-winning science fiction novel Futuristic Violence and Fancy Suits.
Praise For Futuristic Violence and Fancy Suits: A Novel (Zoey Ashe #1)…
"With verve and velocity, the story moves...one cinematic set piece after another, strung together with twisty fun and wit." - The New York Times Book Review
"Cracked.com executive editor Wong (This Book Is Full of Spiders) unabashedly trolls everyone and lampoons everything in this beautifully outrageous science fiction adventure...Biting humor and blatant digs at modern society overlay a subtly brilliant and thoughtful plot focused on one young woman's growth and survival against all odds." - Publishers Weekly, starred review
"All right, grab some popcorn and strap in. We're in for another profane and funny roller-coaster ride from Wong...Some of the sci-fi elements are comic book–y and the humor is as juvenile as ever, but the book more than makes up for any shortcomings with its Technicolor tomorrowland, mischievous humor, and frenetic action sequences." - Kirkus Reviews
"Well-timed humor and explosive thrills, a smart backbone, and witty wordsmithing make this new release by Cracked.com's pseudonym-wielding Jason Pargin (John Dies at the End, 2009) as fun as it gets. Steer this one toward readers of sf with a sense of humor, and fans of Max Barry's satirical futuristic novels." - Booklist, starred review
"Wong has proven himself a master of both the hilarious and the horrifying, and this newest work aims his brilliantly cynical comedy style at a possible future for our society...Wong is a keen observer of the human condition, and is able to translate that into an apt, and often snarky, prediction for society's trajectory...Like Jonathan Swift for the internet age, Wong's novel offers an engrossing journey and razor-sharp wit inside of an uncanny prediction of an American future. His humor ranges anywhere from blatantly poking fun at our world to more subtle aspects of life that one would not even think of until pointed out. Wong's capability as an author has steadily matured since he won cult status with John Dies at the End in 2007, and his newest is only more proof that he will be remembered as one of today's great satirists." - Nerdist
"With plenty of unexpected twists and turns along the way, you'll almost be sure that you forgot to plug your blink feed in, as we face even more perils than Zoey Ashe could have dreamt of, and that's just the holographic Christmas decorations. A sofa clutching read from beginning to end, and a great look at the constantly growing world of social networking." - Starbust, 9 out of 10 stars
"David Wong's writing style is a great mix of Tom Robbins meets Philip K. Dick. You could throw in some Christopher Moore as well. Wong's sense of comedic timing is honed to perfection from his time spent as Executive Editor at Cracked.com. He has his finger on the pulse of popular culture, current trends, and how quickly both can become absurd and take civilization to places that it should not go...Fast, fun, brutal, hilarious, and quite thought provoking, Futuristic Violence and Fancy Suits is highly entertaining and well worth every page turn. Whether a reader is familiar with Wong's work or not, this novel is indicative of the writer's talent for mixing wit and violence." - New York Journal of Books
or
Not Currently Available for Direct Purchase