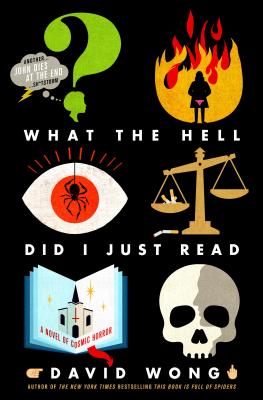 What the Hell Did I Just Read (Hardcover)
A Novel of Cosmic Horror (John Dies at the End #3)
St. Martin's Press, 9781250040206, 384pp.
Publication Date: October 3, 2017
Other Editions of This Title:
Paperback (9/4/2018)
MP3 CD (1/9/2018)
Compact Disc (11/2/2018)
* Individual store prices may vary.
Description
It's the story "They" don't want you to read. Though, to be fair, "They" are probably right about this one. To quote the Bible, "Learning the truth can be like loosening a necktie, only to realize it was the only thing keeping your head attached." No, don't put the book back on the shelf -- it is now your duty to purchase it to prevent others from reading it. Yes, it works with e-books, too, I don't have time to explain how.
While investigating a fairly straightforward case of a shape-shifting interdimensional child predator, Dave, John and Amy realized there might actually be something weird going on. Together, they navigate a diabolically convoluted maze of illusions, lies, and their own incompetence in an attempt to uncover a terrible truth they -- like you -- would be better off not knowing.
Your first impulse will be to think that a story this gruesome -- and, to be frank, stupid -- cannot possibly be true. That is precisely the reaction "They" are hoping for.
John Dies at the End's "smart take on fear manages to tap into readers' existential dread on one page, then have them laughing the next" (Publishers Weekly) and This Book is Full of Spiders was "unlike any other book of the genre" (Washington Post). Now, New York Times bestselling author David Wong is back with What the Hell Did I Just Read, the third installment of this black-humored thriller series.
About the Author
DAVID WONG is the pseudonym of Jason Pargin, New York Times bestselling author and executive editor at the hugely popular comedy site Cracked.com. His first book, John Dies at the End, lives forever as a cult-classic movie directed by Don Coscarelli, and his second, This Book is Full of Spiders, scares people on a daily basis. He is also the author of the award-winning science fiction novel Futuristic Violence and Fancy Suits.
Praise For What the Hell Did I Just Read: A Novel of Cosmic Horror (John Dies at the End #3)…
Praise for What the Hell Did I Just Read:

"Wong's wildly mind-bending third installment (after This Book Is Full of Spiders) of the adventures of protagonist David Wong is filled with the humorous horror readers have come to expect.... While the story gleefully wallows in absurdity, thoughtful themes of addiction, perception, and the drive to do the right thing quickly emerge beneath the vivid and convoluted imagery. The plot's rapid pace holds the reader's attention to the truly bitter end." —Publishers Weekly (starred review)
"Wong—in reality, Cracked.com executive editor Jason Pargin—burst onto the horror-comedy scene with his phantasmagorical novel John Dies at the End and has been steadily ratcheting up the madness ever since.... A frenetic, welcome return to Dave and John's grotesque but funny grindhouse nightmare." —Kirkus Reviews
"Introduced in John Dies at the End and last seen in This Book Is Full of Spiders, Wong's (pen name of Jason Pargin) irreverent protagonists return in another action-packed horror adventure full of crude but effective humor. For fans of the humor website Cracked.com, of which Pargin is executive editor." —Library Journal

"What the Hell Did I Just Read is reminiscent of Douglas Adams's work, stuffed with layers of absurd pastiche." —Washington Post

Praise for This Book is Full of Spiders:
"Kevin Smith's Clerks meets H.P. Lovecraft in this exceptional thriller that makes zombies relevant again... From the dialogue to the descriptions, lines are delivered with faultless timing and wit... David Wong (Jason Pargin) is a fantastic author with a supernatural talent for humor. If you want a poignant, laugh-out-loud funny, disturbing, ridiculous, self-aware, socially relevant horror novel than This Book is Full of Spiders: Seriously Dude, Don't Touch It is the one and only book for you." —SF Signal
"The comedic and crackling dialogue also brings a whimsical flair to the story, making it seem like an episode of AMC's "The Walking Dead" written by Douglas Adams of "The Hitchhiker's Guide to the Galaxy." ...Imagine a mentally ill narrator describing the zombie apocalypse while drunk, and the end result is unlike any other book of the genre. Seriously, dude, touch it and read it." —Washington Post
"[A] phantasmagoria of horror, humor -- and even insight into the nature of paranoia, perception, and identity." —Publishers Weekly (starred review)

"One of the great things about discovering new writers, especially in the narrow range of hybrid-genre comedic novels, is realizing that they're having just as much fun making this stuff up as you are reading it. Sitting squarely with the likes of S.G. Browne and Christopher Moore, the pseudonymous Wong (Cracked editor Jason Pargin) must be pissing himself laughing at his own writing, even as he's giving fans an even funnier, tighter and justifiably insane entry in the series." —Kirkus
Praise for John Dies at the End:
"The rare genre novel that manages to keep its sense of humor strong without ever diminishing the scares; David is a consistently hilarious narrator whose one-liners and running commentary are sincere in a way that makes the horrors he confronts even more unsettling." —The Onion AV Club
"John Dies at the End is like an H.P. Lovecraft tale if Lovecraft were into poop and fart jokes. " —Fangoria
"Sure to please the Fangoria set while appealing to a wider audience, the book's smart take on fear manages to tap into readers' existential dread on one page, then have them laughing the next." —Publishers Weekly
"...strikes enough of a balance between hilarity, horror, and surrealism here to keep anyone glued to the story. " —Booklist
"A loopy buddy-movie of a book with deadpan humor and great turns of phrase...Just plain fun." —Library Journal
"You can (and will want to) read JOHN DIES AT THE END in one sitting." —BookReporter.com
"Wong blends horror and suspense with comedy--a tricky combination--and pulls it off effortlessly." —FashionAddict.com
"It's interesting, compelling, engaging, arresting and--yes--sometimes even horrifying. And when it's not being any of those things, it's funny. Very, very funny." —January Magazine
"This is one of the most entertaining and addictive novels I've ever read." —Jacob Kier, publisher, Permuted Press