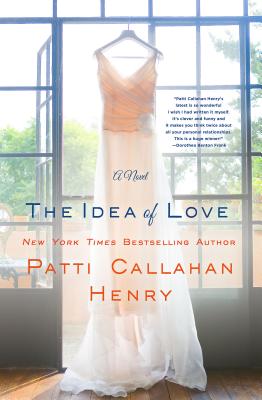 The Idea of Love
A Novel
Hardcover

* Individual store prices may vary.
Other Editions of This Title:
Digital Audiobook (6/22/2015)
Paperback (6/21/2016)
Hardcover, Large Print (12/23/2015)
Description
As we like to say in the south,
"Don't let the truth get in the way of a good story."
Ella's life has been completely upended. She's young, beautiful, and deeply in love—until her husband dies in a tragic sailing accident while trying save her. Or so she'll have everyone believe. Screenwriter Hunter needs a hit, but crippling writers' block and a serious lack of motivation are getting him nowhere. He's on the look-out for a love story. It doesn't matter who it belongs to.
When Hunter and Ella meet in Watersend, South Carolina it feels like the perfect match, something close to fate. In Ella, Hunter finds the perfect love story, full of longing and sacrifice. It's the stuff of epic films. In Hunter, Ella finds possibility. It's an opportunity to live out a fantasy – the life she wishes she had because hers is too painful. And more real. Besides. what's a little white lie between strangers?
But one lie leads to another, and soon Hunter and Ella find themselves caught in a web of deceit. As they try to untangle their lies and reclaim their own lives, they feel something stronger is keeping them together. From New York Times bestselling author, Patti Callahan Henry, The Idea of Love asks, "Can two people come together for all the wrong reasons and still make it right?"
Praise For The Idea of Love: A Novel…
"Feel-good women's fiction . . . Anne Rivers Siddons fans will feel right at home." —Booklist
"Patti Callahan Henry seamlessly combines mystery, family love, and personal journey all in one engrossing tale. From the intriguing beginning to the touching ending,The Stories We Tell is filled with the warmth, heart and compassion that have become the trademark of her novels." —Diane Chamberlain, author of Necessary Lies on Patti Callahan Henry
"Patti Callahan Henry's THE STORIES WE TELL is a lyrical exploration of love and longing, secrets and suspicion, family and friendship, all told with the author's trademark insights into the hollows and curves of the heart and mind of a working woman who must balance the demands of motherhood, wifedom, sisterhood, and yes, the deepest cravings for artistic expression. I always love the stories PCH tells!" —Mary Kay Andrews, author of Ladies' Night on Patti Callahan Henry
"THE STORIES WE TELL fearlessly explores the textures of the human heart, finding a path toward hope through a Savannah that is jagged with class issues, faith misused, and broken trust. Henry loses you in a landscape peopled with secret keepers, storytellers and liars, and proves that in the end, love is the only reliable compass. This is everything you expect from Patti Callahan Henry-lyrical writing, characters worth rooting for, a sure-footed belief in the power of goodness--plus a twisty plot that will keep the pages turning long into the night." —Joshilyn Jackson, New York Times bestselling author of Someone Else's Love Story on Patti Callahan Henry
"Book clubs rejoice--your next pick is here! THE STORIES WE TELL unfolds in surprising ways; Patti Callahan Henry understands the delicate balance of power inside a marriage. They can look so externally perfect they can even fool even the people living inside them... for a little while. I loved her portrayal of a strong woman who isn't afraid to be successful, even when others find it threatening, and who is bold enough to seek the truth, even when living inside the lies is safer and more comfortable." —Sara Gruen, New York Times bestselling author of Water for Elephants and Ape House on Patti Callahan Henry
"Henry has mastered the art of the slow reveal, leading the reader down unexpected paths. Readers who enjoy southern women's fiction à la Joshilyn Jackson (Someone Else's Love Story, 2013) will appreciate this emotionally satisfying novel." —Booklist on Patti Callahan Henry
"The Stories We Tell is the book we have waiting for Patti Callahan Henry to write . . . the complexities of the relationships in this book are the heart of it . . . all of these relationships are handled with deftness and clarity by Henry. She goes inside her characters' heads and paints word pictures that truly bring them to life . . . There has always been a beauty to Henry's writing but now she adds a layer of real maturity to her story. It is one readers can absorb and enjoy with complete freedom. Henry has this story in the palm of her hand and she places it before us with care and consideration. The Stories We Tell is the book we have been waiting for her to write." —Huffington Post Books on Patti Callahan Henry
"Richly layered and deeply accessible, The Stories We Tell is a moving exploration of love, family and finding the courage to move on." —Shelf Awareness on Patti Callahan Henry
St. Martin's Press, 9781250040329, 256pp.
Publication Date: June 23, 2015
About the Author
PATTI CALLAHAN HENRY is a New York Times bestselling author whose novels include The Stories We Tell, And Then I Found You, Between the Tides, and Driftwood Summer. Patti lives with her husband and three children in Mountain Brook, Alabama, where she is working on her next novel.
or
Not Currently Available for Direct Purchase