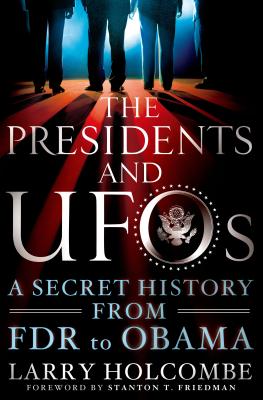 The Presidents and UFOs (Hardcover)
A Secret History from FDR to Obama
St. Martin's Press, 9781250040510, 352pp.
Publication Date: March 17, 2015
Other Editions of This Title:
Paperback (8/2/2016)
MP3 CD (5/31/2016)
* Individual store prices may vary.
Description
The UFO enigma has been part of our culture since the 1940s and building to a worldwide explosion of acceptance today. Now, as governments around the world open their files and records on internal UFO investigations, the US remains steadfast in its denial of interest in the UFO issue. As more of the world's population accepts the possibility of an extraterrestrial presence, the demand is building for disclosure from the United States.
Using newly declassified and Freedom of Information Act documents, eyewitness accounts, interviews, and leaked documents being authenticated, THE PRESIDENTS AND UFOS details the secret history of UFOs and the corresponding presidential administration. Starting in 1941 with the Roosevelt administration, author Larry Holcombe examines the startling discoveries facing a president preoccupied by WWII, the explosion of UFO sightings during the Truman years, first contact during the Eisenhower administration, and the possibility of a UFO connection to the Kennedy assassination. In 1975, the Nixon administration came very close to admitting that UFOs exist by funding a documentary by Robert Emenegger. Almost 40 years later, this book will examine Emenegger's findings.
For the first time, the involvement of all of the modern presidents up to and including President Obama, and the rise and then fall of their influence on UFO issues, are told in one story that is an integral part of the fascinating UFO tapestry.
About the Author
LARRY HOLCOMBE's introduction to the world of ufology came in the late 1950's after reading Major Donald Keyhoe's, Flying Saucers Are Real and Flying Saucers from Outer Space. These books started a 50 plus year study and avocation into mainstream research on the subject. His writing, speaking efforts and interviews now center on bringing light to bear on the continued United States denial and cover-up of UFO issues. He lives in Callao, Virginia.
Praise For The Presidents and UFOs: A Secret History from FDR to Obama…
"Holcomb's inclusion of official documents lends his topic an elusive validation, adding weight to his story. There's a cinematic undercurrent that runs through the book…. he raises many questions and offers plenty of evidence to keep fellow ufologists debating the topic for years to come." —Publishers Weekly
"A thoroughly researched and well documented synopsis of the UFO phenomena. Highly recommended for those who want to educate themselves about the UFO mystery that continues to baffle observers throughout the world." —Stan Gordon, UFO Researcher and Author
"Eminently readable and meticulously researched, this fascinating new book documents the evolution of the US government's handling of the UFO phenomenon, with the story neatly woven together by exploring the intriguing question of what various Presidents knew (or didn't know) about the issue." —Nick Pope, UK Ministry of Defense UFO Project, 1991-1994 and author of Encounter in Rendlesham Forest