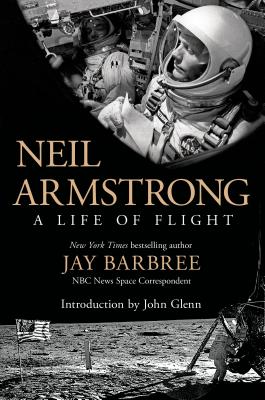 Neil Armstrong (Paperback)
A Life of Flight
St. Martin's Griffin, 9781250040725, 384pp.
Publication Date: June 9, 2015
Other Editions of This Title:
MP3 CD (7/8/2014)
Compact Disc (7/8/2014)
Hardcover (7/8/2014)
Compact Disc (7/8/2014)
* Individual store prices may vary.
Description
Much has been written about Neil Armstrong, America's modern hero and history's most famous space traveler. Yet shy of fame and never one to steal the spotlight Armstrong was always reluctant to discuss his personal side of events. Here for the first time is the definitive story of Neil's life of flight he shared for five decades with a trusted friend – Jay Barbree.
Working from 50 years of conversations he had with Neil, from notes, interviews, NASA spaceflight transcripts, and remembrances of those Armstrong trusted, Barbree writes about Neil's three passions – flight, family, and friends. This is the inside story of Neil Armstrong from the time he flew combat missions in the Korean War and then flew a rocket plane called the X-15 to the edge of space, to when he saved his Gemini 8 by flying the first emergency return from Earth orbit and then flew Apollo-Eleven to the moon's Sea of Tranquility.
Together Neil and Jay discussed everything, from his love of flying, to the war years, and of course his time in space. The book is full of never-before-seen photos and personal details written down for the first time, including what Armstrong really felt when he took that first step on the moon, what life in NASA was like, his relationships with the other astronauts, and what he felt the future of space exploration should be.
As the only reporter to have covered all 166 American astronaut flights and moon landings Jay knows these events intimately. Neil Armstrong himself said, "Barbree is history's most experienced space journalist. He is exceptionally well qualified to recall and write the events and emotions of our time." Through his friendship with Neil and his dedicated research, Barbree brings us the most accurate account of his friend's life of flight, the book he planned for twenty years.
About the Author
In the course of his 55-year career with NBC News, JAY BARBREE is the only reporter to have covered all 166 American astronaut flights and moon landings.  He received an Emmy for his coverage of Neil Armstrong's first walk on the moon, broke the cause of the Challenger accident, and he still covers space for NBC's TV networks and NBCnews.com. Barbree was also the lead writer for the New York Times bestseller Moon Shot with astronauts Alan Shepard, Deke Slayton, and Neil Armstrong.
Praise For Neil Armstrong: A Life of Flight…
"Much of Barbree's writing has a "you are there" immediacy, because he was present for many of the book's key events. During his more than half-century as space correspondent for NBC News, Barbree witnessed and reported on each and every launch of the U.S. human space program. He is at his best when describing the visceral thrill of rocket flight, the lifeless majesty of the moon, and the visual splendor of Earth from space. These poetic passages are made all the more poignant by his close brush with becoming an astronaut, as a finalist in NASA's failed-to-launch "Journalist in Space" program." —The Washington Post
"Barbree's book reminds readers of all that led up to that first step." —Associated Press
"Sit back, put up your feet, and spend some time with Neil Armstrong: A Life of Flight, by Jay Barbree, NBC's longtime space correspondent, who has covered the US manned spaceflight program for more than half a century. To be sure, this is not the definitive, footnote-packed Armstrong biography. Instead, this book has the feel of sitting down with Barbree at a barbeque for an extended conversation." —Christian Science Monitor: 1of the 10 Best Books of July
"NBC News space reporter Jay Barbree spent 50 years getting to know astronaut Neil Armstrong. In this biography, Barbree recalls Armstrong's historic moon landing in gripping detail." —Parade: included in Summer Books round-up
"His richly detailed profile of Armstrong…covers Armstrong's life and career with intimacy, humor and heart, from his days as a U.S. Navy pilot through his training for the NASA space program, and ultimately into the commander's seat of Apollo 11. Space hounds and history buffs will dig it, for sure, but even casual readers will be riveted by its comprehensive portrait of a real-life cosmic cowboy who broke the bonds of Earth and put the first American footprint where it had never been before." —American Profile
"With a foreword by John Glenn NBC News space correspondent Barbree got very up-close to the former Navy combat pilot and astronaut, who died in 2012. Notoriously private, Armstrong opened up to the author to reveal his innermost thoughts, telling "what he really felt when he took that first step on the moon, and what life in NASA was like." —VFW Magazine
"Barbree's tone is warm, and he has a boyish enthusiasm for both tricky missions carried out deftly and for near misses barely avoided, both of which figure heavily in Armstrong's professional life." —The Columbus Dispatch
"...intimate and definitive...a celebration of Armstrong's life and times." —Fort Worth Star-Telegram
"An eye-opening and entertaining tale of the race to the moon." —Publishers Weekly
"Veteran news correspondent Barbree offers an intimate view into the life of Neil Armstrong (1930-2012), his friend as well as a national hero and very private person. The author paints a detailed and colorful picture of his subject and an unbiased depiction of the period in which he lived, while also demonstrating reverence for Armstrong as confidant." —Library Journal, starred review
"A wholly admiring assessment of Armstrong the aviator and Armstrong the man." —Kirkus Reviews
"Emerging clearly in Barbree's narrative are Armstrong's humility and integrity - bedrock values that remained with him throughout his life." —Aerospace America
"This is a great book and does much to preserve Neil's legacy." —Jim Lovell, NASA astronaut and commander of Apollo 13 mission
"You'll find the Neil Armstrong I knew in these pages." —Gene Cernan, NASA astronaut and the last man on the moon