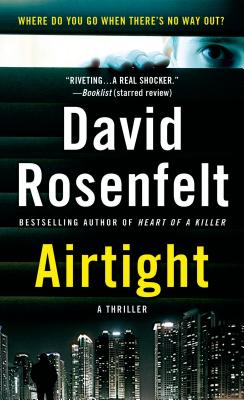 Airtight (Mass Market Paperbound)
Minotaur Books, 9781250040763, 312pp.
Publication Date: October 29, 2013
* Individual store prices may vary.
or
Not Currently Available for Direct Purchase
Description
"You will burn through this novel non-stop and totally rapt. It's an airtight cinch." Examiner.com
Judge Daniel Brennan is only days away from achieving a seat on the Second Circuit Court of Appeals bench when he's brutally stabbed to death in his garage. An army of media and law enforcement descend on the case, and thousands of tips pour in from the public. When one tip leads New Jersey policeman Luke Somers to Steven Gallagher, things quickly go wrong even though Luke is instantly glorified for solving the case.

"Rosenfelt has earned his crime-novelist pedigree." "Entertainment Weekly"

But to one man, Luke is no hero. Chris Gallagher raised his brother, Steven, almost single-handedly and, certain that Steven is innocent, he won't rest until he sets the record straight. Thanks to Luke's newfound fame, he's an easy man to find, and Chris quickly makes it clear that Luke's own brother will die if Luke refuses to help clear Steven's name. So begins Luke's desperate attempt to find another suspect "any" other suspect in Judge Brennan's death. But Luke's investigation might open the door to powerful forces even more dangerous than Chris Gallagher
"Perfectly controlled suspense." "Kirkus Reviews.
About the Author
David Rosenfelt is the Edgar and Shamus Award--nominated author of nine Andy Carpenter novels, most recently Leader of the Pack, and three previous stand-alone thrillers, Heart of a Killer, On Borrowed Time, Don't Tell a Soul, and Down to the Wire. He and his wife live in Maine with the twenty-seven golden retrievers they've rescued and rehabilitated over the years.
Praise For Airtight…
Praise for
AIRTIGHT
"The tension is palpable, and the pages fly by in this riveting stand-alone thriller…The voice here is every bit as engaging as in the Carpenter novels, with enough humor to lighten the story without diminishing the suspense. And the ending is a real shocker. Sure to appeal to fans of Harlan Coben and Robert Crais."—Booklist 

"As usual, there is plenty of irony, humor, suspense, and affection here…Rosenfelt is, indeed, one of a kind; you will burn through this novel—like all his others—non-stop and totally rapt. It's an airtight cinch."—Examiner.com   
"Perfectly controlled suspense."—Kirkus Reviews
"Keep[s] you on the edge of your seat."—Criminal Element
HEART OF A KILLER
"A full-blown suspense chiller."—Publishers Weekly

"Rosenfelt has crafted another terrific thriller that will keep the reader up late at night."—Huffington Post 

"Warmhearted, satisfyingly inventive and almost too clever for its own good. Why isn't Rosenfelt a household name like Michael Connelly and Jeffery Deaver?"—Kirkus Reviews  
ON BORROWED TIME
"An absolutely irresistible hook… No one who picks up this greased-lightning account will rest till its finished." —Kirkus Reviews (starred review)
"Outstanding...Anyone who enjoyed Dennis Lehane's Shutter Island will love this thriller." —Library Journal (starred review)
"Excellent. All will marvel at the way Rosenfelt builds suspense."—Publishers Weekly (starred review)
DOWN TO THE WIRE
"Dynamite…Sly humor, breathless pacing, and terrific plot twists keep the pages spinning toward the showdown."—Publishers Weekly (starred review)
"Rosenfelt's Andy Carpenter novels are known for their breezy storytelling and humor...This one eschews humor to focus on the actions of ordinary people faced with extraordinary trials. It also employs a whiplash plot turn…an engaging suspense tale." —Booklist
 "A terrific plot and a gripping narrative." —The Toronto Sun
"I am raving about this book…a page-turning thriller."—Deadly Pleasure
Don't Tell a Soul

"Stellar… Rosenfelt keeps the plot hopping and popping as he reveals a complex frame-up of major proportions with profound political ramifications both terrifying and enlightening."
—Publishers Weekly (starred review)
"This fast-paced and brightly written tale spins along…Don't Tell a Soul is a humdinger."
—St. Louis Post-Dispatch
"High-voltage entertainment from an author who plots and writes with verve and wit…Rosenfelt ratchets up tension with the precision of a skilled auto mechanic wielding a torque wrench."
—Booklist (starred)
"Rosenfelt has earned his crime-novelist pedigree."—Entertainment Weekly
"He delivers a fast, inventive stand-alone thriller you'll never put down."—Kirkus Reviews
"[Rosenfelt] has pulled together a cynical political thriller that rings true in this age of terrorism, media hype and Washington scandals…it's an enjoyable tale."—Minneapolis Star Tribune
"Rosenfelt's first stand-alone novel is a riveting thriller that should boost him to best-seller status…Compelling twists and turns, a lightning-fast pace, and breathtaking suspense make this a harrowing ride…The book deserves a wide audience."—Library Journal (starred)
Advertisement