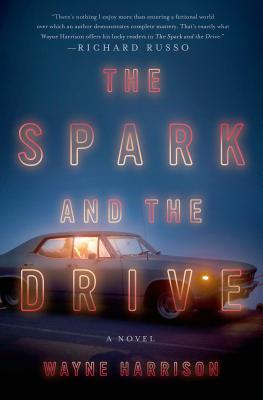 The Spark and the Drive
A Novel
Hardcover

* Individual store prices may vary.
Other Editions of This Title:
Digital Audiobook (7/14/2014)
Paperback (12/8/2015)
Description
By an award-winning writer of short fiction, a devastatingly powerful debut novel of hero-worship, first love, and betrayal
Justin Bailey is seventeen when he arrives at the shop of legendary muscle car mechanic Nick Campbell. Anguished and out of place among the students at his rural Connecticut high school, Justin finds in Nick, his captivating wife Mary Ann, and their world of miraculous machines the sense of family he has struggled to find at home.
But when Nick and Mary Ann's lives are struck by tragedy, Justin's own world is upended. Suddenly Nick, once celebrated for his mechanical genius, has lost his touch. Mary Ann, once tender and compassionate to her husband, has turned distant. As Justin tries to support his suffering mentor, he finds himself drawn toward the man's grieving wife. Torn apart by feelings of betrayal, Justin must choose between the man he admires more than his own father and the woman he yearns for.
A poignant and fiercely original debut, with moments of fast-paced suspense, Wayne Harrison's The Spark and The Drive is the unforgettable story of a young man forced to make an impossible decision—no matter the consequences.
Praise For The Spark and the Drive: A Novel…
"A terrifically engaging story...elaborately tricked out with eye-catching accessories, from drag racing to drug dealing to rape and murder and a host of other violations.... Like Richard Russo , Philipp Meyer and Mark Slouka, Harrison understands the rusting body of American labor. These are grease-smeared pages, full of the sounds of revving motors and the anxieties of narrowly educated men in a fading field.... Whether or not you love cars, Harrison speaks that special dialect so fluently that anyone with a heart can hear it. In this end, this isn't so much a novel about the great vehicles we lost as it is about the antique ideals we keep rebuilding and polishing." —The Washington Post
"This is a novel about a vanishing way of life, the world of the muscle cars and the world of childhood. Told through Justin's eyes, we watch him become a grown-up who wishes that he could go back in time and fix the wrongs he perpetuated. But though 'the man can't change the boy,' and that seemingly perfect life is gone, Justin can remember that heady feeling, when 'for an instant the world has possibilities it will never have again.' And the genius of this extraordinary novel is that it shows us those possibilities, and it makes us ache and grieve for them, too." —The San Francisco Chronicle
"A tale of growing up--Harrison's debut novel crackles with life, immersing the reader in the world of muscle cars while weaving a complex narrative that oscillates between the familiar and the unusual. A smart, insightful read." —Publisher's Weekly
"Ever since Harrison earned his MFA at the Iowa Writer's Workshop program, his stories have appeared in leading literary publications, including McSweeney's. Now stepping onto a larger stage with a first novelbased on a story published in the Atlantic, Harrison peers inside the little-seen world of muscle-car shopsin this tale about hero worship, betrayal, and auto mechanics. Just out of high school, aspiring mechanicJustin Bailey falls under the spell of legendary car-shop owner Nick Campbell and his attractive wife, Mary Ann, and is soon lured into becoming Campbell's apprentice. Yet as Campbell is about to strike gold with an offer to run a chain of Miami-based high-performance auto shops, the couple's infant sondies, and Campbell's genius begins to fade, leaving Justin torn with disillusionment and drawn into anaffair with Mary Ann. Harrison's characters are fully fleshed, and his prose masterfully polished, makingfor a thoroughly engrossing read and a strikingly original debut novel." —Booklist
"Debut author Harrison mines his own background as an auto mechanic to deliver a gritty, authentic tale of a complicated marriage threatened by a first love. During the summer of 1985, 17-year-old Justin Bailey interns at Nick Campbell's garage Out of the Hole, one of the few places around that specializes in muscle cars. Years after his own father 'accepted his sexuality' and his mother began her descent into alcoholism, Justin finds a father figure in Nick, a local legend among gearheads. Tragedy strikes when Nick and his wife, Mary Ann, lose their infant son to SIDS, and in their grief, the Campbells turn to Justin to fill the void. Justin and Nick go drag racing after hours with a rare Corvette left behind in the shop, chasing death with every heat; at the same time, Justin begins an affair with Mary Ann. The betrayals begin adding up, leading to a grim but well-earned resolution. VERDICT Harrison writes cleanly and vividly about the world of auto garages, producing an elegiac novel about working-class dreams dashed by reality, a Bruce Springsteen song set to prose." —Library Journal
"An engaging debut. Like Richard Russo, Philipp Meyer, and Mark Slouka, Harrison understands the rusting body of American labor. These are grease-smeared pages, full of the sounds of revving motors and the anxieties of narrowly educated men in a fading field." —Washingtonpost.com
"This is a powerful story of cars, friendship, romance, tragedy, and the human necessity to keep driving. A great American car novel just pulled up." —Harvard Review Online
"There's nothing I enjoy more than entering a fictional world over which an author demonstrates complete mastery. That's exactly what Wayne Harrison offers his lucky readers in The Spark and the Drive." —Richard Russo, Pulitzer Prize–winning author of Empire Falls
"Young men will always idolize the father substitutes who promise them a way out of the familiar. Ever volatile, such relationships fuel some of our best literature, and to this category we must now add Wayne Harrison's gorgeous and grittily poetic debut novel. Set in an auto shop in working class Connecticut at the end of the golden age of the American muscle car, The Spark and the Drive has all the horsepower and headlong beauty of the extraordinary machines at its center." —Ann Packer, New York Times bestselling author of The Dive from Clausen's Pier
"Told with equal parts grit and tenderness, The Spark and the Drive follows the dangers, thrills, and twists of fate that make one boy into a man and lead him to the painful discovery that love and loyalty can't always be reconciled. A piercing and stylish debut." —Maggie Shipstead, New York Times bestselling author of Seating Arrangements
"Wayne Harrison knows his way around the recesses of desire as well as he knows his way under the hood of a car--that is, with masterly precision and comprehension. The Spark and the Drive is a throwback novel; no gimmicks or preciousness, just heart-gutting prose about men and women that veers with agility between the muscular and the poetic." —Teddy Wayne, award-winning author of The Love Song of Jonny Valentine
"Wayne Harrison knows, like no one I've ever read before, how to describe what goes on underneath the hood of a car. But more, much more, he knows what goes underneath our skins. He knows all about our deepest desires and what we'll do to attain them. The Spark and the Drive is as intense and well- written a love story as you'll find. I'll be in the grip of Justin's--and Mary Ann's--story for months to come." —Peter Orner, award-winning author of Last Car Over the Sagamore Bridge
"The Spark and the Drive is a potent accomplishment: a novel about how quickly the shape of a life can change and about the years a person can spend trying to sort through the pieces. It's written with acuity and grace, and best of all it knows how to hold its power in reserve, shifting and accelerating at the most surprising moments, so that it has the rhythm and momentum of a good street race." —Kevin Brockmeier, New York Times bestselling author of The Brief History of the Dead
"This novel vividly renders the cult-like world of muscle car enthusiasts, but the author's ultimate concerns are the sparks and misfires of the human heart. Wayne Harrison is an exciting new voice in American fiction." —Ron Rash, New York Times bestselling author of Serena
"The Spark and the Drive is a beautiful blend of adolescent lust and grown-up love and grief. At seventeen, Justin Bailey's world appears to be all about cars and sex; but at the heart of it all is a desire for friendship and family and a sense of belonging. Wayne Harrison is an extremely gifted writer, fully capturing all the complexities of Justin's world in ways both endearing and frightening. This novel is as expertly built and fine-tuned as the engines he writes about." —Jill McCorkle, New York Times bestselling author of Life after Life
"This fuel-injected story plunges us into a fascinating, vibrant world of work, family, desire, and love. With his powerful insight and generous heart, Harrison reveals a character searching for his path through this world, struggling to understand what it means to make an accounting of a life, and finally what it means to be a man." —Keith Scribner, award-winning author of The Oregon Experiment
"The Spark and the Drive is a superb debut novel by an exciting writer. Harrison is that rare novelist--Tim Gautreaux also comes to mind--who's at home in the mechanical world; he knows what it's like to get your hands dirty and greasy and to work all day long on a shop floor. But perhaps more importantly, he knows the human heart, and in these pages he's managed a rare feat: to write a novel that's as moving as it is suspenseful, as tender as it is tough." —Steve Yarbrough, bestselling author of The Realm of Last Chances
"How cars and mechanics--so central to American life, so key to popular culture--have gone this long without a wonderful novel to celebrate them is a mystery. Harrison will be new to most readers but with one novel he has staked a virtually exclusive claim on working class Connecticut, the women and the men, the loves and betrayals, and the muscle cars that drive them to their destinies. If you're lucky enough to be invited to Bruce Springsteen's next birthday, this beautifully written novel will be the perfect gift." —Scott Spencer, New York Times bestselling author of A Ship Made of Paper
"Wayne Harrison's debut is a powerful lesson in love, friendship, and betrayal, and why becoming a man can sometimes mean burning another man down. The Spark and the Drive jumps out of the gate, a coming of age to an age that has already gone by, and marks Harrison as somebody to watch." —Alexi Zentner, award-winning author of The Lobster Kings
"If an auto shop on the East Coast in the 1980s seems an unlikely setting for a literary work of the highest caliber, think again. This debut novel by Wayne Harrison - an OSU writing professor and award-winning short story writer - is expertly rendered, a coming-of-age tale about a young upstart who falls under the spell of a brilliant mechanic only to fall in love with the man's wife. Betrayal, desire and high drama ensue, all of it rendered in prose that is muscular yet poetic, and which mines its subject matter for deeper meanings and metaphors that hum like a well-tuned engine. Imagine Turgenev penning a story about first love among grease monkeys and gearheads, and you begin to grasp the heartbreaking story Harrison weaves, full of emotional depth and frank sexual longings that purr and hum until the whole engine of his novel combusts in the painful awakenings and hard knocks that always signal a coming-of-age. A moving book that is as much about love and loss as it is about Mopars and mechanics." —The Eugene Weekly
St. Martin's Press, 9781250041241, 288pp.
Publication Date: July 15, 2014
About the Author
WAYNE HARRISON is a graduate of the Iowa Writers' Workshop whose stories have appeared in The Atlantic, McSweeney's, Ploughshares, and Narrative Magazine.  One of his stories was selected for Best American Short Stories 2010 and his fiction has been featured on NPR's All Things Considered. His short story collection Wrench was a finalist for the Iowa Book Award, the Serena McDonald Kennedy Award, and the Spokane Prize.  He teaches writing at Oregon State University.
or
Not Currently Available for Direct Purchase