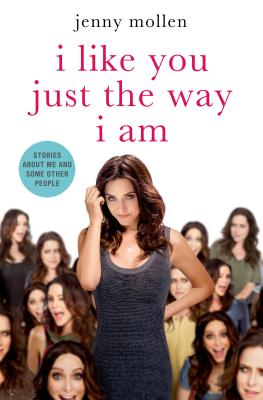 I Like You Just the Way I Am
Stories About Me and Some Other People
Hardcover

* Individual store prices may vary.
Other Editions of This Title:
Paperback (6/2/2015)
MP3 CD (5/24/2016)
Description
A New York Times Best Seller!
By the actress, writer, and one of the funniest women on Twitter, an outrageous, hysterical memoir of acting on impulse, plotting elaborate hoaxes, and refusing to acknowledge boundaries in any form
Jenny Mollen is an actress and writer living in Los Angeles. She is also a wife, married to a famous guy (which is annoying only because he gets free shit and she doesn't). She doesn't want much from life. Just to be loved—by everybody: her parents, her dogs, her ex-boyfriends, her ex-boyfriends' dogs, her husband, her husband's ex-girlfriends, her husband's ex-girlfriend's new boyfriends, etc. Some people might call that impulse crazy, but isn't "crazy" really just a word boring people use to describe fun people? (And Jenny is really, really fun, you guys!)
In these pages, you'll find stories of Jenny at her most genuine, whether it's stalking her therapist (because he knows everything about her so shouldn't she get to know everything about him?); throwing a bachelorette party so bad that one of the guests is suspected dead; or answering the eternal question, Would your best friend blow your husband on a car ride to dinner if she didn't know you were hiding in the backseat?
I Like You Just the Way I Am is about not doing the right thing—about indulging your inner crazy-person. It is Jenny when she's not trying to impress anyone or come across as a responsible, level-headed member of society. With any luck it will make you better acquainted with who you really are and what you really want. Which, let's be honest, is most likely someone else's email password.
Praise For I Like You Just the Way I Am: Stories About Me and Some Other People…
"Jenny puts into words those thoughts you're ashamed to admit to your therapist, your dog, or even yourself. This outrageous book will have you laughing out loud and thanking god you aren't her husband." —CHELSEA HANDLER, New York Times bestselling author of Uganda Be Kidding Me
"Honest, hilarious, and a book I would highly recommend hiding from your daughter." —JIM GAFFIGAN, New York Times bestselling author of Dad Is Fat
"Jenny Mollen is a brilliant writer with balls of steel--this is the most honest, hilarious, and batsh*t insane memoir I've read in ages." —DIABLO CODY, New York Times bestselling author of Candy Girl
"In a town full of phonies, Jenny Mollen is the genuine article. With true candor and a biting sense of humor, she bravely lays her secrets bare in a memoir that's compulsively readable, undeniably smart, and breathtakingly funny. Take note, everyone, because Jenny Mollen is about to become the Next Big Thing!" —JEN LANCASTER, New York Times bestselling author of The Tao of Martha and Bitter Is the New Black
"Jenny Mollen is basically telling women that it's okay to be crazy and to embrace their jealousy, paranoia and rage. This book is so funny--you'll laugh your ass off. I only hope my girlfriend doesn't read it." —JEFFREY ROSS, author of I Only Roast the Ones I Love
"You know when a friend tells you what they almost did, but came to their senses and didn't? Well, Jenny Mollen does it with gusto, and I can't get enough! You'll never believe how badly you'll want to meet her after reading her hilarious book." —JUDY GREER, author of I Don't Know What You Know Me From
"Yikes and wow. You will be horrified. You will be entertained. What you'll never be, as you read Jenny Mollen's memoir, is bored." —PATTON OSWALT, New York Times bestselling author of Zombie Spaceship Wasteland
"Jenny's type of fucked up is the kind I want to squish up and put in my bag and keep with me all the time--and now I can. Thanks, America." —KELLY OXFORD, New York Times bestselling author of Everything Is Perfect When You're a Liar
"Filth. If you like your ladies hot and your filth filthy, this is the book for you. Jenny is bitchy and body-obsessed, husband-obsessed, self-aggrandizing, and always amazing." —MICHAEL IAN BLACK, New York Times bestselling author of You're Not Doing It Right
"Jenny tells her stories with such raw honesty that even when she's behaving badly, you'll root for her. Also, you'll laugh your ass off. After reading this, I want to be her best friend but also I'm scared of her." —SARAH COLONNA, New York Times bestselling author of Life As I Blow It
St. Martin's Press, 9781250041685, 272pp.
Publication Date: June 17, 2014
About the Author
Actress and writer Jenny Mollen is an Arizona native and graduate of the UCLA School of Theater. Her television credits include Wilfred, Suits, CSI: New York, Hawaii 5-0, Crash, and the WB series Angel, where she portrayed the iconic character Nina Ash. She was a recurring character on the third season of HBO's breakout hit, GIRLS. Jenny's feature film credits include D.E.B.S., My Best Friend's Girl, L!fe Happens, and Crazy, Stupid, Love. She has written for Cosmopolitan.com, and her column "What She Said" appears on Playboy Online. Heralded by The Huffington Post as one of the funniest women on both Twitter and Instagram. Jenny earned two nominations and one win at this year's Twitter Awards. She lives in Los Angeles with two poodle angel-muffins and an asshole miniature pinscher who she hopes dies soon. She also has a husband. I Like You Just the Way I Am is her first book.
or
Not Currently Available for Direct Purchase