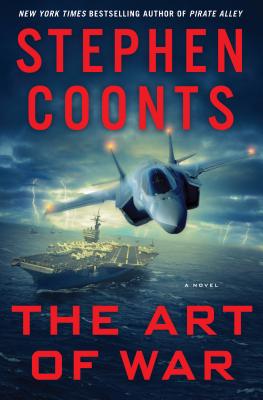 The Art of War (Hardcover)
A Jake Grafton Novel (Jake Grafton Novels #12)
St. Martin's Press, 9781250041999, 352pp.
Publication Date: February 2, 2016
* Individual store prices may vary.
Description
Grafton and Carmellini must prevent a surprise attack far more devastating than Pearl Harbor in this high octane thriller in Stephen Coonts's The Art of War.

"WHEN IT COMES TO MILITARY FICTION, COONTS REMAINS ON EVERY FAN'S A-LIST."—BOOKLIST
The Chinese dragon is flexing its muscles. As its military begins to prey on neighbors in the South China Sea, attacking fishing vessels and scheming to seize natural resources, America goes on high alert. But a far more ominous danger lurks closer to home: A nuclear weapon has been planted in the harbor at Norfolk, Virginia—site of the biggest naval base on the planet. The target: a secret rendezvous of the Atlantic Fleet aircraft carriers and their battle groups. When the CIA director is assassinated and Jake Grafton is appointed to take his place, Jake gets wind of the conspiracy but has no idea when or where the attack will occur. Meanwhile, a series of assassinations—including an attempt on the life of the President of the United States—shakes the nation and deliberately masks a far more sinister objective. Can Jake and his right hand man, Tommy Carmellini, prevent a catastrophe far more devastating than Pearl Harbor and stop a plot to destroy the U.S. Navy?
"Coonts makes us see, smell, hear, taste, and feel battle."- Cleveland Plain-Dealer
"EXCITING AND REALISTIC—COONTS'S BEST."—Admiral Jay L. Johnson (Ret.), former Chief of Naval Operations
About the Author
Stephen Coonts is the author of The Disciple, The Assassin, and the Deep Black and Saucers series, among many other bestsellers. His first novel, the classic flying tale Flight of the Intruder, spent more than six months at the top of The New York Times bestseller list. A motion picture based on the book was released in 1991. His novels have been published around the world and translated into more than a dozen languages. In 1986, he was honored by the U.S. Naval Institute with its Author of the Year Award. He is also the editor of four anthologies, Combat, On Glorious Wings, Victory and War in the Air. Coonts served in the Navy from 1969 to 1977, including two combat cruises on the USS Enterprise during the last years of the Vietnam War.
Praise For The Art of War: A Jake Grafton Novel (Jake Grafton Novels #12)…
"Stephen Coonts proves once again, he is the master of the ship. This time in the terrorist infested high seas where Grafton and Carmellini, are fully-kitted, synched, and on target. Pirate Alley is full-steam-ahead, action-packed, chaotic, and final--but with black cladded Navy SEALs in the mix, the fight is anything but fair." —Dalton Fury, New York Times bestselling author of Kill Bin Laden
"Pirate Alley is fast-moving, scary, and realistic. Starting with a bang, it then gets even better. Steve gives us real pirates, not Johnny Depp with eye shadow." —Larry Bond, New York Times bestselling author of Exit Plan
"The one-sit read champion of the season, Stephen Coonts's Pirate Alley races though a maritime terrorist attack in the Red Sea, creating a vivid cast of heroes, victims and villains. It has the feel of a documentary but the soul of an intimate drama, a trick that's extremely hard to pull off." —Stephen Hunter, New York Times bestselling author of I, Sniper, Point of Impact and The Third Bullet
"Steve Coonts is a masterful storyteller--and PIRATE ALLEY his most chilling thriller yet. Never will you see the duplicity of world politics--let alone cruise ships and Somali bandits--in the same light again." —W.E.B. Griffin & William E. Butterworth IV, bestselling authors of EMPIRE AND HONOR and THE LAST WITNESS
"Start with a band of ruthless Somali pirates in a story that has too often shown up on the front pages of the New York Times, add Jake Grafton and Tommy Carmellini, plus a heavy dose of SEALs on the hunt, and Stephen Coonts's new novel PRIATE ALLEY is one hell of a read! A tale of modern day swashbucklers whose leader is the most ruthless pirate since Blackbeard makes for a book you simply cannot put down. Hats off to Steve for another rip roaring story." —David Hagberg, author of Abyss
"A great, realistic read that could mirror current events. Coonts details this ship high-jacking and take-down as if he has first hand experience WITH the SEAL Teams. After reading this, you will want to postpone that cruise that goes anywhere near the Horn of Africa." —Howard Wadsin, author of Seal Team Six
"Stephen Coonts takes another master turn with Pirate Alley. . . . Coonts weaves a realistic and frightening multi-layered story. . . . The buildup and final denouement will cost more than a few readers a good night's sleep--and change the way you view pirates, cruise ships and Washington forever." —Jim DeFelice, best-selling author of American Sniper and The Helios Conspiracy
"Start Pirate Alley at your peril and then plan for a long night. You won't be able to put it down....Filled with the courage and smarts of Stephen Coonts' SEAL Team heroes." —Former Defense Secretary William Cohen