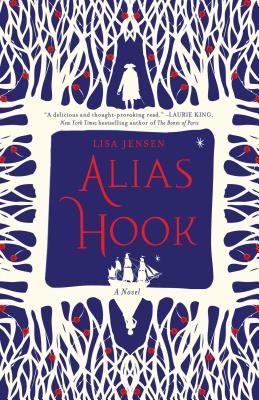 Alias Hook
A Novel
Hardcover

* Individual store prices may vary.
Other Editions of This Title:
Paperback (5/5/2015)
Compact Disc (7/8/2014)
MP3 CD (7/8/2014)
Compact Disc (7/8/2014)
Description
"Every child knows how the story ends. The wicked pirate captain is flung overboard, caught in the jaws of the monster crocodile who drags him down to a watery grave. But it was not yet my time to die. It's my fate to be trapped here forever, in a nightmare of childhood fancy, with that infernal, eternal boy."
Meet Captain James Benjamin Hook, a witty, educated Restoration-era privateer cursed to play villain to a pack of malicious little boys in a pointless war that never ends. But everything changes when Stella Parrish, a forbidden grown woman, dreams her way to the Neverland in defiance of Pan's rules. From the glamour of the Fairy Revels, to the secret ceremonies of the First Tribes, to the mysterious underwater temple beneath the Mermaid Lagoon, the magical forces of the Neverland open up for Stella as they never have for Hook. And in the pirate captain himself, she begins to see someone far more complex than the storybook villain.
With Stella's knowledge of folk and fairy tales, she might be Hook's last chance for redemption and release if they can break his curse before Pan and his warrior boys hunt her down and drag Hook back to their neverending game. Alias Hook by Lisa Jensen is a beautifully and romantically written adult fairy tale.
Praise For Alias Hook: A Novel…
"A rich and darkly humorous tale of a man trapped in a child's nightmare. A delicious and thought-provoking read." —Laurie King, New York Times bestselling author of The Bones of Paris
"Jensen's wonderful imagination and devotion to history and myth allow the reader to fly with her through this outstanding adventure - no fairy dust required." —Publishers Weekly
"A marvellous book. A plot to keep you guessing, and a character to fall in love with. Written with verve and warmth, Alias Hook will challenge what you thought you knew about Neverland, and have you cheering for an unlikely but irresistible hero." —Paula Brackston, New York Times bestselling author of The Midnight Witch
"It's a really beautifully written novel about Captain Hook. It tells that story from his perspective. He's stuck in this childhood world where Peter Pan rules everything until an adult woman finally falls into Neverland. It's an unusual premise. I love it." —Eloisa James, author of Three Weeks with Lady X
"Captain Hook is as proud and lonely as Lucifer--though, being a pirate, he's loads more fun--while the impious Peter Pan is as cruel as an unleashed child can be. Alias Hook is pure joy." —Broos Campbell, author of Peter Wicked
"A captivating blend of fantasy, adventure, and historical fiction, Alias Hook is a fresh, utterly convincing reinterpretation of the Peter Pan story. Lisa Jensen takes a classic villain and transforms him into someone we care about and root for all the way to the emotionally stirring end. You will never look at Captain Hook the same way again!" —Elizabeth Blackwell, author of While Beauty Slept
"Both a cracking adventure and a chance to witness that annoying little prig Peter Pan get a good kicking! Highly recommended." —C.C. Humphreys, author of Vlad – The Last Confession
"Scintillating description and deep characterization make Jensen's Neverland a psychologically intriguing place to visit. Jensen offers a humanized take on Captain Hook that will be sure to entertain fans of the fairy tale-retelling genre." —Library Journal
Thomas Dunne Books, 9781250042156, 368pp.
Publication Date: July 8, 2014
About the Author
Lisa Jensen is a veteran film critic and newspaper columnist from Santa Cruz, California. Her reviews and articles have appeared in Cinefantastique, Take One, and the Los Angeles Times. She has reviewed film on numerous area TV and radio stations. Her film and book reviews appeared regularly in Paradox Magazine. She also reviewed books for the San Francisco Chronicle for thirteen years, where her specialty was historical fiction and women's fiction. Lisa lives in Santa Cruz with her husband, artist James Aschbacher, and their two cats.
or
Not Currently Available for Direct Purchase