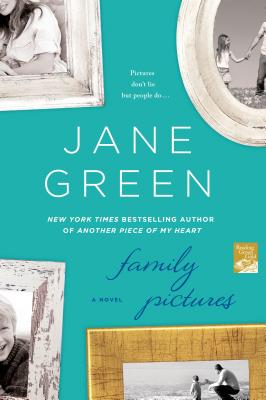 Family Pictures (Paperback)
St. Martin's Griffin, 9781250042644, 370pp.
Publication Date: February 4, 2014
Description
"RIVETING." SheKnows.com
"ABSORBING." "Booklist"
"GRIPPING." " Library Journal"
""
Who can you trust if not the ones you love?
Sylvie and Maggie are two women living on opposite coasts with children about to leave the nest for school. Both are in their forties with husbands who travel more than either would like. The looming emptiness of their respective homes has left them feeling anxious and lonely, needing their husbands to be home now more than ever. It isn't until Eve, Sylvie's daughter, happens to befriend Maggie's daughter that the similarities between these two women becomes shockingly real. A huge secret has remained well hidden for years until now, and their lives will be blown apart as dark truths from the past come to the surface. Can these two women learn to forgive, for the sake of their children? For themselves?
In "Family Pictures," Jane Green, the beloved author of such bestsellers as "Jemima J" and "The Beach House," has written an emotional, page turning story about what it means to be a mother and a wife, about trust and family and the enduring strength of women when put to the test.

"Will linger with you long after you close the book." "People" magazine.
About the Author
JANE GREEN is the author of Family Pictures, and a dozen other bestselling novels dealing with real women, real life, and all the things in-between, with her trademark wisdom, wit, and warmth. She writes a daily blog and contributes to various publications including Huffington Post, The Sunday Times, Wowowow, and Self. A foodie and passionate cook, most weekends see her cooking for quests in her home in Westport, Connecticut, where she lives with her husband and their six children.
Praise For Family Pictures…
Praise for Family Pictures:
"Family Pictures left me feeling envious of the friends to whom I recommended the book, because they had the prospect of an engrossing story to gobble up in the near future. Green's novels consistently deliver believable, accessible, heartfelt, often heartwarming stories about real people, problems, and feelings." —Redbook
"Will linger with you after you close the book." —People magazine
"A riveting story about two women who are strangers until a shocking secret brings them together." —SheKnows.com
"Explores complex family dynamics with warmth. An inverted fairytale in which happily-ever-after occurs without the prince." —Kirkus Reviews
 
"This gripping story is ultimately one of redemption. Green's many fans won't be disappointed, and this would be an excellent choice for readers who enjoy the fiction of Jennifer Weiner or Marian Keyes." —Library Journal
 
"An absorbing read with a gratifying conclusions." —Booklist
 
"The women she writes about are believable and likable characters, but their lives are also complicated and rooted in realities that keep them grounded."  —Baltimore Sun
 
"Bestselling author Green's compelling novel will shock and surprise readers with a startling revelation as surely as it will tug on their heartstrings. Once again she displays her gift for creating characters readers will care about." —RT Book Reviews, "Top Pick"
 
"Family Pictures is a page-turner with a fire lit to it…Green manages to entertain, while digging into the deep psyches of her characters to uncover the painful truth that lies within us all." —Woodbury Magazine
 
Advertisement