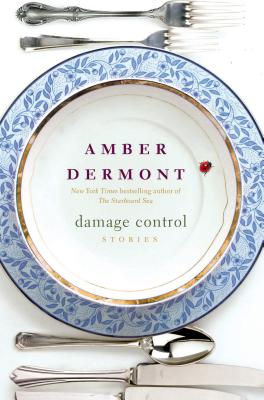 Damage Control (Paperback)
St. Martin's Griffin, 9781250042743, 294pp.
Publication Date: March 11, 2014
* Individual store prices may vary.
or
Not Currently Available for Direct Purchase
Description
A luminous collection of short stories focusing on privilege and entitlement, from the bestselling author of "The Starboard Sea"
"Damage Control" displays Amber Dermont's remarkable gift for portraying characters at crossroads. In "Lyndon," a daughter visits presidential landmarks following the death of her father. In "Damage Control," a young man works at an etiquette school while his girlfriend is indicted for embezzlement. A widow rents herself to elderly women and vacations with them as a "professional grandchild" in "Stella at the Winter Palace." And in "The Language of Martyrs" a couple houses a mail order bride on behalf of the husband's Russian mother.
Dermont's stories have previously been published in many literary magazines and have also been featured in anthologies edited by Jane Smiley and Dave Eggers. "Damage Control" includes three previously unpublished pieces.
About the Author
Amber Dermont received her MFA in fiction from the University of Iowa Writers' Workshop, where she held the prestigious Teaching-Writing Fellowship. Her short stories have appeared in American Short Fiction, Crazyhorse, and Zoetrope: All-Story, among others. A graduate of Vassar College, she received her Ph.D. in creative writing and literature from the University of Houston. She is also the author of The Starboard Sea and is currently the Charles Loridans Chair and associate professor of English and creative writing at Agnes Scott College in Decatur, Georgia.
Praise For Damage Control…
"Dermont...again impresses with her imaginative powers and cutting humor. Amid missed connections, unmet expectations, and things left unsaid, Dermont's gifted but damned narrators baldly articulate the pain and irony of finding themselves adrift in the seemingly beautiful worlds they inhabit. Dermont balances a proclivity for abstraction with a remarkable attention to detail, constructing a poetic tension between apathy and emotion that makes for an unsettling, provocative, and worthwhile read."--Elle "[Dermont] seems to be able to throw down a convincing story set anywhere, spun from any premise. [She] is a deft writer, bullish on her characters, assertive in her descriptions of these specific worlds....As a guide to these stories we can simply rely on Dermont's desirous, tender driver of a narrator."--The New York Times "[A] sparkling collection. Ms. Dermont's characters win us over with their stoic, even bemused, acceptance of disaster and abasement. In the collection's outstanding story, "Lyndon," a teenage girl loses her father in a freak accident ("My father died because our house was infested with ladybugs," is the irresistible opening line), discovers that her aristocratic mother has gotten pregnant six months into widowhood and comes down with an excruciating case of shingles, a malady usually confined to people "closing in on death." Her solution is a painfully funny road trip to the birthplace of Lyndon Johnson, a soulmate in fast-fallen fortunes. Despite that initial reflex toward mockery, Ms. Dermont succeeds in bringing out some of our finer feelings after all." --The Wall Street Jounal
"Dermont's short story collection demonstrates the author's versatility and sardonic humor...Dermont delivers strong prose and intriguing characters who frequently defy stereotypical ideals...the overall effect is a tight collection that takes the reader in unexpected, often disconcerting, directions. Full of irony and contradictions, this compilation of contemporary short stories is a worthwhile effort."--Kirkus Reviews "Damage Control is a jangly, defiant and often darkly funny story collection that questions authority, skewers education and high society, mines the messiness of family secrets, and plucks oddities from the real world to bolster the verging-on-surreal situations the stories describe. Dermont's collection is crisp, efficient, barbed."—Houston Chronicle
 "With unflinching wit, Amber Dermont examines the harsh vicissitudes of life, and though the worlds she creates are often unsettling places, her sense of detail always makes for a pleasurable read. There is a vibrant lucidity to her language, a daring music." —Marilynne Robinson, Pulitzer Prize– and Orange Prize–winning author of Gilead and Home  
Advertisement