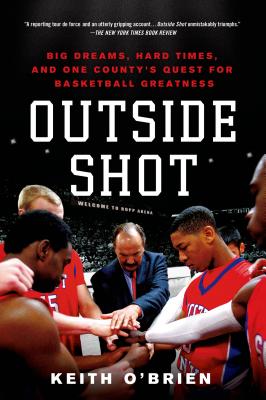 Outside Shot
Big Dreams, Hard Times, and One County's Quest for Basketball Greatness
Paperback

* Individual store prices may vary.
Other Editions of This Title:
Hardcover (1/15/2013)
Description
"A reporting tour de force and an utterly gripping account… Outside Shot unmistakably triumphs, with the reader rooting hard for the Cardinals—and delighted that O'Brien has brought his considerable skills to telling their story." —Wayne Coffey, New York Times Book Review
The Cardinals of Scott County High School were beloved once---and with good reason. For years, the boys and their legendary coach gave fans in central Kentucky, deep in the heart of basketball country, just what they wanted: state titles, national rankings, and countless trips to Kentucky's one-of-a-kind state tournament, where winning and losing can change a young man's life.
But in 2009, with the economy sputtering, anger rising, and Scott County mired in a two-year drought, fans had begun to lose faith in the boys. They weren't the heroes of Scott County anymore; they were "mini-athlete gods," haunted by dreams, burdened by expectations, and desperate to escape through the only means they knew: basketball.
In Outside Shot, Keith O'Brien takes us on an epic journey, from the bluegrass hills and broken homes of rural America, to inner-city Lexington, to Kentucky's most hallowed hall: Rupp Arena, where high school tournament games are known to draw twenty-thousand people, and where, for the players and their fans, it feels like anything is possible.
The narrative follows four of the team's top seniors and their coach as they struggle to redeem themselves in the face of impossible odds: once-loyal fans now turned against them, parents who demand athletic greatness, and scouts who weigh their every move. It delves deep inside the lives of the boys, their families, and their community---divided along lines of race, politics, religion, and sports. And it chronicles not only the high-stakes world of Kentucky basketball, but the battle for the soul of small-town America.
A story of inspiration and poignancy, filled with moments of drama on and off the court, Outside Shot shows that if it's hard to win basketball games, it can be even harder to win at life itself.
Praise For Outside Shot: Big Dreams, Hard Times, and One County's Quest for Basketball Greatness…
"Keith O'Brien's absorbing narrative about a high school basketball team in rural Kentucky is so much more than a sports book: It's a portrait of a small town in the throes of change, and a story of redemption for a group of young men struggling to prove themselves." —Parade
"If you have ever wanted a look into the broken but still beating heart of high school sports, into a world where a young man's future--and a town's slipping pride--can hang on an in-bounds pass or one more foul, then Keith O'Brien has a book for you." —Rick Bragg, Pulitzer Prize-winning journalist and author of All Over But the Shoutin'
"What Friday Night Lights was to high school football in Texas, Outside Shot is to basketball in Kentucky…. Outside Shot transcends sports. This is a story about our times." —Ken Armstrong, Pulitzer Prize-winning journalist and coauthor of Scoreboard, Baby
"O'Brien paints the bluegrassed landscape and its rugged chronology with an artist's eye for detail… Studded with real-time dialogue and exhilarating courtside action, O'Brien presents the Cardinals of Scott County High School as a meritorious collective bravely facing tough school rivalries, racial bias, peer pressures and the raw agony of a regional tournament defeat. A slam-dunk for readers energized by fast-paced, play-by-play sports stories." —Kirkus Reviews
"A beautiful story about families, community, and the yearnings of young people. Like the Scott County High School Cardinals, this book has a lot of heart--and it's a winner!" —Jeffrey Zaslow, coauthor of The Last Lecture
"O'Brien's sharp, intense reporting peers inside the souls of Cardinals nation while illuminating basketball's value to the community and its participants." —Publishers Weekly
"O'Brien paints the bluegrassed landscape and its rugged chronology with an artist's eye for detail… A slam-dunk for readers energized by fast-paced, play-by-play sports stories." —Kirkus Reviews
"Where Blue Chips meet Blue Grass." —Dan Shaughnessy, author of Senior Year
"A lyrical, fast-paced account of a season to treasure along with a team roster as touching as it is unforgettable." —Madeleine Blais, Pulitzer Prize-winning journalist and author of In These Girls, Hope Is a Muscle
"O'Brien watched these boys and their fine coach with keen and compassionate eyes, and by the middle of the book, my gut was tensed up and I was thinking, 'Man, I hope these kids win.'" —James E. Tobin, author of Ernie Pyle's War, winner of the National Book Critics Circle Award
"A wonderful book that should be required reading for anyone with even a passing interest in high school sports." —Bill Reynolds, author of Fall River Dreams
"Keith O'Brien writes with a critical eye on larger social issues but is at his best in depicting with sympathy and understanding the teenage boys who would be our heroes." —James S. Hirsch, author of Willie Mays: The Life, the Legend
"Inspiring. A story of young men striving for redemption and relying on each other, not only to prove all of the naysayers wrong, but to prove to themselves that they can be victorious." —Etan Thomas, NBA player, poet, and author of Fatherhood: Rising to the Ultimate Challenge
"Outside Shot is for more than just sports fans--this is an inspiring story of determination, a community desperate for heroes, and the boys who would give anything to fill that role. Absolutely riveting." —Seth Mnookin, author of The Panic Virus
"Keith O'Brien takes us inside the world of Kentucky high school basketball--the joy, devotion, pressure, and obsession of a coach and his players." —David Maraniss, Pulitzer Prize-winning journalist and author of When Pride Still Mattered
St. Martin's Griffin, 9781250042798, 320pp.
Publication Date: March 4, 2014
About the Author
KEITH O'BRIEN has written for The New York Times Magazine, The Boston Globe, and NPR. He is a journalist-in-residence at the University of New Orleans. Outside Shot is his first book.