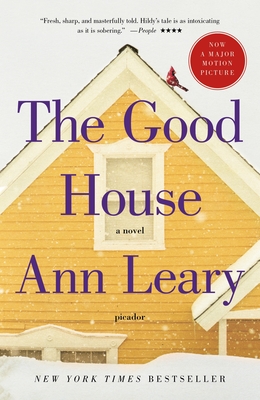 The Good House
A Novel
Paperback

* Individual store prices may vary.
Other Editions of This Title:
Digital Audiobook (1/14/2013)
Hardcover (1/15/2013)
Description
The Good House, by Ann Leary, is funny, poignant, and terrifying. A classic New England tale that lays bare the secrets of one little town, this spirited novel will stay with you long after the story has ended.

Hildy Good is a townie. A lifelong resident of a small community on the rocky coast of Boston's North Shore, she knows pretty much everything about everyone. And she's good at lots of things, too. A successful real-estate broker, mother, and grandmother, her days are full. But her nights have become lonely ever since her daughters, convinced their mother was drinking too much, sent her off to rehab. Now she's in recovery—more or less.

Alone and feeling unjustly persecuted, Hildy finds a friend in Rebecca McAllister, one of the town's wealthy newcomers. Rebecca is grateful for the friendship and Hildy feels like a person of the world again, as she and Rebecca escape their worries with some harmless gossip and a bottle of wine by the fire—just one of their secrets.

But Rebecca is herself the subject of town gossip. When Frank Getchell, an old friend who shares a complicated history with Hildy, tries to warn her away from Rebecca, Hildy attempts to protect her friend from a potential scandal. Soon, however, Hildy is busy trying to protect her own reputation. When a cluster of secrets becomes dangerously entwined, the reckless behavior of one person threatens to expose the other, and this darkly comic novel takes a chilling turn.
Praise For The Good House: A Novel…
"A layered and complex portrait of a woman struggling with addiction, in a town where no secret stays secret for long." —The New York Times Book Review

"Fresh, sharp and masterfully told. Hildy's tale is as intoxicating as it is sobering." —People

"Hildy is an original, irresistibly likable and thoroughly untrustworthy....A genuinely funny novel about alcoholism." —Kirkus Reviews (starred review)

"Leary gleefully peels back the pretensions that so often accompany portraits of ye olde Americana, peering through the shingles to reveal a lobster-pot's worth of ensnared ties between townies and the newly entitled....The Good House is a good read." —USA Today

"Superstition, drama, and intrigue unspool at a perfect pace in Ann Leary's irresistible new novel, The Good House, a tale steeped in New England character and small-town social tumult." —Redbook

"One of the best works of Massachusetts fiction in recent memory." —Boston Magazine

"Ann Leary's The Good House creates a one-of-a-kind character in Hildy Good, and gives us a raw, first-person glimpse into the mind of a middle-aged, outspoken wry New England realtor so real she might be someone you know...yet who also is hiding her alcoholism from her family, her town, and herself. By the end you'll be flipping pages, trying desperately to piece together what happened as much as the narrator is doing herself." —Jodi Picoult, New York Times bestselling author of House Rules and Sing You Home

"Leary's genius is to give us a true original: Hildy, a not-so-recovering alcoholic/realtor who crashlands among a colorful cast of New England neighbors, but Leary also says a great deal about the houses we choose to live, the people we're compelled to love, and the addictions we don't want to give up. So alive, I swear the pages of this wickedly funny and moving novel are breathing." —Caroline Leavitt, New York Times bestselling author of Pictures of You

"I opened The Good House and was instantly sucked in; I read the whole thing in one sitting and was sorry when it ended. The story is atmospheric, funny, poignant, gritty, and romantic, and Hildy Good is refreshingly candid and lovably flawed." —Kate Christensen, author of The Great Man

"Leary's powerfully perceptive and smartly nuanced portrait of the perils of alcoholism is enhanced by her spot-on depiction of staid New England village life and the redemption to be found in traditions and community." —Booklist

"In Leary's third book...the perils of addiction come to life. Sure to please fans of women's fiction featuring women of a certain age such as the novels of Jeanne Ray and Elizabeth Berg." —Library Journal
Picador, 9781250043030, 320pp.
Publication Date: October 1, 2013
About the Author
ANN LEARY is the author of the memoir An Innocent, A Broad and the novel Outtakes from a Marriage. She has written fiction and nonfiction for various magazines and literary publications. Ann competes in equestrian sports and is a volunteer EMT. She and her family share their small farm in Connecticut with four dogs, three horses, and an angry cat named Sneakers.
Hildy Good is a complex and layered character—some might say an "unreliable narrator." Is there a point at which you questions Hildy's dependability? Is there a point at which she redeemed herself?
Hildy likes to entertain others with her "psychic powers" and yet she also informs people that she really doesn't have any special intuition, that she "just knows a few tricks." Does this duality show up in other parts of her personality?
The New England setting is very much part of The Good House. And yet the author doesn't spend a lot of time on the description of the area. What makes this book so quintessentially New England?
What do you think of Hildy's assertion that she can tell everything about a person just by walking through his or her house?
Wendover, Massachusetts, is being taken over by hedge-fund managers who "want it old, but want it new." Do you think there will ever be a point at which they are accepted by the "townies?"
Why do you think Hildy and newcomer Rebecca McAllister become such fast friends?
What do you think of the author's portrayal of alcoholism and its effects on the drinker and those around them?
What happens to Hildy's attitudes about others when she drinks?
Frank Getchell seems an unlikely romantic figure. Why do you think he has carried a torch for Hildy all these years?
Hildy claims to be unsentimental about relationships and things. Do you believe this is true about her personality?