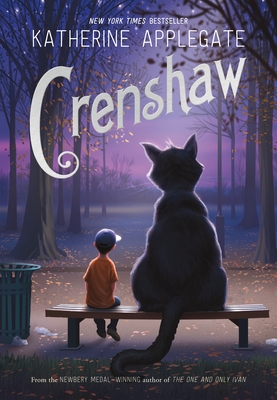 Crenshaw
Hardcover

* Individual store prices may vary.
Other Editions of This Title:
Digital Audiobook (9/21/2015)
Paperback (9/26/2017)
Paperback, Spanish (8/30/2016)
Prebound (9/26/2017)
Library Binding, Large Print (12/20/2018)
Paperback, Chinese (3/1/2020)
Paperback, Large Print (3/13/2019)
Paperback, Vietnamese (8/1/2018)
Description
In her first novel since The One and Only Ivan, winner of the Newbery Medal, Katherine Applegate delivers an unforgettable and magical story about family, friendship, and resilience.

Jackson and his family have fallen on hard times. There's no more money for rent. And not much for food, either. His parents, his little sister, and their dog may have to live in their minivan. Again.

Crenshaw is a cat. He's large, he's outspoken, and he's imaginary. He has come back into Jackson's life to help him. But is an imaginary friend enough to save this family from losing everything?

Beloved author Katherine Applegate proves in unexpected ways that friends matter, whether real or imaginary. This title has Common Core connections.
Praise For Crenshaw…
"This accessible and moving novel demonstrates how the creative resilience of a child's mind can soften difficult situations, while exploring the intersection of imagination and truth." —Publishers Weekly, starred review

"The tone is warm and, occasionally, quirkily funny, but it doesn't sugarcoat the effects of hunger and vulnerability. This novel adds a middle-grade perspective to the literature of imaginary friends and paints a convincing and compassionate portrait of a social class—the working poor—underrepresented in children's books." —The Horn Book, starred review
Feiwel & Friends, 9781250043238, 256pp.
Publication Date: September 22, 2015
About the Author
Katherine Applegate is the author of several best-selling young adult series, including Animorphs and Roscoe Riley Rules. Home of the Brave, her first standalone novel, received the SCBWI 2008 Golden Kite Award for Best Fiction and the Bank Street 2008 Josette Frank Award. She lives with her family in Irvine, California.
1. Discuss Jackson's statement: "Stories are lies, when you get right down to it. And I don't like being lied to." Why doesn't Jackson like made-up stories? Why is it so important for him to have a logical explanation for everything that happens?
2. When are the times in Jackson's life that Crenshaw appears? Which events occur that create a need for Jackson to have Crenshaw in his life? Discuss Jackson's comment about the name Crenshaw: "It felt like a blank piece of paper before you draw on it."
3. Why does Jackson feel different from the other members of his family? Describe scenes in the story where Jackson feels separate from them. Identify times in the story when Jackson realizes how important his family is to him.
4. When did Crenshaw go away in Jackson's life earlier? Why has he never told Marisol about Crenshaw and about his family's problems? Why does he tell her now?
5. Discuss the theme of friendship in this book. How did Jackson and Marisol become friends? What are the experiences and beliefs that they have in common? What are their differences? How does their friendship help each of them?
6. Why does Jackson steal the dog cookie? How does he feel about the few times that he has stolen from a store? Why does he feel worse about lying than stealing? What makes him ask Crenshaw: "Are you my conscience?"
7. Discuss the theme of magic in this story. What is the meaning of "magic" in the context of Jackson's life? Why did he want to reveal how the magician's tricks worked at school? Discuss Marisol's comment: "Just enjoy the magic while you can, okay?"
8. Jackson sometimes feels as if he is the most grownup member of his family. Identify times in the story when he does appear to act more grown-up than his parents. Identify places in the story when his parents are in charge of the situation.