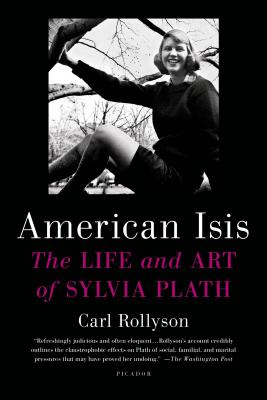 American Isis
The Life and Art of Sylvia Plath
Paperback

* Individual store prices may vary.
Other Editions of This Title:
MP3 CD (2/25/2013)
Compact Disc (2/25/2013)
MP3 CD (2/25/2013)
Compact Disc (2/25/2013)
Hardcover (1/29/2013)
Compact Disc (2/25/2013)
Description
The life and work of Sylvia Plath has taken on the proportions of legend. Educated at Smith College, she had a conflicted relationship with her mother, Aurelia. She then married the poet Ted Hughes and plunged into the Sturm und Drang of literary celebrity. Her poems were fought over, rejected, accepted—and ultimately embraced by readers everywhere. At age thirty she committed suicide by putting her head in an oven while her children slept on the floor above in rooms she had sealed off from the poisonous gas. Ariel, a collection of poems she wrote at white-hot speed during her final months, became a modern classic. Her novel, The Bell Jar, has become a part of the literary canon, appearing on student reading lists worldwide. On the fiftieth anniversary of her death, Carl Rollyson gives us a new biography of Plath that shows her as a powerful figure who embraced both high and low culture to become the Marilyn Monroe of modern literature, a writer who wanted nothing less than to become central to the mythology of modern consciousness. American Isis is the first biography of Sylvia Plath to use materials newly deposited in the Ted Hughes archive at the British Library—including forty-one letters between Plath and Hughes—to create a fresh and startling look at this American icon.
Praise For American Isis: The Life and Art of Sylvia Plath…
"The figure that emerges from Rollyson's study is certainly compelling, and very much a woman of her moment and culture." —Publishers Weekly
"Rollyson...has diligently combed the archives and interviewed Plath's Smith College classmates and others who knew her. His workmanlike narrative gathers force when it reaches the inevitably fascinating marriage, which Rollyson compares to Monroe's ill-fated union with playwright Arthur Miller." —The Boston Globe
"Refreshingly judicious and often eloquent...Rollyson's account credibly outlines the claustrophobic effects on Plath of social, familial, and marital pressures that may have proved her undoing." —The Washington Post
"Concise, fast-moving, and reliable." —The New York Times
"Garbo, Garland, Monroe, Plath, thrilling divas one and all. Carl Rollyson's American Isis is a tour de force that reinvents Sylvia Plath for the 21st century. I was sorry to turn the final page." —Marion Meade, author of Lonelyhearts: The Screwball World of Nathanael West and Eileen McKenney
"Carl Rollyson's impeccably researched, compulsively readable life of Sylvia Plath is likely to remain for years to come the definitive biography of this complex, fascinating woman. I could not put the book down." —Donald Spoto, author of High Society: The Life of Grace Kelly and The Kindness of Strangers: The Life of Tennessee Williams
"An illuminating work on Plath by an accomplished biographer. While not underestimating Plath's troubled nature, Rollyson recognizes her as the agent of her own fame: a skilled mythmaker who worked hard to become not only a great poet but also an intellectual celebrity. Like Marilyn Monroe, who influenced her, she both shaped and reflected her times, becoming a symbol for our age." —Lois Banner, Professor of History and Gender Studies, University of Southern California. Author of Marilyn Monroe: The Passion and the Paradox
Picador, 9781250043443, 352pp.
Publication Date: March 4, 2014
About the Author
CARL ROLLYSON is professor of journalism at Baruch College, The City University of New York and the author of twelve biographies including Marilyn Monroe: A Life of the Actress and, with his wife, Lisa Paddock, Susan Sontag: The Making of an Icon. He reviews biographies regularly for The Wall Street Journal, The Minneapolis Star Tribune, The Washington Post, The New Criterion, and other papers. He writes a column every two weeks for bibliobuffet.com. He lives in Cape May Court House, New Jersey.