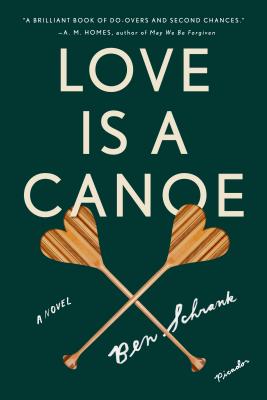 Love Is a Canoe (Paperback)
Picador USA, 9781250043528, 342pp.
Publication Date: January 7, 2014
Other Editions of This Title:
Hardcover (1/8/2013)
Library Binding, Large Print (3/1/2013)
* Individual store prices may vary.
Description
The author of a classic self-help guide to love and relationships, Peter Herman has won the hearts of romantics and cynics alike. But decades have passed since "Marriage Is a Canoe" was published, and a recently widowed Peter begins to question his own advice. Much to his chagrin, he receives a call from Stella Petrovic, an ambitious young editor in New York City who forces him to reconsider his life's work, not to mention the full force of his delusions. The book's fiftieth anniversary is approaching, and Petrovic has devised a contest to promote the new edition. The prize? The chance for the winning couple a pair of outwardly happy Brooklynites named Emily and Eli to save their relationship by spending a weekend with the reclusive author.
Smart, funny, and hugely satisfying, Ben Schrank's "Love Is a Canoe" is a poignant novel about the fragility of human relationships and a heartwarming reminder of what it really means to be good to those we love.
About the Author
Ben Schrank is president and publisher of Razorbill, a Penguin imprint that is home to many award-winning and New York Times-bestselling books for children and young adults. Ben is also the author of the novels Consent and Miracle Man. He wrote "Ben's Life," a monthly column for Seventeen magazine, in the 1990s. He grew up in Brooklyn, where he lives with his wife and son.
Praise For Love Is a Canoe…
"Schrank has done something here that may sound impossible: He's written a funny novel about publishing that is not caustic but optimistic, not biting but bighearted—a story about the delusions with which self-aware, smart people are all too willing to live in order to avoid the painful (yet entertaining) upheaval that comes with truth."—Dean Bakopoulos, The New York Times Book Review

"A crackling sendup of book-marketing schemes and an inquiry into twenty-first-century togetherness."—Vogue

"A fantastic conceit...Love Is a Canoe is breezy and smart, and it is easy to imagine Schrank having as much fun writing it as the reader will consuming it."—The Cleveland Plain Dealer

"What results when Emily and her self-satisfied husband turn up at Herman's lakeside cabin is expertly wrought farce—Schrank skewers the publishing industry and modern relationship talk, while somehow still making us care about the fate of this wounded young marriage. His portrayal of present-day Brooklyn, with its artisanal businesses and self-conscious foodways, may someday feel as nostalgic as Herman's sepia-tinged memories of paddling a canoe with the ever-wise Pop."—Kate Tuttle, The Boston Globe

"Peter Herman's marriage manual is a classic, but what does he really know about love? Whip-smart and highly entertaining."—People

"The strength of the novel lies in its well-rounded, passionate characters. Emily the controlling introvert makes a strong contrast to the extroverted, passionate Eli...[readers] will find Schrank's novel a pleasure to read and his characters easy to appreciate."—The Dallas Morning News

"With brilliant subtlety, Ben Schrank reveals the ways in which belief in popular, sentimental bromides about marriage can impede real connection and true, long-lasting love. Love Is a Canoe is a sharply funny, beautifully original novel filled with interesting, tough-minded characters, great dialogue, and a riveting, excellent plot. The ending is perfect."—Kate Christensen, author of The Astral and The Great Man

"I don't think of myself as loving particular kinds of fiction, but this book made me realize I do: fiction, for instance, like this—smart, darkly funny (but not jokey) books that are knowing and wise but a little skeptical of knowingness and the possibility of wisdom. Love Is a Canoe would join Martin Amis's The Information and Michael Chabon's Wonder Boys on my shelf devoted to terrific satirical novels about writers and publishing, if I had such a shelf."—Kurt Andersen, author of True Believers and Heyday

"Love Is a Canoe captures the most essential difficulties of marriage and commitment—our fears of love and loss. A brilliant book of do-overs and second chances, Schrank's novel is mordantly funny and an all-too-real meditation on modern life."—A. M. Homes, author of May We Be Forgiven and This Book Will Save Your Life

"Love Is a Canoe takes a good look at the world of self-help and both mocks and embraces our dearest and corniest desires. Ben Schrank's terrific new novel is a real self-help book, and you should help yourself to it."—Daniel Handler, author of Why We Broke Up

"Our bookshelves all have an empty space waiting for the book we long for but cannot quite imagine because it can't be described as 'the next A' or 'Author X by way of Author Y.' Love Is a Canoe fills that nameless void. Funny, tender, wholly original—it's as if all the good fairies came to its christening (story, dialogue, character, heart). I loved it."—Laura Lippman, author of And When She Was Good and The Most Dangerous Thing

"It's not surprising that Ben Schrank would produce a witty, insightful novel about the world of publishing. The real revelation here is how wise Schrank is while navigating the far more complicated terrain of love and human relationships. Love Is a Canoe is a wonderful and deceptively breezy novel—heartfelt and wise; light as feathers, strong as iron."—Adam Langer, author of Crossing California and The Thieves of Manhattan

"Three stories of personal and literary authenticity weave through this novel of love and books that gets sharper and smarter as it progresses...The honesty doled out as events unspool is bracing and frank, and gives these characters added depth and wisdom."—Publishers Weekly (starred review)

"Schrank has firm command of the story, never letting the plot turns descend into farce, and the closing pages are a convincing portrait of how relationships shift in ways no self-help book can anticipate. A wise imagining of modern-day love, unromantic but never cynical."—Kirkus Reviews
or
Not Currently Available for Direct Purchase