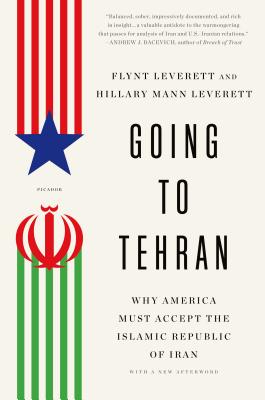 Going to Tehran (Paperback)
Why America Must Accept the Islamic Republic of Iran
Picador USA, 9781250043535, 496pp.
Publication Date: December 31, 2013
Description
A FOREIGN POLICY MAGAZINE BOOK TO READ
Less than a decade after Washington endorsed a fraudulent case for invading Iraq, similarly misinformed and politically motivated claims are pushing America toward war with Iran. Challenging the daily clamor of American saber rattling, Flynt and Hillary Mann Leverett argue that America should renounce thirty years of failed politics, diplomacy and strategy and engage with Iran--just as Nixon revolutionized U.S. foreign policy by going to Beijing and realigning relations with China.
In Going to Tehran, former analysts in both the Bush and Clinton administrations, the Leveretts offer a uniquely informed account of Iran as it actually is today, not as many have caricatured it or wished it to be. They show that Iran's political order is not on the verge of collapse, that most Iranians still support the Islamic Republic, and that Iran's regional influence makes it critical to progress in the Middle East. Drawing on years of research and access to high-level officials, the Leveretts' indispensable work makes it clear that America must "go to Tehran" if it is to avert strategic catastrophe.
About the Author
Flynt Leverett served at the National Security Council, State Department, and CIA, and is currently a professor of international affairs and law at Penn State. Hillary Mann Leverett served at the National Security Council and State Department and negotiated for the U.S. government with Iranian officials; she is now senior professorial lecturer at American University. Their writing has also appeared in the New York Times, Politico, Foreign Policy, and Washington Monthly, among other publications. They live in Northern Virginia.
Praise For Going to Tehran: Why America Must Accept the Islamic Republic of Iran…
"Balanced, sober, impressively documented, and rich in insight...A valuable antidote to the warmongering that passes for analysis of Iran and U.S.-Iranian relations."—Andrew J. Bacevich, author of The Limits of Power

"There is a whole slew of highly dubious assumptions and narratives about Iran that are rarely challenged in any meaningful way in media circles. Going to Tehran is vital to thinking critically about these claims....Because of their expertise and their long immersion in these issues, the Leveretts and this book deserve a prominent voice in any serious debate about Iran."—Glenn Greenwald, The Guardian

"Read this book. You'll find a lot of information that's not generally available, and valuable insights that are sharply at odds with conventional views in the United States. This book may help, if it's widely enough understood, to halt a very clear drift toward what could be a terrible war."—Noam Chomsky

"One needn't agree with every word in Flynt and Hillary Mann Leverett's new book, Going to Tehran, to grasp its basic truth: U.S. Iran policy is delusional. To shatter this 'sorry Scheme of Things,' as the Persian poet describes it, will require a U.S. President with courage, audacity and political skill. It will also require a plan not too different from what the Leveretts lay out."—Lawrence B. Wilkerson, former chief of staff to Secretary of State Colin Powell

"This brilliant book eviscerates the American case for continued belligerence toward Iran. Evidence of an Iranian bomb is just not there, the Leveretts write, and American diplomacy should be focused on resolving the conflict, not expanding it. It is time, the book concludes, for an American president to reach for peace and go to Tehran."—Seymour M. Hersh, staff writer, The New Yorker

"This courageous and important book contains the three elements that are necessary for a rethinking of US policy towards Iran: a rigorous critique of the intellectual foundations of present strategy; a devastating expose of misreporting of Iran in the Western media; and a set of bold ideas for how the present dangerous impasse in relations can be broken. It should be essential reading for policymakers and journalists alike."—Anatol Lieven, professor of War Studies, King's College London; senior fellow of the New America Foundation

"Armchair warriors howling to have a go at Iran will denounce this book: you can count on it. Those who have had a bellyful of needless wars will have a different view. Going to Tehran is balanced, sober, impressively documented, and rich in insight. As an antidote to the warmongering that passes for analysis of Iran and US-Iranian relations, its appearance could hardly be more welcome or more timely."—Andrew J. Bacevich, author of Washington Rules: America's Path to Permanent War
Advertisement