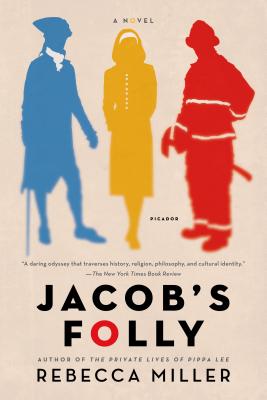 Jacob's Folly (Paperback)
A Novel
Picador, 9781250043603, 384pp.
Publication Date: February 25, 2014
Other Editions of This Title:
Hardcover (3/5/2013)
* Individual store prices may vary.
Description
In Rebecca Miller's dazzling and inventive new novel, we meet characters separated by time but united in their desire to live a life of their own choosing, free from the constraints of community and tradition.
In eighteenth-century Paris, Jacob Cerf is a Jewish street peddler burdened by a disastrous young marriage but determined to raise himself up by whatever means he can. His richly observed life in Paris' Jewish ghetto is radically altered when he gains entrance to the opulent world of the aristocracy and the freedom to create his own identity. More than two hundred years later, Jacob reappears in surprising form in the suburbs of Long Island. He soon becomes obsessed by a young Orthodox Jewish woman with a secret ambition. Determined to change her fate, Jacob takes it upon himself to entangle her with a conflicted volunteer fireman. As Jacob's mischievous plans unfold, the burdens of duty and the pull of desire will twist the lives of all three.
Rebecca Miller explores the hold of the past on the present, the power of private hopes and dreams, the collision of fate and free will, and change in all of its various guises. Transfiguring her world with a clear gaze and sharp, surprising wit, she brings Jacob's Folly vividly to life.
About the Author
Rebecca Miller is the author of the short-story collection Personal Velocity, her feature-film adaptation of which won the Grand Jury Prize at Sundance, and The Private Lives of Pippa Lee (FSG, 2008), which she also adapted for the screen. She lives in New York and Ireland with her family.
Praise For Jacob's Folly: A Novel…
"Droll, racy, and occasionally cutting...this is an imaginative leap in new direction, yolking historical fiction to a contemporary drama....Delightful." —Los Angeles Times
"Miller has the soaring eye of the epicist and the sly instinct of the satirist." —The New Yorker
"Bravura storytelling...Fantastic." —The New York Times Book Review
"A feat of extraordinary imagination...Sexy [and] unapologetically lyrical." —VanityFair.com
"An ingenious, meticulously observed, profoundly absorbing, and deeply satisfying read." —USA Today
"Marvelous, deep, rich, sexy, transgressive, terrifying, tough, and very, very funny--a great ingathering as multifaceted as a gem, or the eye of a fly!" —Tony Kushner, Pulitzer Prize-winning playwright of Angels in America
"A hugely ambitious, wildly imaginative novel by Miller...about a dead 18th-century French Jew brought back to life as a fly in 21st-century America.
Having died at age 31 in 1773 Paris, Jacob Cerf thinks he's been turned into an angel when he first "wakes up" hovering above Leslie Senzatimore in front of his Long Island home. But Jacob is no angel, although his supernatural powers include reading thoughts, traveling through others' memories and perhaps implanting ideas. He quickly understands Leslie, who has coped with his life's traumas, including his father's suicide and his son's deafness, by becoming a gentile mensch. The volunteer firefighter is a devoted husband and father who supports his extended family of losers even when his boat repair business is struggling through the recession. Leslie's genuine goodness reminds Jacob of his father, an observant Jewish peddler unhappy at Jacob's lack of interest in Torah, so Jacob wants to topple Leslie from his pedestal of righteousness. Accompanying Leslie on a hospital visit, Jacob wanders off and lands (literally) in the room of Masha, a lovely 21-year-old Orthodox Jew with heart problems and a secret desire to become an actress (theater is a leitmotif throughout). Falling for Masha, the first Jewish woman he ever loved, Jacob decides to enhance her opportunities by separating her from her family's religious Orthodoxy. He travels between Masha and Leslie planting ideas within their brains until their fates intersect. Meanwhile, Jacob tells his own story: his disastrous arranged marriage, his flirtation with Hasidism, his desertion of his Jewish identity to become the valet of a libertine count, his sexual escapades. The three characters live in different genres: Jacob a comical, absurdist picaresque, Leslie a domestic tragedy and Masha a bittersweet coming-of-age melodrama. Yet the parallels, particularly between Masha and Jacob, are unmistakable. Miller forces readers to consider the dangers along with the values of assimilation and pits moral choice against fate.
A challenging read, yet remarkably entertaining and ultimately gripping." —Kirkus (starred)
"Miller embeds readers in the outsized consciousness of a fly, the modern reincarnation of Jacob, a Jewish peddler taken from eighteenth-century Paris and stripped of his identity. Via an enigmatic capacity to enter minds, the fly encourages young, Orthodox Masha's forbidden stage aspirations while simultaneously inciting a botched bid to 'rescue' her. Because of consistent narration, Miller's intricate plots are never confusing. Rather, they are foils across time and space, offering measurements of survival, belonging, inheritance, the cost of transformation--whether coerced or voluntary--and outcome's overpowering of intention. Jacob acts undetected by his targets, but a far more inscrutable figure reveals his role in the satisfying conclusion. The novel breathes sensuality, creating sounds of languages mixing in dusty streets, the feeling of being bareheaded, without yarmulke, for the first time, and even an orange's distinctive smell. Readers will chuckle contentedly and without malice at a violent, life-affirming death. A deeply pleasurable, darkly comic, and original reinterpretation of Jewish history's 'indestructible storyline,' alighting thoughtfully on forces both individual and collective, internal and external, from genocide to assimilation." —Cynthia-Marie O'Brien, Booklist (starred)
"Scads of narrative threads are sewn together with impressive and often lovely wordplay to form a vast historical fabric of Jacob's Jewish family. Miller...is so clever when dwelling in the mind and body of that insect that the reader is rarely exasperated. An unusual and absorbing read." —Publishers Weekly
"Miller is a luminous writer and the visual impact of her sentences carry something of the cool impersonality of an Edward Hopper painting." —The Observer on The Private Lives of Pippa Lee
or
Not Currently Available for Direct Purchase