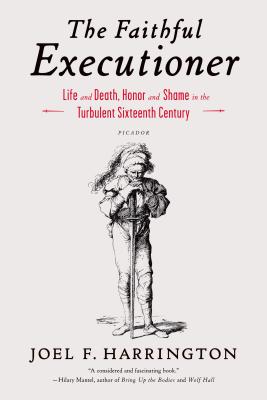 The Faithful Executioner
Life and Death, Honor and Shame in the Turbulent Sixteenth Century
Paperback

* Individual store prices may vary.
Description
THE EXTRAORDINARY STORY OF A RENAISSANCE-ERA EXECUTIONER AND HIS WORLD, BASED ON A RARE AND OVERLOOKED JOURNAL.

In a dusty German bookshop, the noted historian Joel F. Harrington stumbled upon a remarkable document: the journal of a sixteenth-century executioner. The journal gave an account of the 394 people Meister Frantz Schmidt executed, and the hundreds more he tortured, flogged, or disfigured for more than forty-five years in the city of Nuremberg. But the portrait of Schmidt that gradually emerged was not that of a monster. Could a man who practiced such cruelty also be insightful, compassionate—even progressive?

In The Faithful Executioner, Harrington teases out the hidden meanings and drama of Schmidt's journal. Deemed an official outcast, Meister Frantz sought to prove himself worthy of honor and free his children from the stigma of his profession. Harrington uncovers details of Schmidt's life and work: the shocking, but often familiar, crimes of the day; the medical practice that he felt was his true calling; and his lifelong struggle to reconcile his craft with his religious faith.

In this groundbreaking and intimate portrait, Harrington shows us that our thinking about justice and punishment, and our sense of our own humanity, are not so remote from the world of The Faithful Executioner.
Praise For The Faithful Executioner: Life and Death, Honor and Shame in the Turbulent Sixteenth Century…
"Fascinating . . . Engrossing . . . Harrington brings out the sheer strangeness of the past . . . In The Faithful Executioner, Mr. Harrington has not only rescued the life of an individual from disgust and condescension but also, by focusing on a career in killing, brought a whole world back to life." —The Wall Street Journal

"Remarkable . . . [A] fascinating exploration . . . this is a surprisingly modern, even topical story that poses difficult questions about capital punishment and what Harrington calls 'the human drive toward retribution.'" —The Washington Post

"Fascinating . . . One of the pleasures of reading history is to be transported somewhere, even if we aren't sure we want to go." —The Chronicle of Higher Education

"Equal parts enlightening and enjoyable." —The Daily Beast

"[A] vividly drawn portrait . . . Harrington succeeds in deftly taking us beyond Schmidt's biography to address broader questions. Finely researched and crafted." —History Today

"A fascinating read." —Publishers Weekly

"Surprisingly poignant . . . A whole teeming world of Reformation Germany comes alive." —Kirkus Reviews

"This is a precious story that Harrington has drawn from the journal and archival records, a braiding of Schmidt's words with a re-creation of Schmidt's world, a story that is at once inclusive and atmospheric, deeply intimate and rare . . . It is a wonder-making world, made manifest by an artful historian's hand." —Barnes & Noble Review

"Who can imagine how an executioner feels about his trade? Joel F. Harrington has written a considered and fascinating book that helps us hear the voice of one such man, a professional torturer (and healer) who, astonishingly, kept a diary. Exploring both sixteenth-century Nuremberg and the world about the city, he re-creates the social context for the flamboyant displays of cruelty that later centuries find so hard to comprehend. Both the executioner and his victims are rescued from our condescension and restored to their own moral universe—which is not as far from ours as we like to suppose." —Hilary Mantel, Man Booker Prize–winning author Wolf Hall and Bring Up the Bodies

"A book as entertaining and revealing as it is improbable and outrageous. Joel F. Harrington has told a marvelous yarn, giving us not just the compelling biography of Meister Frantz but his world." —Rick Atkinson, Pulitzer Prize–winning author of The Day of Battle: The War in Sicily and Italy, 1943–1944

"In an astonishing feat of historical reconstruction, Joel F. Harrington uniquely draws us into the emotional world of a man paid to kill professionally--into his troubled sense of achievement and shame. This compelling book is brilliant reading for everyone interested in new ways of thinking about the past as well as crime and punishment today." —Ulinka Rublack, author of Dressing Up: Cultural Identity in Renaissance Europe

"The Faithful Executioner masterfully conjures the heavy stench and bustle of a sixteenth-century southern German city--waterlogged roads, smoky marketplaces, blood-lusty masses laden with bizarre superstitions--via the Lebenslauf of a curious figure: Meister Frantz Schmidt, Nuremburg's state executioner from 1578 to 1617. With the help of Schmidt's private journal, Joel F. Harrington revivifies both the detailed and the abstract with enviable scholarship and style. This is social history at its very best: weird, riveting, addictive." —R. Jay Magill Jr., author of Sincerity

"The Faithful Executioner is much more than a description of the many imaginative and horrifying means of torturing and putting prisoners to death. It is a rare and utterly fascinating examination of the society that demands it." —New York Journal of Books
Picador, 9781250043610, 320pp.
Publication Date: December 31, 2013
About the Author
Joel F. Harrington is a professor of history at Vanderbilt University. He is the author of The Unwanted Child, Reordering Marriage and Society in Reformation Germany, and A Cloud of Witnesses.