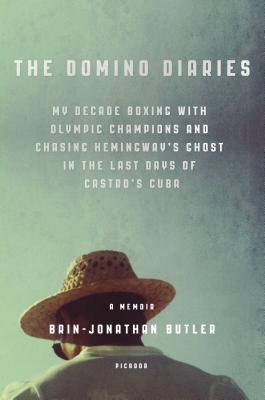 The Domino Diaries
My Decade Boxing with Olympic Champions and Chasing Hemingway's Ghost in the Last Days of Castro's Cuba
Hardcover

* Individual store prices may vary.
Other Editions of This Title:
Paperback (6/7/2016)
Description
A powerful and lively work of immersive journalism, Brin-Jonathan Butler's story of his time chasing the American dream through Cuba
Whether he's hustling his way into Mike Tyson's mansion for an interview, betting his life savings on a boxing match, becoming romantically entangled with one of Fidel Castro's granddaughters, or simply manufacturing press credentials to go where he wants-Brin-Jonathan Butler has always been the "act first, ask permission later" kind of journalist.
This book is the culmination of Butler's decade spent in the trenches of Havana, trying to understand a culture perplexing to Westerners: one whose elite athletes regularly forgo multimillion-dollar opportunities to stay in Cuba and box for their country, while living in penury. Butler's fascination with this distinctly Cuban idealism sets him off on a remarkable journey, training with, befriending, and interviewing the champion boxers that Cuba seems to produce more than any other country.
In the process, though, Butler gets to know the landscape of the exhilaratingly warm Cuban culture-and starts to question where he feels most at home. In the tradition of Michael Lewis and John Jeremiah Sullivan, Butler is a keen and humane storyteller, and the perfect guide for this riotous tour through the streets of Havana.
Praise For The Domino Diaries: My Decade Boxing with Olympic Champions and Chasing Hemingway's Ghost in the Last Days of Castro's Cuba…
"A writer with less integrity might have concluded…that Fidel Castro's experiment had failed….But [Butler's] time in Cuba provided this talented and ambitious writer with all he needed to introduce readers to the complex and contradictory island he loves."—The Boston Globe

"Far more than a sports memoir, this terrific book explores the world of Cuba's famed boxers, who have chosen to live in dire poverty in their home country even as multi million-dollar paydays await them elsewhere....[Butler] provides a rich (if quirky) portrait of contemporary Havana, a decaying city that remains, even in tatters, one of the most soulful and bewitching places on the planet." —Chicago Tribune
"Butler deftly bobs and weaves his way through Havana past and present in his gonzo-poetic blend of sports journalism, political philosophizing, and gorgeous first-person travelogue...this is a book that pulls no punches." —Passport Magazine
"Gripping." —Sports Illustrated
"In this striking memoir, writer and filmmaker Butler examines his bittersweet love affair with Cuba through the lens of boxing...More artist than journalist, Butler approaches his material slantwise, and much of his prose is fluid and searching....He has produced a book worthy of Cuba's beauty and sorrow." —Publishers Weekly
"[Butler's] gritty portrayal of the island is an authentic glimpse into the lives of those who live it every day. In many ways, the book acts as a hands-on travel guide to Cuba, infecting readers with an urge to visit. His passion for the island is contagious. With the United States embargo against Cuba likely soon to be lifted, the island is on the verge of what could turn out to be radical change. The Domino Diaries is one last look inside Fidel Castro's Cuba." —The Globe and Mail
"People lament that this is no Golden Age of boxing writing. Hogwash, I say....I recommend writer Brin-Jonathan Butler. [He is] principled, intelligent, and can collect big picture thoughts and philosophy and render it accessible." —The Sweet Science
"This memoir is particularly timely....You can embrace this book with an eye toward its cultural commentary or you can focus on the sport of boxing. Either way, there's plenty to learn." —Beth Fish Reads
"Butler is a sensitive observer, imparting in a most visceral way the smells, sounds, visuals, and, most gloriously, the unblushing sexuality of a Cuba on the precipice of another, larger, perhaps most fatal American invasion: tourism." —Booklist
"Colorful writing and insightful analysis....A nuanced portrait of the grays where reality lies between the black and white." —Kirkus Reviews
"In The Domino Diaries, Brin-Jonathan Butler writes like a heavyweight champion: Tyson's power, Ali's elegance, and Joe Louis's humanity, all of them are on display here. Writing, like boxing, is a solitary endeavor, one that gets displayed nakedly, for better or worse, to the world. This engrossing work not only looks at the sweeping world, it delves into the darkness of being alone with your aloneness. A total knockout." —Charles Bock, New York Times bestselling author of Beautiful Children
"There's nothing in the world like America's grasping, oversexed, blundering, blustery and oft-deadly relationship with Cuba. Charting this fever dream, this illness of love and fear, requires a poet's ear, an outsider's eye, a boxer's clinical cruelty, and an unhealthy attraction to breakage. I give you Brin-Jonathan Butler. Anyone can--and, especially now, will--tell you what to think about Cuba. But no one can show you better how the place makes you feel." —S.L. Price, Sports Illustrated Senior Writer and author of Pitching Around Fidel: A Journey into the Heart of Cuban Sports
"You don't have to be a boxing fan to enjoy Butler's book. The discussion of sport takes a back seat to the fascinating cultural insight and comparisons to American culture." —Vice on A Cuban Boxer's Journey
"A subtle and powerful examination of Cuba, as seen through the eyes of its most celebrated boxers. Filled with memorable characters caught in the middle of an existential struggle." —Steve Fainaru, Pulitzer Prize–winning coauthor of The Duke of Havana: Baseball, Cuba, and the Search for the American Dream on A Cuban Boxer's Journey
Picador, 9781250043702, 304pp.
Publication Date: June 9, 2015
About the Author
BRIN-JONATHAN BUTLER is a writer and filmmaker. His work has appeared in ESPN Magazine, Vice, Deadspin, The Wall Street Journal, Salon, and The New York Times. Butler's documentary, Split Decision, is Butler's examination of Cuban-American relations and the economic and cultural paradoxes that have shaped them since Castro's revolution, through the lens of elite Cuban boxers forced to choose between remaining in Cuba or defecting to America.
or
Not Currently Available for Direct Purchase