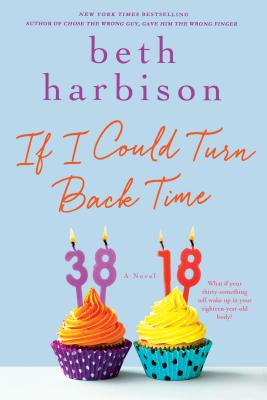 If I Could Turn Back Time (Paperback)
A Novel
St. Martin's Griffin, 9781250043856, 352pp.
Publication Date: June 14, 2016
Other Editions of This Title:
Digital Audiobook (7/27/2015)
CD-Audio (7/28/2015)
Hardcover (7/28/2015)
Pre-Recorded Audio Player (8/2/2015)
Library Binding, Large Print (9/1/2015)
* Individual store prices may vary.
Description
Told with Beth Harbison's wit and warmth, If I Could Turn Back Time is the fantasy of every woman who has ever thought, "If I could go back in time, knowing what I know now, I'd do things so differently..."
Thirty-seven-year-old Ramie Phillips has led a very successful life. She made her fortune, and now she hob nobs with the very rich and occasionally the semi-famous. She enjoys luxuries she only dreamed of as a middle-class kid growing up in Potomac, Maryland. But despite it all, she can't ignore the fact that she isn't necessarily happy. In fact, lately Ramie has begun to feel more than a little empty.
On a boat with friends off the Florida coast, she tries to fight her feelings of discontent with steel will and champagne. No one even notices as she gets up and goes to the diving board and dives off…
Suddenly, Ramie is waking up, straining to understand a voice calling in the distance…. It's her mother: "Wake up! You're going to be late for school again. I'm not writing a note this time...."
Ramie finds herself back in time to the eve of her eighteenth birthday, with a second chance to see the people she's lost and change the choices she regrets. How did she get back here? Has she gone off the deep end? Has she really gone back in time? Above all, she'll have to answer the question that no one else can: What it is that she really wants from the past, and for her future?
About the Author
Beth Harbison is the New York Times bestselling author of Secrets of a Shoe Addict, Shoe Addicts Anonymous, Hope in a Jar and Thin, Rich, Pretty. She is also a serious product junkie, with enough lip glosses, shampoos, conditioners, and foundations to lube every car on the streets of suburban D.C., where she lives with her husband, two children and dogs.
Praise For If I Could Turn Back Time: A Novel…
Praise for Beth Harbison
"Harbison delivers a worthy read…Ramie is relatable and endearing and offers everyone a chance to think 'what if?'" –Library Journal on If I Could Turn Back Time
"Reader favorite Harbison infuses the story with wit and heart…High-school high jinks and the search for meaningful love make this novel both lighthearted and poignant." –Booklist on If I Could Turn Back Time
"If you could re-do parts of your life, what would you change? Harbison's character is faced with this question after an accident. The story is a quick, engrossing read that will have you at the end before you know it. If I Could Turn Back Time is a great book to add to Harbison's already stellar collection!" –Romantic Times on If I Could Turn Back Time
A great book to add to Harbison's already stellar collection!" –RT Book Reviews on If I Could Turn Back Time
"An enjoyable ride…Readers will want to pack this road-trip book in their beach bags." –Booklist on Driving with the Top Down
Smart, funny, and unapologetically romantic." —Publisher's Weekly (starred) on Chose the Wrong Guy, Gave Him the Wrong Finger
"A lighthearted romantic romp." —USA Today on Chose the Wrong Guy, Gave Him the Wrong Finger
"Harbison dazzles in her latest, a perfect blend of chick lit and women's fiction . . . Absolutely first-rate." —Publishers Weekly (starred) on When in Doubt, Add Butter
"Delicious, just like dessert." —People magazine on When in Doubt, Add Butter
"Touching, truthful, and profoundly satisfying." —Jen Lancaster, New York Times bestselling author of Jeneration X on Always Something There to Remind Me
"Harbison serves up a deliciously light blend of 1980s nostalgia and women's fiction…She raises the emotional stakes and gives this story a little more bite without losing her fun, breezy style." –Publishers Weekly on Always Something There to Remind Me
"Harbison continues to wow readers with her charm and genuine characters." —Booklist on Hope in a Jar
"A fast and fun read...sure to appeal to anyone who came of age in the late 1980s."—Library Journal on Thin, Rich, Pretty
"Harbison's writing is zingy and funny..." —Publishers Weekly on Secrets of a Shoe Addict
"Harbison's latest is a captivating, sparkling tale, filled with wit and charm ... Superb character development and a winning plotline make this an engaging novel not to be missed." –RT Book Reviews on Shoe Addicts Anonymous