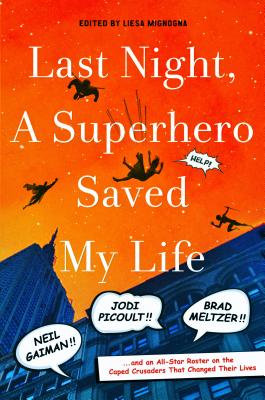 Last Night, a Superhero Saved My Life
Neil Gaiman!! Jodi Picoult!! Brad Meltzer!! . . . and an All-Star Roster on the Caped Crusaders That Changed Their Lives
Hardcover

* Individual store prices may vary.
Description
An anthology of essays exploring the origins of the authors' relationships to their favorite superheroes; including stories from Neil Gaiman, Jodi Picoult, Brad Meltzer, Joe Lansdale and more!

As broad as our exponentially growing cultural fascination with caped crusaders is, it runs just as deep as this long awaited anthology underscores. Liesa Mignogna the VP, Editorial Director at Simon Pulse and editor of this anthology can expound on the virtues of Batman (her wedding was even Batman-themed) but it's her retelling of incredibly harrowing yet ultimately inspiring encounters with The Dark Knight over the years, as she struggled to coexist with the supervillains in her own family that birthed this collection.

Last Night, A Superhero Saved My Life gives readers the chance to connect to their beloved authors, while those same authors connect to their beloved superheroes, and within that feedback loop of respect and admiration lies a stellar, and phenomenally accessible, anthology full of thrills, chills, and spills.

Contributors include New York Times bestsellers Christopher Golden, Leigh Bardugo, Brad Meltzer, Neil Gaiman, Carrie Vaughn, Jodi Picoult, and Jamie Ford, as well as award-winners and mainstays like Joe R. Lansdale, Karina Cooper, and Ron Currie, Jr among many others. Last Night, A Superhero Saved My Life's authors share their most hilarious and most heart wrenching experiences with their chosen defender to explain why superheroes matter, what they tell us about who we are, and what they mean for our future.
Praise For Last Night, a Superhero Saved My Life: Neil Gaiman!! Jodi Picoult!! Brad Meltzer!! . . . and an All-Star Roster on the Caped Crusaders That Changed Their Lives…
"At the heart of the collection are contributions that plunge deeply into dark recollections...these essays bear out how superheroes are powerful psychological receptacles, helping us define the crucial strength we need to survive—a sentiment which will be of great value to many soul-searchers...There's ample insight to be found here, not the least of which is that superheroes have a deep, resounding place in our cultural and individual psyches." —Booklist

"This is a collection with a lot of heart and variety; each piece takes the premise in a different direction and unveils in compelling ways why these superheroes are so revered." —Library Journal

"A fantastic example of how heroes, real or made up, can change lives. It serves as a testament to the staying power of story and how, sometimes, a fictional character can save a real life." —Book Reporter
Thomas Dunne Books, 9781250043924, 304pp.
Publication Date: June 7, 2016
About the Author
By day, LIESA MIGNOGNA is VP, Editorial Director of Simon Pulse, an imprint of Simon and Schuster Children's Books, where she edits novels for teens and tweens including the #1 NEW YORK TIMES bestselling DORK DIARIES series. By night, Liesa is a passionate comics fan and lover of all things Batman. Her comics-themed wedding and routine of wearing Batman T-shirts to work every Friday have earned her the nickname of "Batgirl Editor." Liesa lives in New Jersey with her photographer husband and their son, whose first word was "Bat."