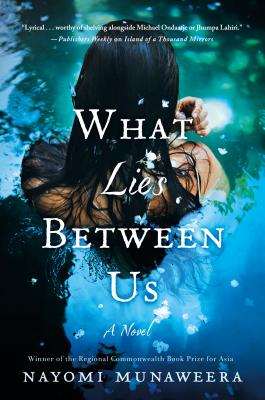 What Lies Between Us (Hardcover)
A Novel
St. Martin's Press, 9781250043948, 320pp.
Publication Date: February 16, 2016
Other Editions of This Title:
Paperback (4/4/2017)
* Individual store prices may vary.
Description
Ganga, a young girl, grows up carefree in the midst of her loving family in an old and beautiful house nestled in the idyllic hill country of Sri Lanka. Her childhood is like any other—until it isn't. A cherished friendship is revealed to have monstrous undertones and the consequences of trauma spell both the end of her childhood and that of her stable home. Ostracized by their community in the wake of one terrible night, Ganga and her mother seek safety by immigrating to America.
In America Ganga must negotiate the challenges and thrills of an American teenage girlhood. She navigates immigrancy and thrives. She fulfills the American dream by graduating from college, moving to San Francisco and working as a nurse, yet beneath the surface the scars of her past continue to haunt her. When she meets Daniel, a handsome, charismatic man and falls deeply in love, it appears that she has found her happily ever after. Instead, the secrets continue to corrode and an accidental pregnancy causes the marriage to further unravel. She cannot resist an encroaching darkness, and she finally commits one terrible act.
From award-winning author Nayomi Munaweera comes What Lies Between Us, the confession of a woman, driven by the demons of her past to commit a single and possibly unforgivable crime.
Praise for Island of a Thousand Mirrors:
"The paradisiacal landscapes of Sri Lanka are as astonishing as the barbarity of its revolution, and Munaweera evokes the power of both in a lyrical debut novel worthy of shelving alongside her countryman Michael Ondaatje or her fellow writer of the multigenerational immigrant experience Jhumpa Lahiri." - Publishers Weekly
"The beating heart of Island of a Thousand Mirrors is not so much its human characters but Sri Lanka itself and the vivid, occasionally incandescent, language used to describe this teardrop in the Indian Ocean." - The New York Times Book Review
About the Author
NAYOMI MUNAWEERA was born in Sri Lanka and grew up in Nigeria. She emigrated to the United States in her early teens, and now lives in Oakland, CA. Island of a Thousand Mirrors won the 2013 Commonwealth Book Prize for the Asian Region and was longlisted for the 2012 Man Asian Literary Prize.
Praise For What Lies Between Us: A Novel…
"The paradisiacal landscapes of Sri Lanka are as astonishing as the barbarity of its revolution, and Munaweera evokes the power of both in a lyrical debut novel worthy of shelving alongside her countryman Michael Ondaatje or her fellow writer of the multigenerational immigrant experience Jhumpa Lahiri." —Publishers Weekly
"The beating heart of ISLAND OF A THOUSAND MIRRORS is not so much its human characters but Sri Lanka itself and the vivid, occasionally incandescent, language used to describe this teardrop in the Indian Ocean." —The New York Times Book Review
"[A] verdantly atmospheric first novel...expressive [and] deeply felt." —Kirkus Reviews
"Munaweera's first novel is a breathtaking work of lyrical prose and vivid, transporting imagery. Part historical fiction, part family saga, it is most of all an ode to the Sri Lanka of the past and a hopeful wish for the country's future." —Booklist
or
Not Currently Available for Direct Purchase