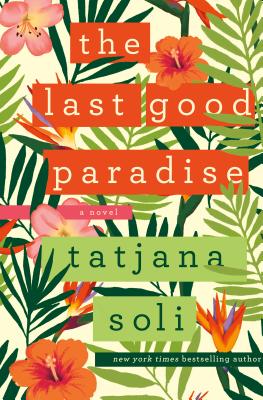 The Last Good Paradise (Hardcover)
A Novel
St. Martin's Press, 9781250043962, 320pp.
Publication Date: February 10, 2015
Other Editions of This Title:
Digital Audiobook (2/9/2015)
Paperback (9/13/2016)
CD-Audio (2/10/2015)
Hardcover, Large Print (4/1/2015)
* Individual store prices may vary.
Description
From Tatjana Soli, the bestselling author of The Lotus Eaters and The Forgetting Tree, comes a black comedy set on an island resort, where guests attempting to flee their troubles realize they can't escape who they are.
On a small, unnamed coral atoll in the South Pacific, a group of troubled dreamers must face the possibility that the hopes they've labored after so single-mindedly might not lead them to the happiness they feel they were promised. Ann and Richard, an aspiring, Los Angeles power couple, are already sensing the cracks in their version of the American dream when their life unexpectedly implodes, leading them to brashly run away from home to a Robinson Crusoe idyll. Dex Cooper, lead singer of the rock band, Prospero, is facing his own slide from greatness, experimenting with artistic asceticism while accompanied by his sexy, young, and increasingly entrepreneurial muse, Wende. Loren, the French owner of the resort sauvage, has made his own Gauguin-like retreat from the world years before, only to find that the modern world has become impossible to disconnect from. Titi, descendent of Tahitian royalty, worker, and eventual inheritor of the resort, must fashion a vision of the island's future that includes its indigenous people, while her partner, Cooked, is torn between anarchy and lust.
By turns funny and tragic, The Last Good Paradise explores our modern, complex and often, self-contradictory discontents, crafting an exhilarating and darkly satirical story about our need to connect in an increasingly networked but isolating world.
About the Author
Tatjana Soli is the bestselling author of The Lotus Eaters, The Forgetting Tree, and The Last Good Paradise. Her work has been awarded the UK's James Tait Black Prize and been a finalist for the Los Angeles Times Book Award. Her books have also been twice listed as a New York Times Notable Book. She lives on the Monterey Peninsula of California.
Praise For The Last Good Paradise: A Novel…
"Soli takes this novel into unexpected places…the novel has smart things to say about the frailty of human relationships, the importance of responsibility to others, and whether it's possible to be truly "off the grid" in modern society." —Library Journal
"Funny, sad, and hauntingly moving, Soli's brilliant new novel is about fractured dreams, broken people, and our desperate yearning to grab for that elusive second chance, no matter the cost. Drenched in a sunny paradise climate, Soli's novel asks, what's enough in life to be happy, and then delivers an answer that's as spell-binding as it is profound." —Caroline Leavitt, New York Times bestselling author of Is This Tomorrow and Pictures of You
"The Last Good Paradise is at once a study in ambition, and a rollicking entertainment...and a page-turning survey of modern technology. Just when you think you know where this novel is going, Soli fascinates and surprises at every twist and turn." —Jonathan Evison, author of West of Here
"Hilarious... melancholy... Tatjana Soli's new novel is a wild ride across the ocean and a dangerous dive into desire and greed and revelations about revenge and ultimately, love." —Susan Straight, National Book Award finalist, author of Highwire Moon
"Daring...haunting." —Jane Smiley, The New York Times Book Review, on The Forgetting Tree
"A haunting debut novel...quietly mesmerizing." —Janet Maslin, The New York Times, on The Lotus Eaters
"A splendid first novel . . . Vivid battle scenes, sensual romantic entanglements and elegant writing add to the pleasures of The Lotus Eaters." —Danielle Trussoni on The Lotus Eaters, The New York Times Book Review (cover)
"Steeped in history . . . gorgeous sensory details enliven the prose." —People on The Lotus Eaters
or
Not Currently Available for Direct Purchase