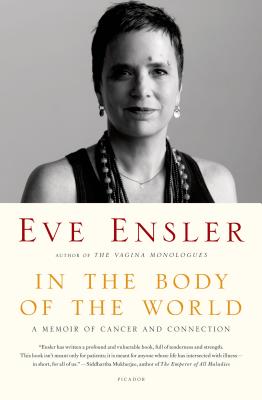 In the Body of the World (Paperback)
A Memoir of Cancer and Connection
Picador, 9781250043979, 240pp.
Publication Date: February 4, 2014
Other Editions of This Title:
Digital Audiobook (4/29/2013)
Hardcover (4/30/2013)
Compact Disc (4/30/2013)
* Individual store prices may vary.
Description
Playwright, author, and activist Eve Ensler has devoted her life to the female body—how to talk about it, how to protect and value it. Yet she spent much of her life disassociated from her own body—a disconnection brought on by her father's sexual abuse and her mother's remoteness. "Because I did not, could not inhabit my body or the Earth," she writes, "I could not feel or know their pain."
But Ensler is shocked out of her distance. While working in the Congo, she is shattered to encounter the horrific rape and violence inflicted on the women there. Soon after, she is diagnosed with uterine cancer, and through months of harrowing treatment, she is forced to become first and foremost a body—pricked, punctured, cut, scanned. It is then that all distance is erased. As she connects her own illness to the devastation of the earth, her life force to the resilience of humanity, she is finally, fully—and gratefully—joined to the body of the world.
Unflinching, generous, and inspiring, Ensler's In the Body of the World calls on us all to embody our connection to and responsibility for the world.
About the Author
Eve Ensler is an internationally bestselling author and an award-winning playwright whose works include The Vagina Monologues, The Good Body, Insecure at Last, and I Am an Emotional Creature, since adapted for the stage as Emotional Creature. She is the founder of V-Day, the global movement to end violence against women and girls, which has raised more than $90 million for local groups and activists, and inspired the global action One Billion Rising. Ensler lives in Paris and New York City.
Praise For In the Body of the World: A Memoir of Cancer and Connection…
"Unforgettable...A story of stark, inspiring, often confrontational honesty. Ensler's message is clear: We can face the worst life has in store for us and create, even in the face of terror, a life of meaning and joy." —The New York Times Book Review
"An intense, riveting memoir...not an easy book to read, but a necessary book to read for its fierce, passionate commitment to making the world a safe place for women." —The Boston Globe
"Without a sliver of exaggeration, In the Body of the World is a soul-stretching, life-changing read." —Maria Popova, Brainpickings
"Astonishing." —Mary Oliver
"A masterpiece. Ensler has accomplished the impossible: weaving together huge, bold, world-changing ideas with beautiful writing, amazing metaphors, and original structure. Truly one of the most courageous and original works of our time." —Naomi Klein
"Ensler has written a profound and vulnerable book, full of tenderness and strength. I was amazed by the clarity of her vision and the power of her message about the body and self. This book isn't meant only for patients; it is meant for anyone whose life has intersected with illness--in short, for all of us." —Siddhartha Mukherjee
"This book is a ride, a river ride through rapids and depths and shallows, dried-up eddies, whirlpools and torrents, crystal-clear pools and the vast ocean at the end. What a thrill and what a spear through the heart. I am astounded by the honesty and clarity of each word." —Elizabeth Lesser
"I dare anyone to read In the Body of the World without crying, without crying out, without getting up and rising to this beautiful broken world with awe and gratitude. There is no pity here, only the raw force of courage in the face of fear and violence, and the healing grace of honesty." —Terry Tempest Williams
"Eve Ensler incarnates the pain of the women in the Congo, victims of rape and torture; and of the Earth, victim of so much desecration. Her heart and body are broken, her anger is like fire, and the passion of her writing rattles your soul. This is true literature and true activism." —Isabel Allende
"Eve Ensler's memoir is not only wild and raw and incredibly important, it's also that rarest of achievements--a compulsively readable, stunningly rendered work of art that delivers hope and truth, challenge and solace, sometimes simultaneously." —Alexandra Fuller