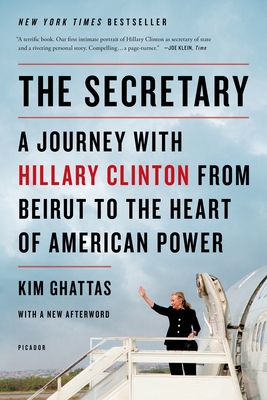 The Secretary
A Journey with Hillary Clinton from Beirut to the Heart of American Power
Paperback

* Individual store prices may vary.
Other Editions of This Title:
Digital Audiobook (3/28/2013)
Compact Disc (3/29/2013)
Hardcover (3/5/2013)
MP3 CD (3/29/2013)
Compact Disc (3/29/2013)
Description
THE FIRST INSIDE ACCOUNT TO BE PUBLISHED ABOUT HILLARY CLINTON'S TIME AS SECRETARY OF STATE, ANCHORED BY GHATTAS'S OWN PERSPECTIVE AND HER QUEST TO UNDERSTAND AMERICA'S PLACE IN THE WORLD.
In November 2008, Hillary Clinton agreed to work for her former rival. As President Barack Obama's secretary of state, she set out to repair America's image around the world—and her own. For the following four years, BBC foreign correspondent Kim Ghattas had unparalleled access to Clinton and her entourage, and she weaves a fast-paced, gripping account of life on the road with Clinton in The Secretary.
With the perspective of one who is both an insider and an outsider, Ghattas draws on extensive interviews with Clinton, administration officials, and players in Washington as well as overseas, to paint an intimate and candid portrait of one of the most powerful global politicians. Filled with fresh insights, The Secretary provides a captivating analysis of Clinton's brand of diplomacy and the Obama administration's efforts to redefine American power in the twenty-first century.
Populated with a cast of real-life characters, The Secretary tells the story of Clinton's transformation from popular but polarizing politician to America's envoy to the world in compelling detail and with all the tension of high stakes diplomacy. From her evolving relationship with President Obama to the drama of WikiLeaks and the turmoil of the Arab Spring, we see Clinton cheerfully boarding her plane at 3 a.m. after no sleep, reading the riot act to the Chinese, and going through her diplomatic checklist before signing on to war in Libya—all the while trying to restore American leadership in a rapidly changing world.
Viewed through Ghattas's vantage point as a half-Dutch, half-Lebanese citizen who grew up in the crossfire of the Lebanese civil war, The Secretary is also the author's own journey as she seeks to answer the questions that haunted her childhood. How powerful is America really? And, if it is in decline, who or what will replace it and what will it mean for America and the world?
Praise For The Secretary: A Journey with Hillary Clinton from Beirut to the Heart of American Power…
"A terrific book...Our first intimate portrait of Hillary Clinton as secretary of state and a riveting personal story....Compelling...A page-turner." —Joe Klein, Time columnist
"Reading The Secretary is as close as anyone can get to flying around the world with Hillary Clinton over the past four years. Kim Ghattas has captured many colorful details not only about people and places but also about the urgency, exhaustion, and turn-on-a-dime responses necessary to stay one step ahead of the world. She gives us an up-close-and-personal look at the exercise of American power." —Anne-Marie Slaughter, professor, Princeton University, and former Director of Policy Planning at the Department of State

"Poignant and gripping...The story of two women from different generations and cultures, yet bound by a common passion, one that transcends geographical and political boundaries, reminding us not just of our differences but of our shared humanity. In all her roles, Hillary Clinton has always been motivated by a desire to change the world but has also been prepared to be changed by it. In her exchanges with Clinton, Ghattas is also prepared to change and be changed, and through her attempts to know Clinton she also comes to better know herself, turning this book into a powerful journey of discovery and self-discovery." —Azar Nafisi, author of Reading Lolita in Tehran
"An unusually intimate look at a historic secretary of state...An unexpected page-turner." —Celia McGee, O Magazine
"It's hard to read this vivid account and not wonder how Hillary would perform in the Oval Office." —David Ignatius, columnist for The Washington Post and author of Bloodmoney
"Secretary of State Hillary Clinton becomes the face of a superpower in this captivating profile... [Ghattas's] perceptive reportage on Clinton's personal leadership grounds a shrewd analysis of America's role as the still-indispensable nation." —Publishers Weekly

"[An] engaging look at U.S. diplomacy under Hillary Clinton...Ghattas presents a close-up look at the touchiest of diplomatic issues in the first Obama administration, from the Arab Spring uprisings to WikiLeaks...a rich portrait of the different perspectives on U.S. power and influence around the world as well as her own personal experiences and ambivalence about the U.S." —Booklist *starred review*

"Kim Ghattas has written a terrific book–not just our first intimate portrait of Hillary Clinton as Secretary of State, but also a riveting personal story about what it's like to be a journalist, and a Lebanese woman at that, living in the Clinton bubble. Ghattas is very smart about the nuances of American policy and the patient intelligence that is required for creative diplomacy, and she has made it all come alive in compelling, page-turning fashion." —Joe Klein, TIME columnist
"Both a splendid bird's eye of view of Hillary Clinton's life and times, her education and evolution as America's top diplomat, and an outsider's candid impression of American power, with all its flaws and its perils but also its potential for good." —Robert Kagan, Brookings senior fellow and author of The World America Made
"In The Secretary, Kim Ghattas does a tremendous job of blending the human and the historic, granting readers an insider's perspective on how Hillary Clinton has worked through pressing international challenges--and the press corps itself. Ghattas juxtaposes the personalities of Clinton and her staff with the far-reaching global impact of their decisions. A fast-paced, substantive read that I highly recommend." —Ian Bremmer, author of Every Nation for Itself and President of Eurasia Group
Picador, 9781250044068, 400pp.
Publication Date: February 25, 2014
About the Author
Kim Ghattas is an Emmy-award winning journalist and writer who covered the Middle East for twenty years for the BBC and the Financial Times. She has also reported on the U.S State Department and American politics. She has been published in The Atlantic, the Washington Post, and Foreign Policy and is currently a non-resident scholar at the Carnegie Endowment for International Peace in Washington. Her first book, The Secretary, was a New York Times bestseller. Born and raised in Lebanon, she now lives between Beirut and Washington D.C.